Weaving may be a "live-saver" for many of us who use it for stress relief and much-deserved personal time. But there's a piece of woven cloth that could actually save your life every time you get into your car: the seat belt.
Seat belt material is an engineering marvel, and not just because of the devices that spool out and tension the seat belt. The fabric that makes up the belt itself, called webbing, is carefully designed to have extreme tensile strength—about 3000-6000 lbs. They prevent a huge number of deaths each year, and have done so since they were adopted by the automotive industry in the 1950s.
The original seat belt webbing was woven on shuttle looms, which could only weave about 200 picks per minute. Since 1975, most webbing is made on needle looms, which could achieve 1000 picks per minute. Modern looms can weave up to 3000 picks per minute!
Today, seat belt material is usually woven from 100% polyester. Nylon used to be the most popular material, but nylon stretches more than polyester and is more prone to wear and tear. Tiny abrasions and damage to the belt reduce the tensile strength dramatically, so that difference really matters. Seat belts also have specially-designed run-proof selvedges, reinforced with strong threads that still allow the belts to remain flexible.
Research has also found that less-energized yarns create more durable seatbelts, as the threads can pack together more closely. Typically, seatbelt webbing has about 300 warp threads per 46mm belt, which comes out to nearly 150 ends per inch.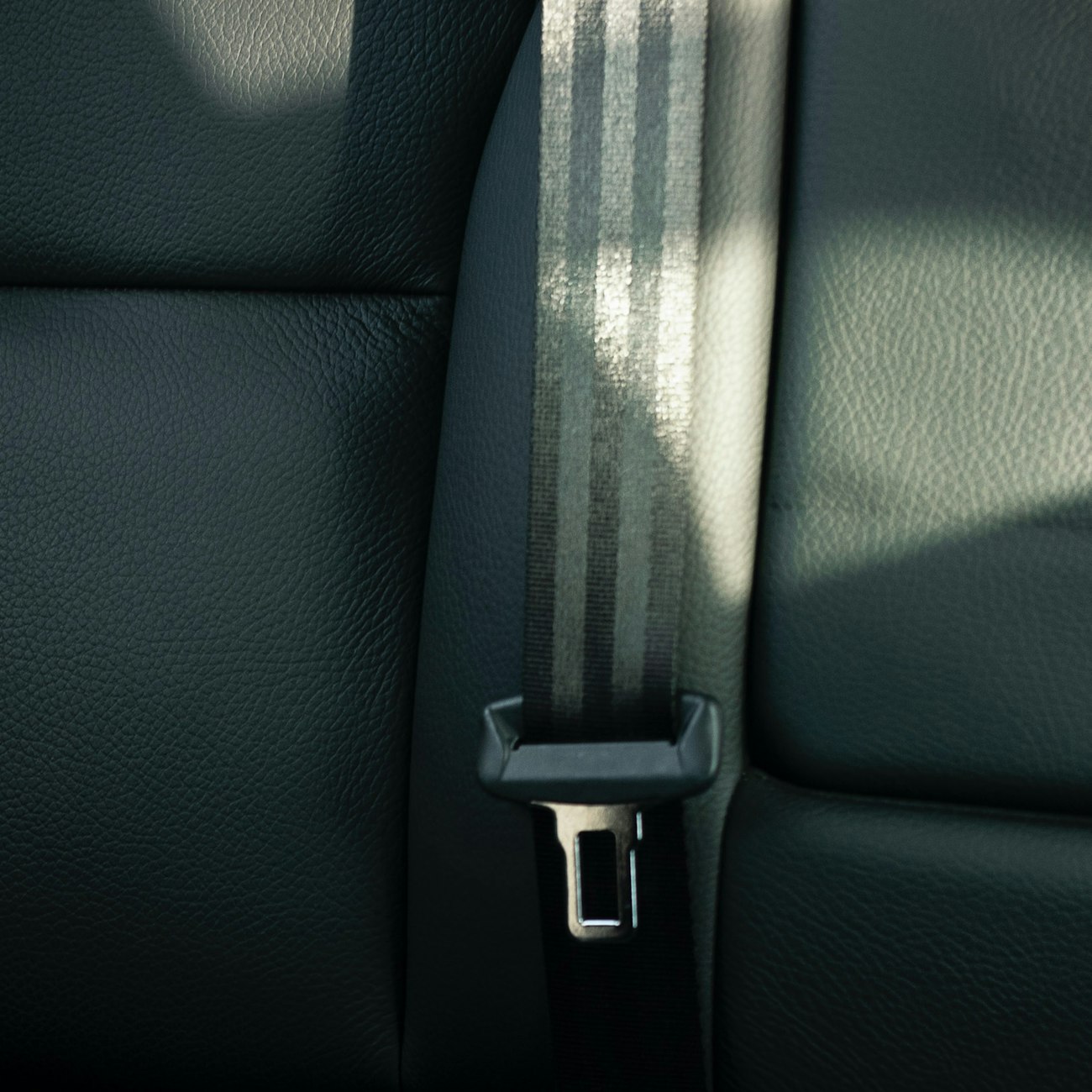 The more you look at them the more varied and interesting seatbelts become! Who knew? Photo by Maxim Hopman on UnSplash
Seatbelts are usually woven in 8-shaft herringbone twill or a satin weave variation. Next time you're in your car, take a closer look at that seatbelt across your lap and chest (you always buckle up, right?) and see if you can read the fabric yourself!
Published on 11/21/2016 Revised on 08/17/2022