Editor's Note: Originally released in 2007 as a free bag of the month, we recently rediscovered this gem from Patricia Springer. The textured fabric is soft enough to drape beautifully as a scarf yet durable enough when lined for an elegant evening bag. Add beads to the fringe and a decorative closure for an extra special touch.
Get the free PDF download for this pattern and read on to hear what Patricia has to say about this design.
Notes from Designer Patricia Springer
My weaving often takes the form of samples because I like to try out many of the techniques I see in Handwoven magazine and other publications without necessarily making the items as shown. I often end up with lots of pieces—finished and unfinished—that have no real purpose. A year ago I decided to turn them all into handbags of one sort or another. The result is a collection of very useful bags!
The Scarf and Evening Bag
This evening bag and scarf are the result of one of my sampling adventures. I originally made a scarf following project directions in an article by Ruth Morrison in Weaver's magazine (Issue 44, Summer 1999, pp. 62–63), substituting my own colors and yarns. After removing the scarf from the loom, to my dismay I found several errors. I loved the look and feel of the scarf, however, so I decided to warp the loom again to make a perfect one. Mission accomplished!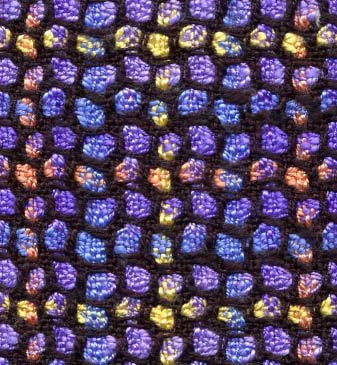 Last year when I began making bags from various leftover projects, I resurrected the scarf with the errors and turned it into an evening bag to match my perfect scarf. The project instructions in your PDF are for both a bag and a scarf. You can choose to make only one of the two pieces. If you do that, allow a 2¼ yd warp length for the bag and 3 yd warp length for a scarf.
Five colors of 10/2 pearl cotton plus black are used in this project. Choose your own colors—you'll love seeing how they work together even if they don't seem to have much relationship to each other on the cone. Pick a range of values from very light to dark for a dimensional plaid effect (you can also choose a single color with black or some other number of colors than five).
The only complication to using more than one color (with black) is that you have to begin and end each of the colors every time you use it. The black weft can be carried up the selvedges, but each color is used for only 4 picks.
About Deflected Doubleweave
In deflected doubleweave, groups of threads from each of two weaves alternate in both the warp and the weft. In the case of this scarf, each group consists of 4 threads. Both of the weaves are plain weave; one weave is black, the other is a sequence of colors. The black weft weaves plain weave only with the black warp; the colored weft only with the colored warp.
As you weave, the threads on the loom lie in their vertical and horizontal positions as usual. But when a deflected doubleweave fabric is removed from the loom, the warp and weft threads slide into the spaces where they float over or under the group of 4 threads of the other weave. The result is curved, waved, or other shapes not normally produced in a woven cloth. In the case of this "mosaic" design, irregular little bean-like shapes are outlined in black.
~ Patricia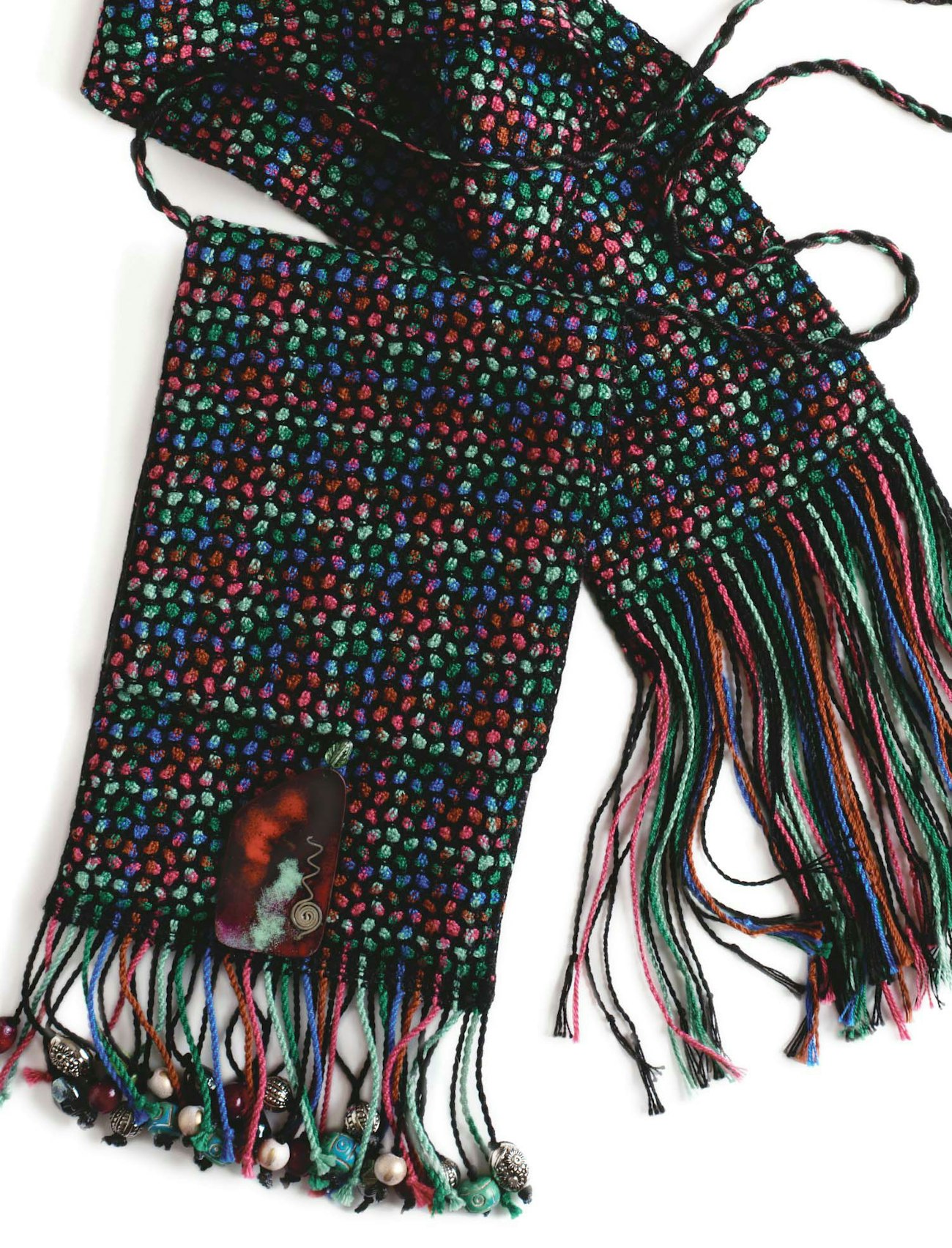 Patricia Springer designed this eye-catching evening bag in 8-shaft deflected doubleweave. Photo by Joe Coca
Project at a Glance
PROJECT TYPE: 8-shaft.
STRUCTURE: Deflected doubleweave.
EQUIPMENT: 8-shaft loom, 7" weaving width; 15-dent or 10-dent reed; 6 shuttles (or 2 shuttles, 6 bobbins); sewing machine.
YARNS: 10/2 pearl cotton (4,200 yd/lb).
PATTERN: The full instructions are available to download for free.
We hope you enjoy weaving your own bag or scarf, or you can use the bag pattern with other leftover handwoven fabrics for different looks. Weave and sew your way to all sorts of fun with this deflected doubleweave draft!
Weave well,
Susan
---
Originally published in 2007, updated September 29, 2016; June 30, 2022.