Susan E. Horton, editor of Handwoven, recently sent me a photo of an unusual-looking rug shuttle and asked me if I knew what it was. It reminded me of that game where you are shown a photo of an odd object and have to describe it. Other players then guess if you are telling the truth or making up a far-fetched story. This was indeed an odd-looking shuttle; it looked as if it had grown wings and was about to fly away with the flat, round disk that sits in the center portion. It was definitely a curiosity to behold. I remembered seeing this shuttle in a Toika loom catalog. The Finnish loom manufacturer makes these special shuttles to hold disks of bias-cut fabric known as poppana.
Susan knows that I love weaving with rags and suggested I read an article by Anja Höykinpuro on weaving with poppana in Handwoven, May/June 1997. That article struck my rag-weaving nerve, and I just had to give poppana a try. I love a new weaving adventure, and the article got me excited. I ordered two of the shuttles for my initial test run, figuring that I would want to weave a striped sample and wouldn't want to keep changing out the rag disks.
Keep in mind that at this point, I had no idea what I was doing when it came to weaving with poppana, which seems to be my normal MO. However, Anja Höykinpuro's article told me everything I needed to know to get started. I warped my loom with the recommended 12/6 cotton in a lovely navy blue with a sett of 10 ends per inch. The tightly twisted 12/6 cotton is strong and has a beautiful finish, although because the fabric has a weft emphasis, I think you could easily get away with using a warp of 8/4 cotton carpet warp. I threaded for a sample that was 10 inches wide, so it could be used as a pot holder, and I used a straight-draw threading for plain weave. Now here comes the kicker, folks. You know that saying about putting your cart before the horse? Well, in typical Tom fashion, that is exactly what I did. I had the shuttles and the warp but finding the poppana bias-cut fabric strips proved to be a challenge.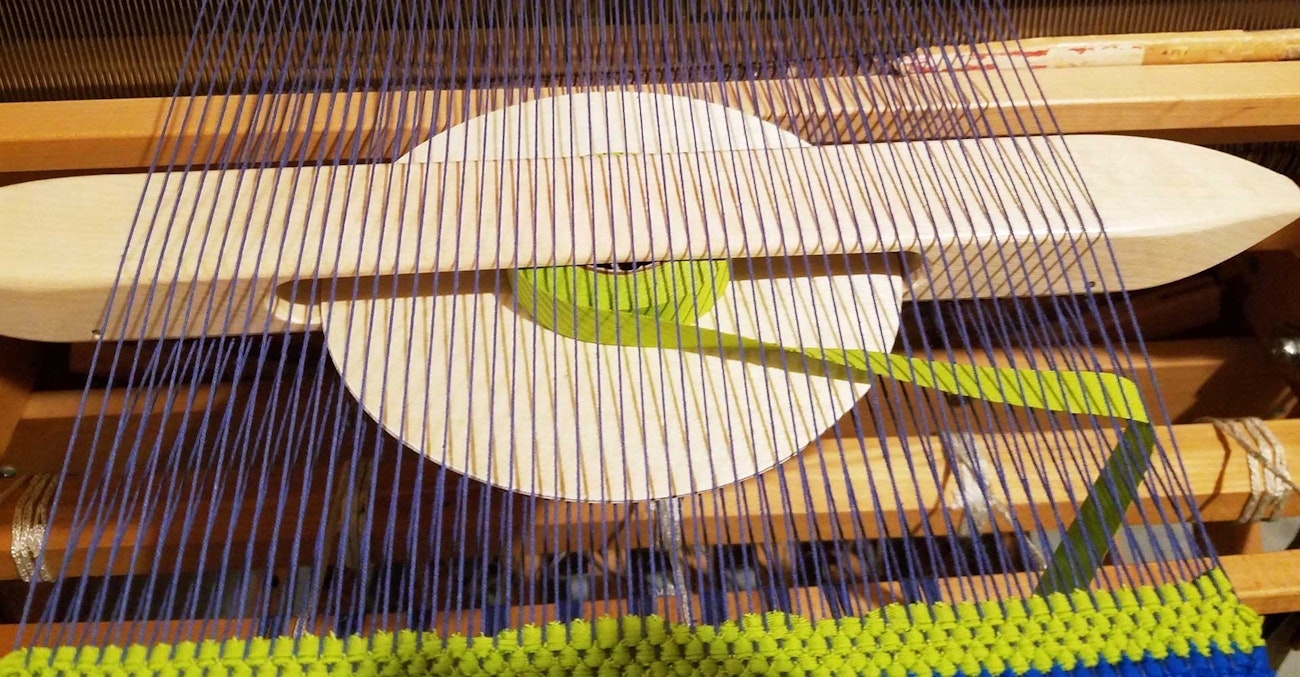 I did a Google search and found a company called Color Crazy that sells poppana strips primarily for rug and locker hooking. I gave the company a call and learned that the poppana strips are cut to several sizes. I ordered the half-inch width in several colors to weave my samples. These bias-cut fabric strips come in cotton and a cotton/linen blend. Of course, I ordered some of each so that I could compare how they weave and finish. I fell in love right away.
Let me share with you what I learned about poppana strips: The fabric strips come as a tightly wound roll with a cardboard core to keep the roll from collapsing. Theresa from Color Crazy explained that she chooses special fabrics to be wound like a bolt of fabric on a cardboard tube. The rolls of fabric are then cut on the bias with special fabric saws that resemble band saws. This results in narrow disks of 60-yard poppana fabric strips.
The shuttle I described, with the flat wooden disk, is very different from any other rug shuttle that I have ever used. The disk slides in and out of the side of the shuttle and is held in place with simple friction. In the center of the disk is a round piece of wood that holds the cardboard core of the prewound poppana strip. It is also what holds the disk in place when you push the round of rags into the shuttle.
I didn't think about how the wide, flat disk of the shuttle could be a problem when passing it through the shed. I had already threaded and beamed my sample warp on a portable floor loom. Hindsight tells me it would have been easier to weave on a loom with an overhanging beater that would have given me a longer weaving distance between the reed and the fell line. That said, the sample wove just fine. I had to advance the warp frequently because the thickness of the rag strips makes weaving go quickly. As soon as I heard the wooden disk touch the reed when it entered the shed, I knew it was time to advance the warp. I didn't want to risk scraping the reed with the shuttle and perhaps bending the teeth.
I found that tapering the strips and making overlapping joins from one strip to another made the joins undetectable. I also did this at the selvedge edge when I was changing from one color to another. I wrapped the tapered end around the last warp end and tucked that end into the same shed before beating it. Introducing the next color was just the same. In the new shed, I threw the shuttle across, leaving about 3 inches of the rag sticking out from the edge, and beat the weft into place. I then wrapped the tapered rag end back into the same open shed and beat it into place.
Before starting, I thought about the finishing. I didn't want fringe on my sample, so I wove a small hem in navy blue 8/4 cotton warp on each end to be turned and sewn down.
After the hems were sewn and secured, I machine washed the sample on a regular cycle with hot water and a cold rinse. When the wash had finished and while the sample was still damp, I brushed the surface with a soft-bristle nylon hairbrush to bring up a nap with a chenille-like surface.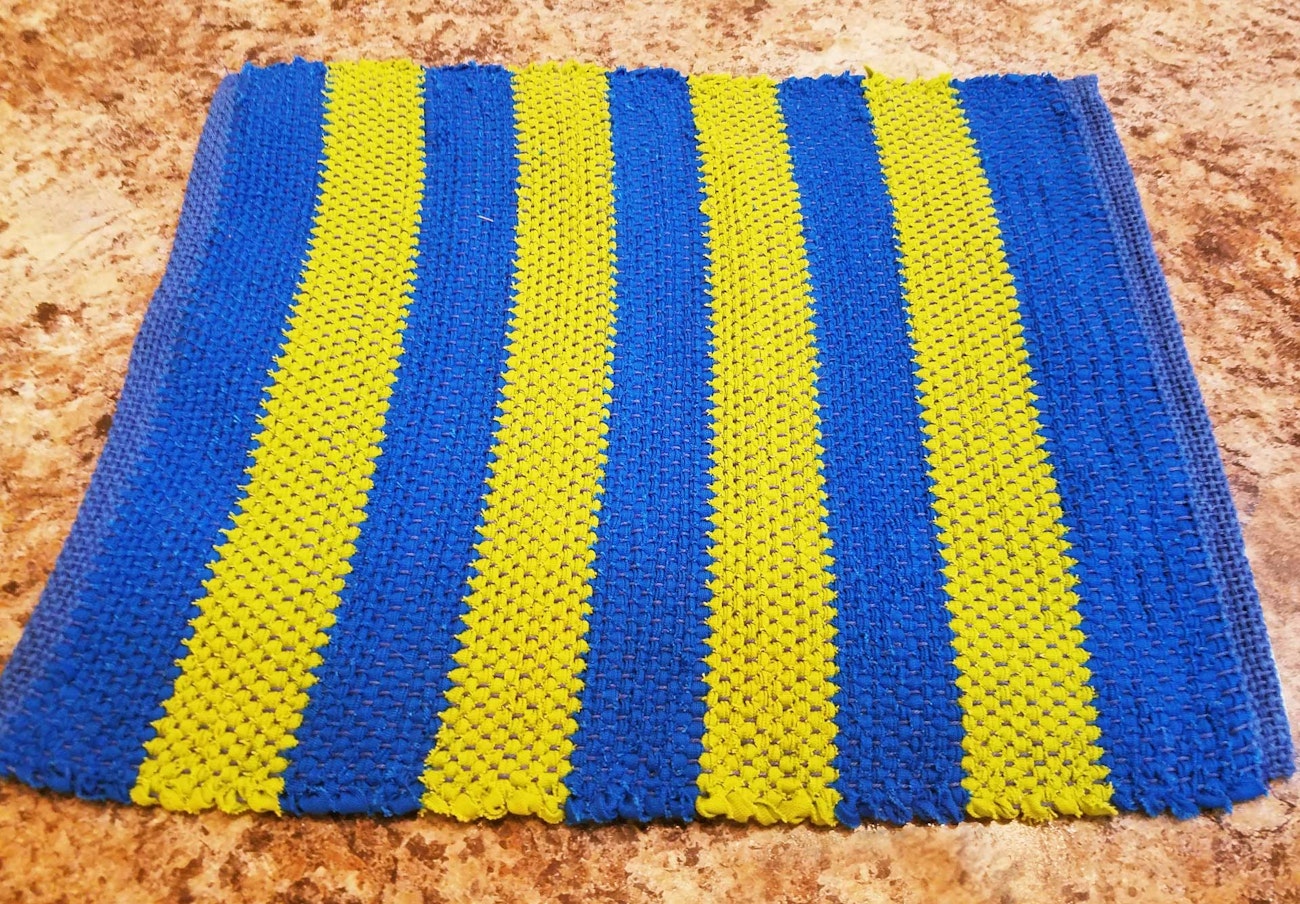 The sample feels wonderful in my hand. The fabric is firm and sturdy and would make a wonderful rug. It could also be used for coasters, placemats, or runners. I want to continue to work with these poppana strips in structures other than plain weave. I plan to weave the poppana strips in krokbragd and boundweave or other weft-faced structures. I believe they would make a great filler weft for rep weave as well.
I am sorry that I didn't pay closer attention to how much poppana I used for my sampling. I just jumped right in to see how it wove. Really, don't judge—isn't that often the way it goes? I will pay closer attention next time and order enough to cover a larger project. Who couldn't use a few extra rolls of rags in their stash anyway?
I am fascinated and excited about what I have learned about weaving with poppana, and I bet you will be also. There is so much you can do with these crazy little fabric strips. The possibilities are endless.
Happy weaving.
Tom
Resources
Höykinpuro, Anja. "Weaving with Poppana." Handwoven, May/June 1997, 38–39, 76–77.
TOM KNISELY enjoys weaving and spinning and teaches weaving at Red Stone Glen Fiber Arts Studio. He also loves sharing his thoughts in Handwoven.