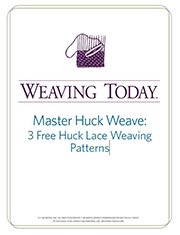 Click on the Download Now button or link below to learn how to huck weave and more! There are few fabrics quite so elegant as lace. Perhaps the reason for lace's enduring popularity can be linked to the many different varieties available. Lace can be knit, crocheted, nalbinded, bobbined, and (of course) woven. Weavers have many wonderful laces to choose from, and not only are they all beautiful; they're also easier than they look. That's why we're giving you this free eBook on how to huck weave lace.
This type of woven lace uses floats in the warp and weft to create stunning lacy patterns. In this technique groups of floats in the warp and weft slide together to create to form the lace patterns. The result is a beautiful, intricate-looking cloth that can be used to make beautiful handwoven towels and other kitchen linens. Learning how to weave huck weave is actually quite simple. An odd number of threads is used in each block for both threading and treadling to create areas of the circular lace patterns that huck weave is known for.
As a weave structure, it can produce almost any type of fabric. Patterns and tips in this free eBook on how to huck weave cover a lovely array of fabric types in many different materials: huck towels in thick, thirsty cotton, placemats of powerful, timeless color, and basics for creating beautiful lace fabric. It is the perfect structure for summer weaving: light and lacy and fun and quick to weave with one shuttle.
Learn how to huck weave with these free weaving patterns:
Towel Weaving Pattern
Coordinated Fabrics by Katherine Buenger Wallpaper can be an intriguing starting point for designing coordinating fabrics for a room. Often, the overall pattern will not have so many colors that the task is daunting. In the case of this wallpaper, several shades of blue and one soft gold are all that are needed! Get tips for designing to match your own decor, and weave this gorgeous 8-shaft huck lace towels.
Placemat Weaving Pattern
Pottery-Inspired Placemats in Huck Lace by Rosanne White Adding turquoise (a sacred color for the Navajo) to the black, white, and dark red of Native American pottery creates a powerful and timeless color palette. These gorgeous towels are a pleasure to weave, in whichever colors make you feel powerful! Warp up your 8-shaft loom and get weaving the three different variations.
Free Huck Weaving Pattern
A Love Affair by Anne Dixon Dive deep into the intricacies of huck lace with Anne Dixon. She'll help you understand the basics of designing with huck, whether you prefer to have weft floats, warp floats, or both to create that signature huck lace look. You'll also learn how to weave huck lace successfully, and how to choose yarns that will show off your beautiful work. Finally, weave up some gorgeous huck lace scarves on your 4-shaft loom or 8-shaft loom!
While I love all lace, I hold a special place in my heart for Huck lace and all that it's capable of. It's so beautiful and can look simple and rustic or create some amazing patterns from flowers to diamonds and so much more.
If you're looking to get into huck lace weaving, or if you're just looking for some new projects to weave, this new eBook has three fabulous projects that will whet your appetite. From stunning huck towels for the kitchen inspired by intricate wallpaper design, to pottery inspired placemats, there is much to love in this new eBook.
Happy Weaving,
Christina