Subscribe to The Long Thread Podcast:

Raising silkworms and weaving with silk bring together two of Michael Cook's fascinations: textiles and bugs. He has tried, mastered, and teaches about every stage in the life cycle and production of silkmoths, silkworms, and silk fabric.
The tongue-in-cheek title of his website, Wormspit, refers to the process that silkmoth caterpillars use to build their cocoons. The gland that produces of fibroin and sericin isn't actually salivary, but silkworms work their jaws to create a filament nearly a mile long. When their cocoons are complete, they may break the cocoon to emerge as moths, or in the case of most silk production, the cocoons are stifled so that the silk can be unwound in a single unbroken strand.
Most of the silk used in textiles is from the ultradomesticated domesticated Bombyx mori silkworm, which may also be called mulberry silk or China silk. Some people are aware of a few types of wild silk, such as tussah or tasar, that are raised specifically for textile production. But the silk varieties we commonly think of represent only a tiny fraction of the moths worldwide who make some kind of silk in the wild.
Michael has explored techniques from the Stone Age through contemporary tools to reel silk and create a variety of thread structures, which he uses in weaving and embroidery. Through demonstrations, classes, and his website, he makes sericulture accessible—whether you're more interested in insects or threads.
This episode is brought to you by:

Handweaving.net is the comprehensive weaving website with more than 75,000 historic and modern weaving drafts, documents, and powerful digital tools that put creativity in your hands. Now it's simple to design, color, update, and save your drafts. Our mission is to preserve the rich heritage of hand weaving and pass it down to you. Visit Handweaving.net and sign up for a subscription today!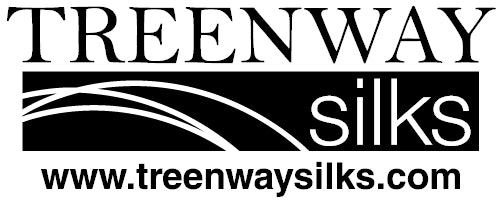 You'll find the largest variety of silk spinning fibers, silk yarn and silk threads & ribbons at TreenwaySilks.com. Choose from a rainbow of hand-dyed colors. Love natural? Their array of wild silk and silk-blends provide choices beyond white. Treenway Silks—where superior quality and customer service are guaranteed.
Links:
Wormspit is Michael Cook's site for sericulture and textile explorations.
Michael buys his cocoons for reeling from Treenway Silks.
Sources for Bombyx Mori silkworm eggs include Mulberry Farms and Coastal Silkworms.
Ralph Griswold's archive of historic silk materials can be found at Handweaving.net.