Subscribe to The Long Thread Podcast:

The resist-dye technique known as ikat involves wrapping individual threads in careful patterns, dyeing them, and then using the dyed threads as warp, weft, or both. With care and what Mary Zicafoose describes as a lot of fussing, the woven fabric displays a pre-planned design—geometric or figurative, crisp or feathery, multicolored or two-tone. This technique is time-consuming and labor-intensive, but the results are beautiful in ways unique to each of the textile traditions that practice it.
Mary Zicafoose first encountered ikat as a child, when her favorite aunt brought her a souvenir scrap of the fabric and told her it contained magic. Even when you know the painstaking and nonmagical process that weavers use to create ikat fabrics, her aunt's comment rings true: there is something charmed about the patterns that emerge in ikat, jaspe, pochampally, and other resist-dye-weave fabrics. Mary made her way toward ikat tapestry through her studies in other visual arts. Despite initially being insulted when a college professor suggested she consider working in fibers, she eventually found her passion in weaving and dyeing. She taught herself to weave ikat through a pamphlet and gradually pushed the limits of the technique, creating more complex and intricate designs.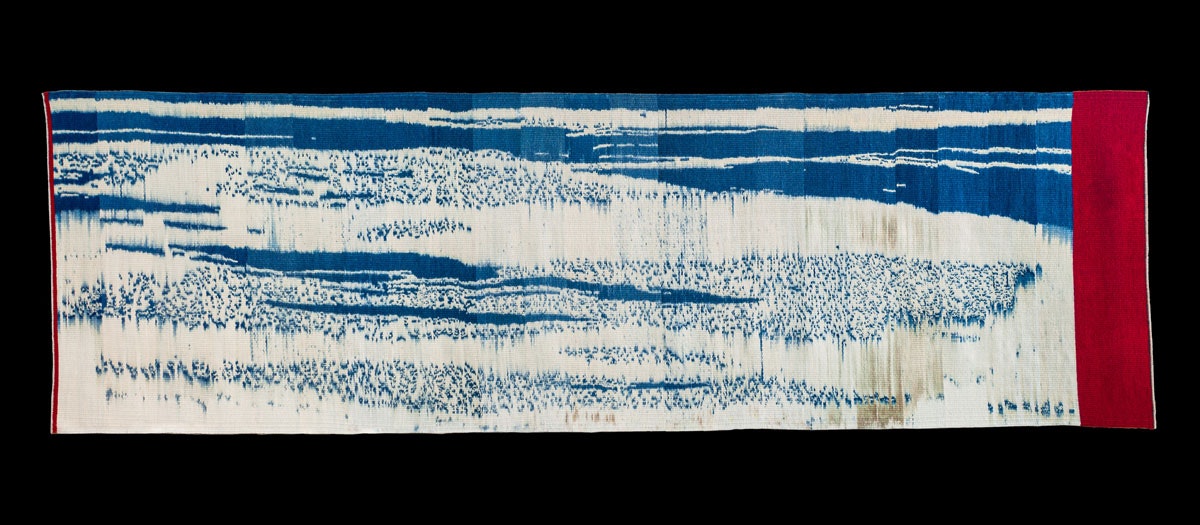 Crane Count Week No. 7, Platte River. Weft-faced ikat tapestry, indigo dyed wool on linen warp, 132 x 38, 2020. Created during the pandemic, Mary's landscape of the Sandhill Crane migration uses her signature ikat tapestry techniques in a new photorealist style. Photo courtesy of Mary Zicafoose
In her studio practice, Mary creates stunning large-format weft-ikat tapestries, some requiring years of planning and weaving (and tens of thousands of knots). Beginning the first year of the COVID-19 pandemic, she conceived a project in a new style: a huge landscape of the Sandhill Crane bird migration near her home on the Platte River in Nebraska.
In addition to her studio practice, Mary also loves to teach weavers the fundamentals of ikat. Her teaching approach involves breaking down the process into manageable steps—some very different from standard weaving practice! Her first book, Ikat: The Essential Handbook to Weaving Resist-Dyed Cloth, was written for a broad audience of weavers, with the aim of teaching a technique and encouraging people to apply it to their own signature style of weaving. Focusing on warp ikat, the book presents a step-by-step approach to a technique that she learned through trial and error. She is currently working on a companion book to go deeper into many different types of projects and build on skill sets.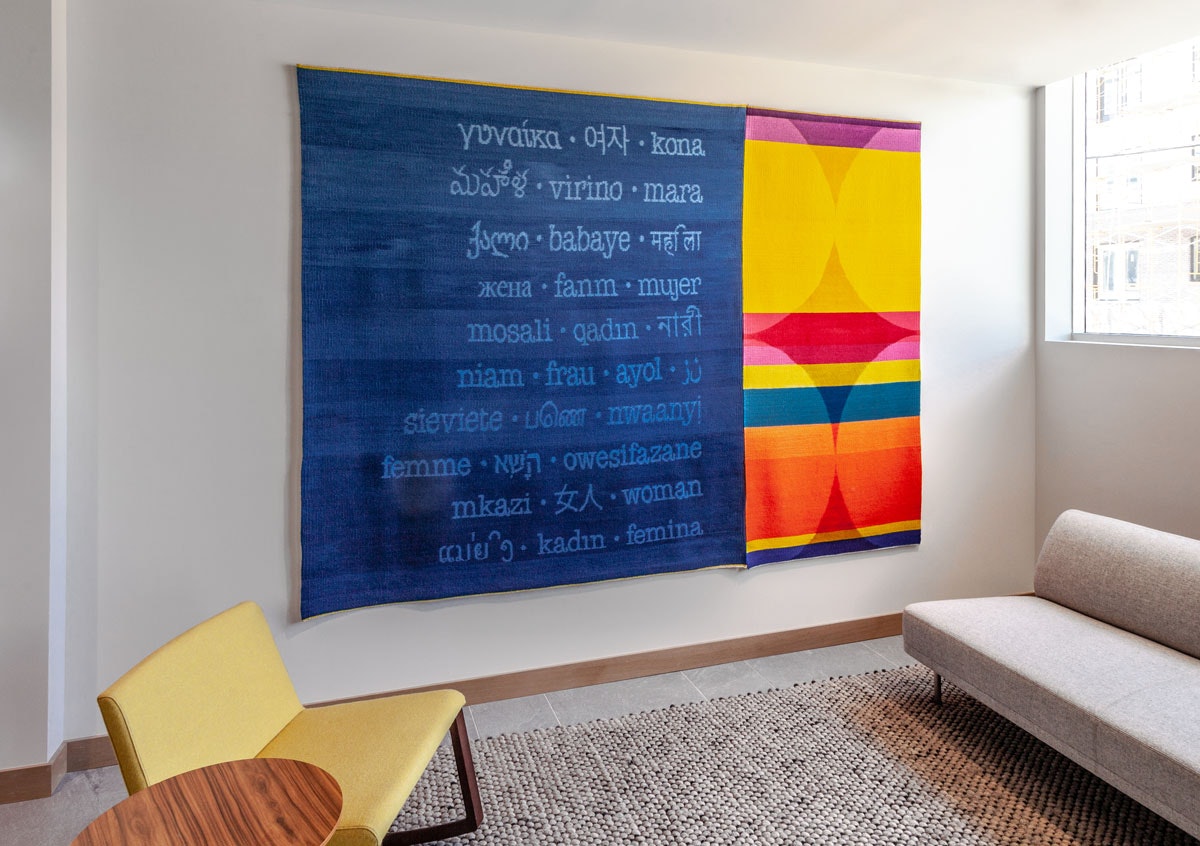 Women of the World Weft faced ikat tapestry, diptych, 87" L x 115" W, wrapped, dyed & woven wool and silk/bamboo on linen warp, 2018 Installed at lobby of Women's Center for Advancement, Omaha. Photo courtesy of Mary Zicafoose
The Seattle Art Museum's major exhibit of historic and contemporary ikat textiles, Ikat: A World of Compelling Cloth, will be open through May 29, 2023.
This episode is brought to you by: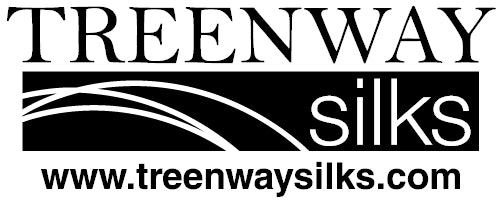 Treenway Silks is where weavers, spinners, knitters and stitchers find the silk they love. Select from the largest variety of silk spinning fibers, silk yarn, and silk threads & ribbons at TreenwaySilks.com. You'll discover a rainbow of colors, thoughtfully hand-dyed in Colorado. Love natural? Treenway's array of wild silks provide choices beyond white.
If you love silk, you'll love Treenway Silks, where superior quality and customer service are guaranteed.
Links
Mary Zicafoose's website
Mary's first book, Ikat: The Essential Handbook to Weaving Resist-Dyed Cloth
Mary's class offerings
Ikat: A World of Compelling Cloth runs through May 29 at the Seattle Art Museum.