Editor's Note: Sock yarn designed for knitters is a boon for weavers. Available in a wide variety of styles, colors, and blends, it is an inexpensive hard-wearing yarn perfect for weaving. This scarf is made with a singles variegated sock yarn and a handpainted mohair bouclé. It blends texture and color beautifully, and you only need one skein or ball of each yarn!
Get the free PDF download for this pattern and read on to hear what Joan has to say about using sock yarn.
Notes from Designer Joan Sheridan
In my shop, I always have a loom warped and ready so my customers can sit down and weave. I also have an entire room devoted to sock yarns! Needless to say, sock yarns often make their way onto the shop looms.
Most sock yarns are treated so they won't full or shrink. They are, however, designed to retain the fiber's loft. This means that you need to allow for a generous amount of take-up. You will also want to be careful when you wind the warp that you don't apply too much tension and inadvertently wind a shorter warp than you intended.
Often blended with nylon to increase strength, sock yarns are made to endure the abuse that a garment designed for the foot receives. Therefore, standing up to the wear of the heddles and reed, or in my case a rigid heddle, is no problem for them!
~ Joan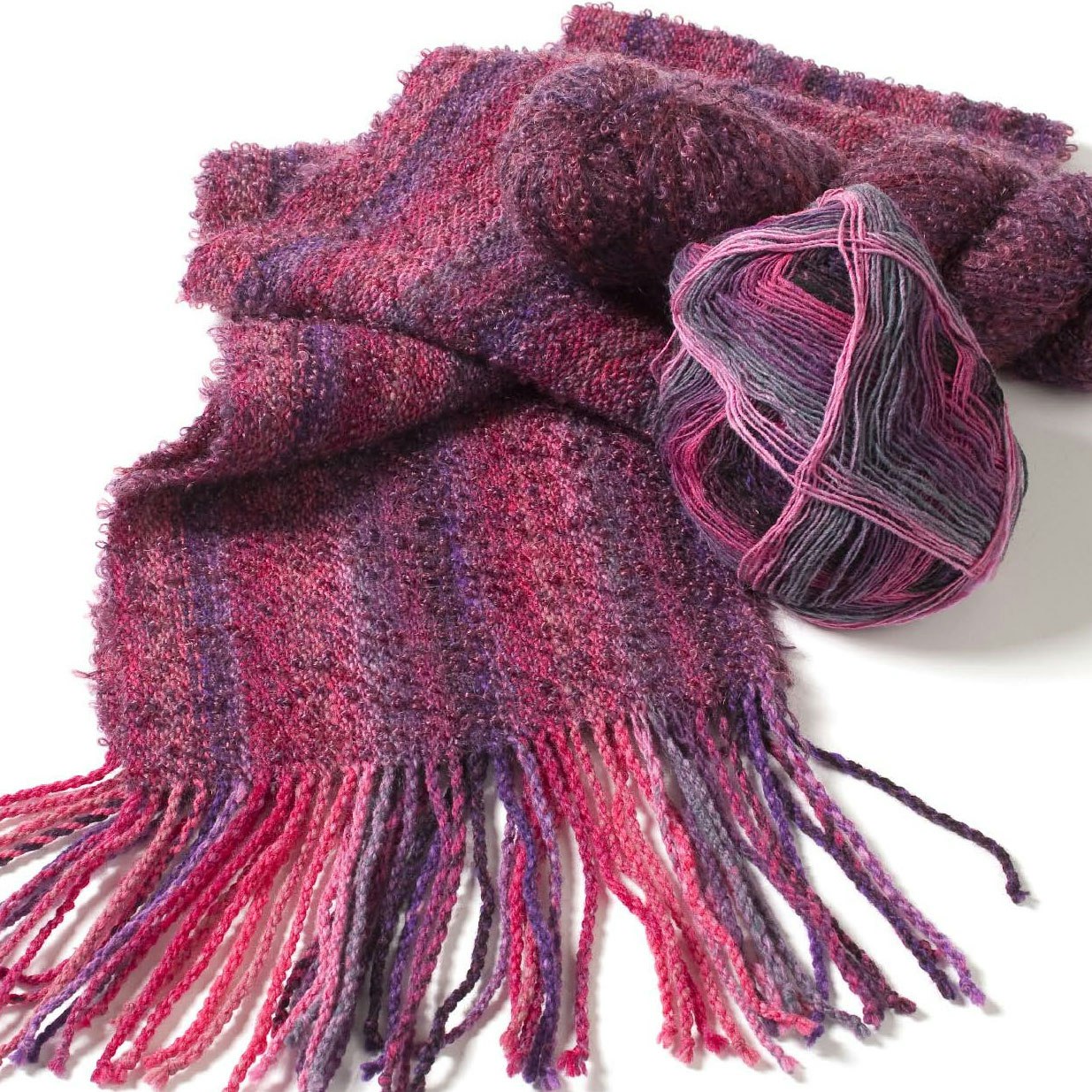 Meet the Serendipity Scarf by Joan Sheridan. Photo by Joe Coca.
Project at a Glance
PROJECT TYPE: 2-shaft or rigid heddle.
STRUCTURE: Plain weave.
EQUIPMENT: Rigid-heddle or 2-shaft loom, 11" weaving width; 12-dent reed; 1 stick shuttle.
YARNS: Warp: 70% wool/30% nylon singles blend (2,100 yd/lb; Noro Kureyon Sock Yarn). Weft: 78% mohair/ 13% wool/9% nylon bouclé (960 yd/lb, Heritage Mohair, Heritage Spinning and Weaving).
PATTERN: The full instructions are available to download for free.
Even with simple structures, this scarf shows off sock yarn to its full advantage. I hope you enjoy experimenting with this elegant and serendipitous pattern.
Weave well,
Susan
---
Originally published September 29, 2016; updated June 22, 2022.