Editor's Note: Originally released in January 2008 as a free bag of the month, this bag project is one we recently rediscovered. The fabric is woven shibori (using a 4-shaft draft), dyed with easy-to-use pre-reduced indigo. The shibori fabric would also make a great table runner, pillow cover, or another type of bag! Read on to hear more from Patricia about this design and to get your free PDF download.
Weave well,
Susan
Notes from Designer Patricia Springer
This bag is the result of an adventure in woven shibori. Traditional shibori involves handstitching a cloth and then gathering the stitching threads into areas that resist dye. When the stitching threads are removed, the dyed and undyed areas show as a pattern.
With woven shibori, the gathering thread is woven in the cloth as a supplementary weft. The cloth is removed from the loom, the supplementary-weft threads pulled at the selvedges, and the cloth immersed in dye. Using different threadings and/or treadlings for the supplementary weft will produce different patterns.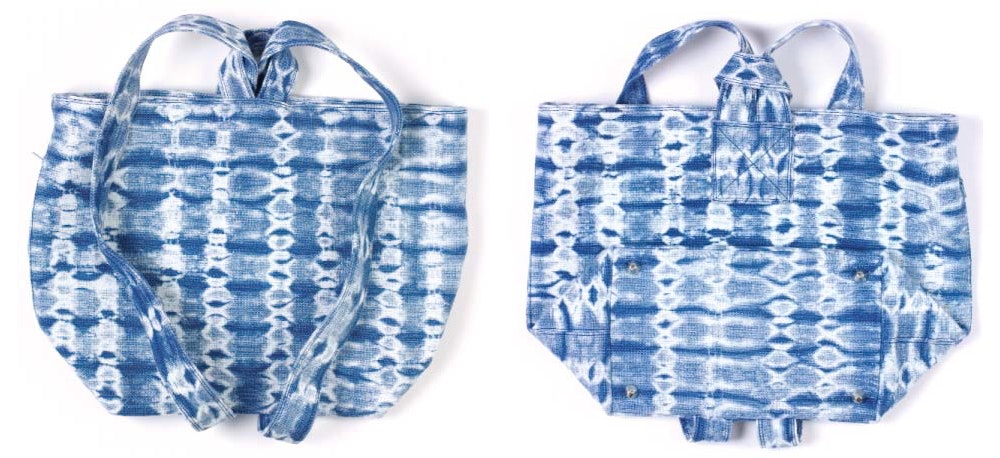 With this back and front view of the finished bag, you get a good look at the shibori patterns in Patricia's fabric.
About This Bag Project
The woven shibori fabric for this bag is easy to weave and dye. The simple monk's belt pattern uses only four shafts. It is woven in readily available yarns: 5/2 pearl cotton for the ground cloth and 5/2 rayon for the smooth supplementary weft that is pulled and gathered for the shibori. You can also use 6-strand embroidery floss for the supplementary weft with good results.
The dyeing process is a resist technique that allows dye to penetrate into only the exposed surfaces and not into the cloth inside the tight folds. This bag fabric uses indigo dye in a form that is easy to mix, fast acting, and requires few chemicals. Be sure to follow safety steps when dyeing.
The fabric is durable, has a good solid "hand," and sews well.
~ Patricia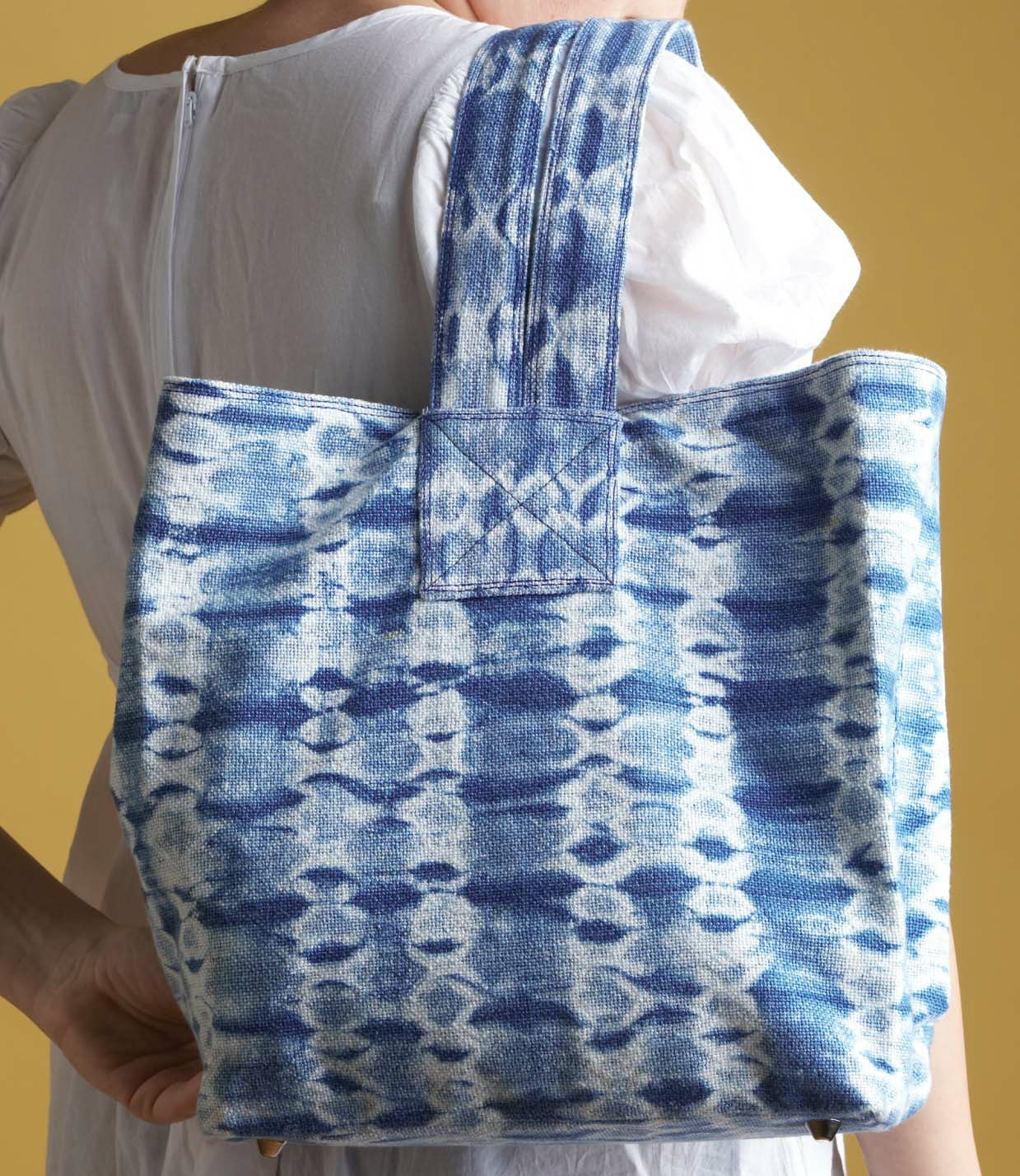 Grab your indigo dye and 4-shaft loom and weave this beautiful bag from Patricia Springer.
Project at a Glance
PROJECT TYPE: 4-shaft.
STRUCTURE: Monk's Belt.
EQUIPMENT: 4-shaft loom, 25" weaving width; 8-dent reed; 2 shuttles; sewing machine (use a size 16 to 18 needle for topstitching).
YARNS: Warp: 5/2 pearl cotton (2,100 yd/lb). Ground weft: 5/2 pearl cotton (2,100 yd/lb). Supplementary weft: 5/2 rayon (2,100 yd/lb).
PATTERN: The full instructions are available to download for free. Please note that McCall's sewing pattern M4532 is no longer in print. You can use any tote or bag sewing pattern as a substitute.
---
Originally published in 2008. Updated September 29, 2016; September 26, 2022.