Editor's note: We recently rediscovered this free bag of the month project originally released in June 2008. The tote fabric combines carpet warp in the warp with plastic strips cut from plastic bags and used plastic table cloths for weft. Continue reading to learn more from Anne about these useful and "green" bags and get your free pdf download below. ~ Susan
Notes from Designer Anne McKenzie
For some time I've been making shopping totes from recycled plastic bags or from used plastic tablecloths. It is rewarding to take my handwoven totes to the grocery store, especially now that we are all encouraged to bring our bags. These totes are sturdy and washable, and it's always fun to see what sort of pattern the plastic strips create!
About This Tote Bag Project
Finding recycled plastic bags to use for making shopping totes may become harder to do as more stores reward us for bringing our own bags. You can look for other sources for plastic bags (ask at your local recycling center). Old plastic tablecloths are also a great option.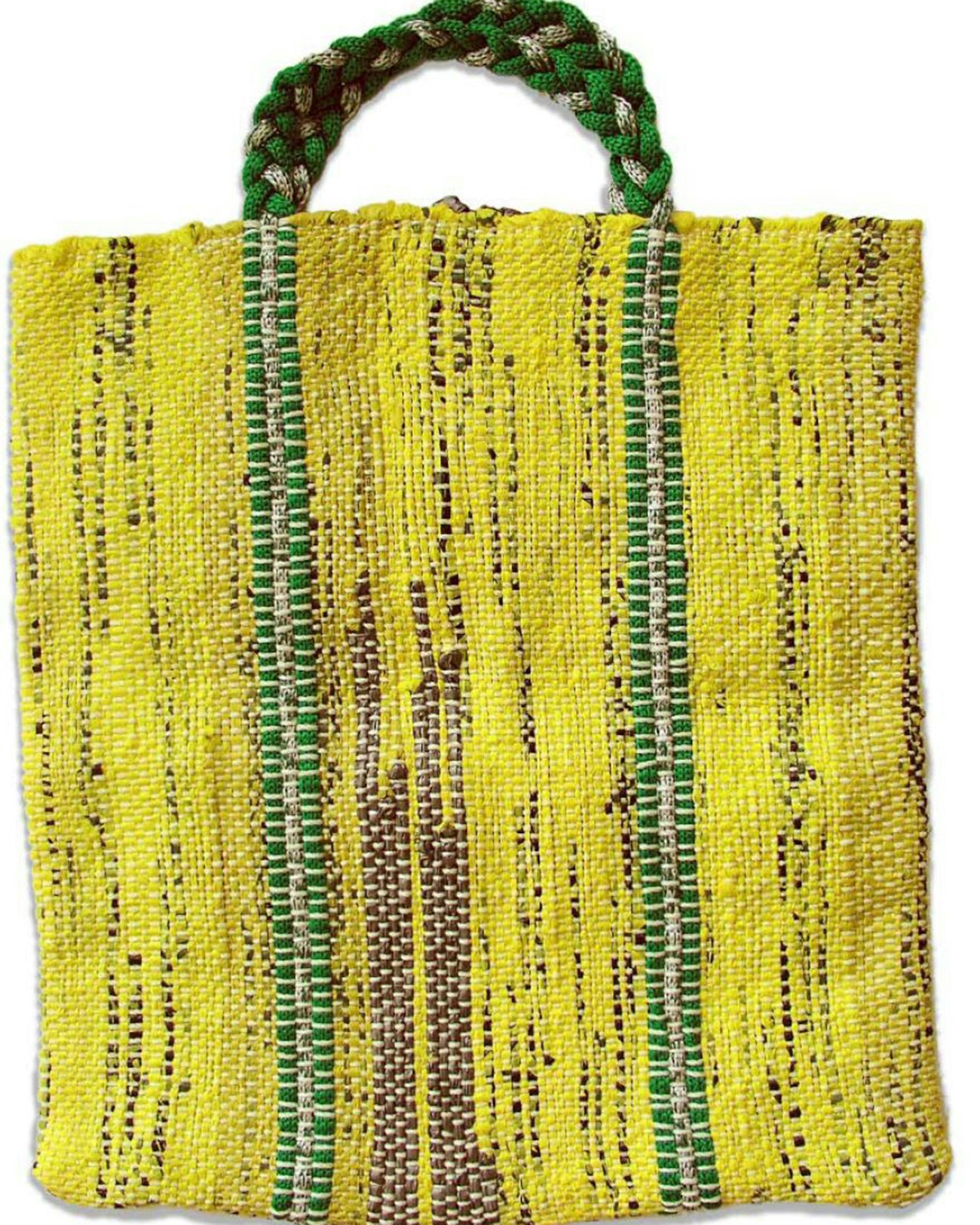 Black lettering on yellow shopping bags creates a fun and pretty tote fabric. You'll be the envy of everyone in the grocery line!
Design considerations
There are several variables that can affect the specific design of your bag, including the thickness and color(s) of the plastic itself. For warp, I use either 8/4 cotton/ polyester rug warp (as for the yellow bag shown here) or 8/2 polyester (as for the black-and-white bag on page 2). I usually sett the 8/4 cotton/poly at 10 ends per inch and the 8/2 at 12 ends per inch. Depending on the colors in your plastic strips, you can also use color in the warp (a single color, alternating colors, or colors arranged in stripes). Both 8/4 cotton/poly and 8/2 polyester are available in a wide range of colors. Almost any heavy yarn (or bundle of yarns) can be used for the handles. I weave this yarn into the bag as part of the weft and either braid or macramé the section that extends as the handle.
~ Anne
Project at a Glance
PROJECT TYPE: 4-shaft.
STRUCTURE: Plain weave.
EQUIPMENT: 2-shaft or 4-shaft loom, 20" weaving width; 10-dent or 12-dent reed; 1 stick or ski shuttle,1 boat shuttle; rotary cutter (optional).