A lot of the questions that we receive in the Handwoven inbox concern yarn selection. People have a yarn in their stash and wonder whether they can use it in a specific draft. The short answer is "Sure." That's because if you think about it, any yarn and any draft can be paired. I'm not saying that you will like your results or that weaving twill wool towels is on my own to-do list, but you could do it. What they are really asking is, "Would this yarn I have work with this pattern, and will it yield nice results?" The last part of that question is harder to answer, and our response invariably includes the suggestion that sampling would be a good idea before committing to a project.
I've admired a lot of deflected doubleweave (DDW) over the years but have yet to weave it. I was watching Janney Simpson in New Dimensions in Deflected Doubleweave, and I found the portion of the course when she talks about yarn selection important and interesting. She says that for her DDW projects, she likes to use different fibers and/or different yarn sizes together, and then she gives specific examples and shows her results, which are frankly pretty stunning.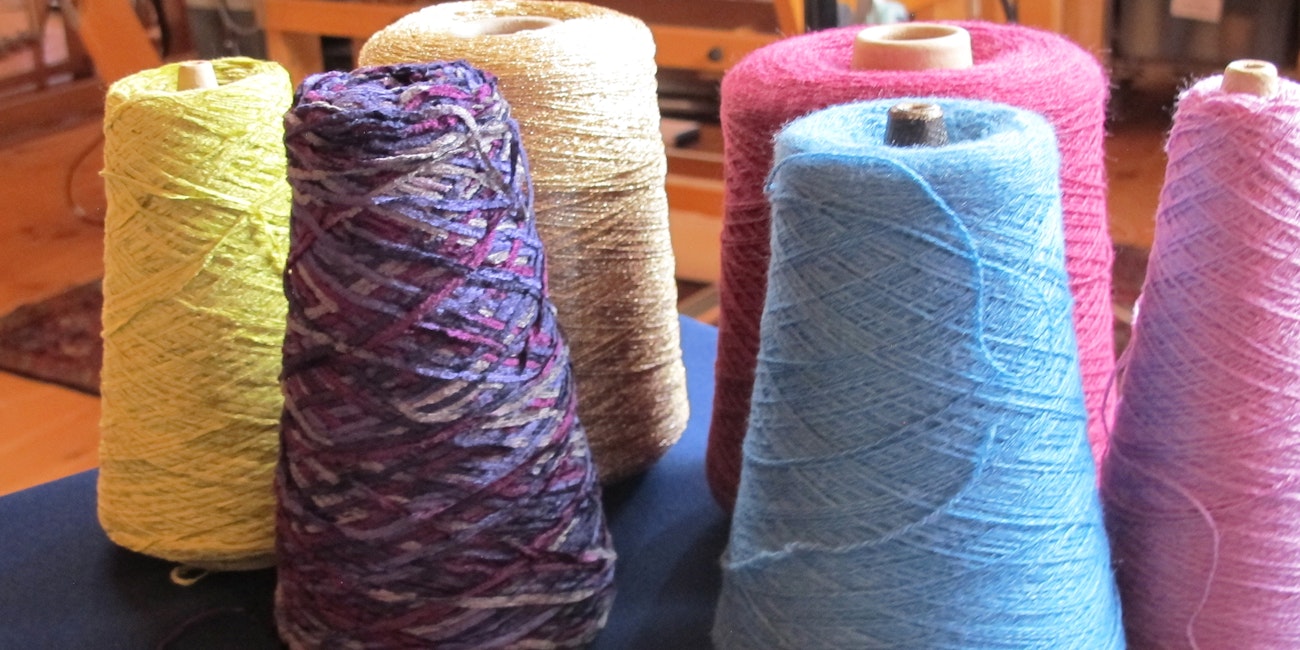 Some of the yarns Janney talks about in her discussion of yarn choices for DDW, including silk/wool and chenilles
If you are wondering what types of yarns to use in DDW, here are some of the combinations Janney talks about in the course.
Thin wool/silk with rayon
JaggerSpun's 18/2 Zephyr, a luxurious silk/wool blend has a matte finish that comes from the wool and just a hint of shine that comes from the silk. Janney likes to combine lace-weight 18/2 Zephyr with very shiny 10/2 or 8/2 Tencel, or Bambu 12 for DDW scarves and shawls.
Zephyr wool/silk also comes in a thicker worsted-weight version. Janney shows 4/8 Zephyr woven with the thinner 18/2 Zephyr in a scarf, and she also shows a sample of a DDW blanket that uses only the thicker 4/8 Zephyr. I can't imagine a cozier blanket to snuggle up in.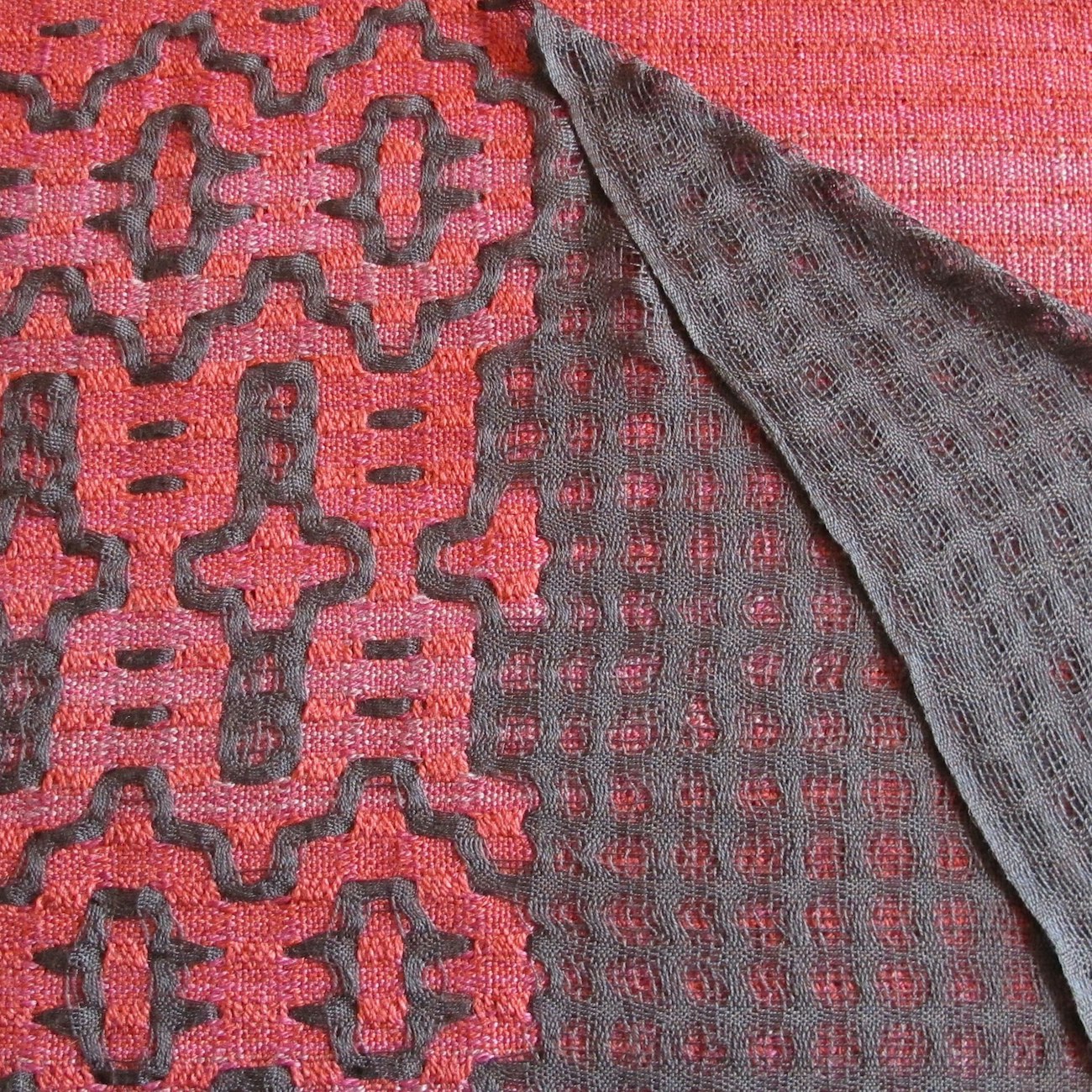 In this scarf woven with 60/2 silk and 18/2 Zephyr, the grey silk layers are transparent.
Very thin silk with thin wool/silk
Janney also likes to weave with 60/2 silk for one layer in her DDW and 18/2 Zephyr in the other layer. This creates a silk gauze-like layer, a more matte wooly layer, and a gorgeous mixture when the very thin silk and thicker wool/silk meet.
She also mentions cottons, chenilles, and even boucles as yarns she has used in DDW. If you are wondering about sett, Janney starts with setting her yarns as she would for 2/2 twill and then guess what? She samples and adjusts her sett as needed and recommends that you do the same. Just goes to show that we aren't the only ones suggesting you sample to determine whether the yarn you have will work in the pattern you want to weave.
As Janney mentions early on, even everyday cottons that many of us have in our stashes work well in the DDW weave structure. Here she has combined two sizes of cotton.
Check out the course and especially the section titled "Preparing to Weave: Fiber, Equipment, and Warping." Whether you are weaving DDW or another weave structure, Janney's advice about yarn choices is valuable.
Weave well,
Susan