Angela K. Schneider wove samples using Camilla Valley Farm's 2/16 Worsted-Spun Wool, a yarn spun and dyed specifically for weaving tartans, the iconic plaid of Scotland. Here is what she reported about the yarn in the Yarn Lab for Handwoven May/June 2021. - Susan
THE YARN
The 2/16 worsted yarn is spun and dyed by one of Scotland's oldest producers of the quintessential tartan fabric. Worsted in this case refers to the way the wool is prepared and spun, aligning the fibers in a smooth, dense, and hard-wearing yarn (not to be confused with the term worsted-weight often used to describe a size of knitting yarn). This yarn is thin at 4,400 yards per pound and 44 wraps per inch, with very little variation in thickness. It has a smooth and slightly fuzzy texture, not silky or particularly soft. It has little elasticity, less than is typical of wool yarn, and it has a firm twist, not a lofty one. The yarn is also strong. These characteristics come from the worsted spinning. The yarn has a slightly unbalanced twist that gives finished fabrics a slight bias.
[PAYWALL] The yarn is put up in 4-ounce (113-gram) tubes of 1,100 yards (1,006 meters). I encountered only one knot in winding off about 5,000 yards and no other flaws. I sampled 6 of the 23 available colors: White (a natural creamy white), Beige, Gold, Olive, Old Blue, and Wine. The colors are uniform, and all have a soft, earthy character that makes them work well together.
The fine size and smooth nature of 2/16 wool along with its Scottish pedigree inspired the structures I chose to weave. I dressed the loom back to front, drawing the warp through the lease sticks at the cross while beaming the first warp. The sticky yarns required extra attention to separate at the cross. For the remaining samples, I avoided the issue by using a counting cross at the back and a thread cross at the front to make beaming easier. I had few broken warp ends out of nearly 1,500 ends and several yards of weaving.
I wet-finished all the samples by vigorously handwashing in hot water, scrubbing on a washboard to encourage fulling, rinsing in cold water, spinning out the water, and laying them flat to dry. I pressed the dry samples with a steam iron or steamed the samples with dimensional effects. Color bleeding in the wash water was faint and not enough to stain other material. The yarn bloomed just a little with wet-finishing and did not shrink much.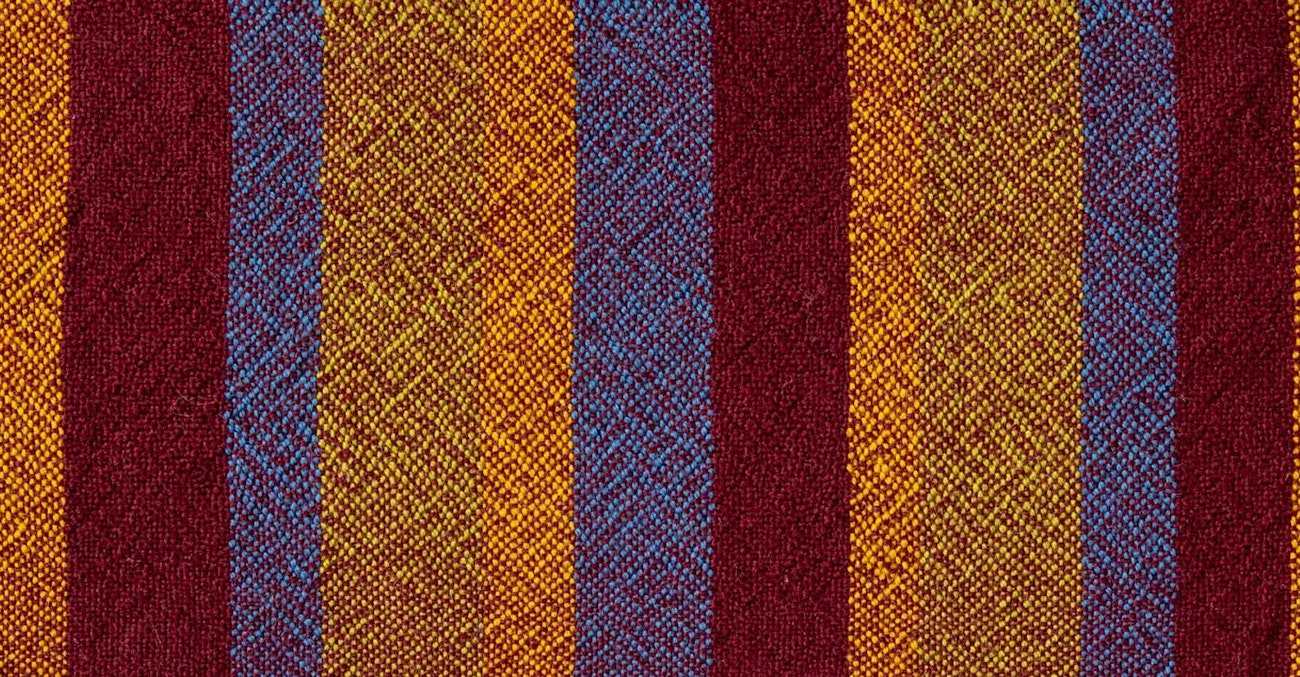 Sample 1: Plain-Weave Stripes
Sample Yarns: Warp: 2/16 wool, Wine, Gold, Olive, and Old Blue; weft: 2/16 wool, Wine.
Setts: 24 ends per inch (epi); 24 picks per inch (ppi).
Shrinkage in length: 11%.
Shrinkage in width: 12.5%.
Plain weave is an obvious first choice for sampling. I wove samples at three setts. My favorite of the group is the sample at 24 epi (shown here) that is a balanced and flexible fabric. All the samples showed tracking, the appearance of diagonal lines in a plain-weave fabric caused by excess twist in the yarn trying to escape. Tracking can be considered a flaw or a feature—I find the effect pleasing in this swatch. The sample at 32 epi is a firm fabric that I could not square, even with a hard beat. It would be suitable for a bag or an item requiring extra durability. At 20 epi, the balanced swatch is a light and supple fabric that would make a comfortable scarf.
Sample 2: Tartan (2/2 Twill)
Sample Yarns: Warp and weft: 2/16 wool, Old Blue, Gold, Olive, and Wine.
Setts: 32 epi; 32 ppi.
Shrinkage in length: 10%.
Shrinkage in width: 10%.
The yarn comes from Scotland's oldest tartan producer, so tartan had to be one of the samples! I designed a plaid using four colors and sampled at three setts. At 36 epi, the 2/2 twill required a hard beat, and the pattern is slightly elongated. The fabric is very firm and would be hard-wearing, possibly good for bags (or bagpipes?). The sample at 32 epi (shown here) is firm but supple, with the pattern nicely squared. The hand of the fabric is a good garment weight for a jacket, vest, or skirt reminiscent of a kilt—or for an actual kilt if you want to tackle the yardage. At 24 epi and ppi, the fabric is light and soft, ideal for a scarf or an item that will have light use. I washed and scrubbed all three samples vigorously to encourage fulling; the individual yarns are still distinct, and the yarn ends are separate on the fringes. The tracking noted in the plain-weave sample is not visible here; the unbalanced twist causes only a very slight bias.
Sample 3: /3 and 3/1 Twill Warpwise Stripes
Sample Yarns: Warp: 2/16 wool, Gold and Olive; weft: 2/16 wool, Beige.
Setts: 36 epi; 32 ppi.
Shrinkage in length: 10%.
Shrinkage in width: 37%.
The fineness of the 2/16 wool yarn reminded me of a dimensional fabric I wove using fine cotton. Alternating warpwise stripes of 1/3 and 3/1 reversed straight twill tend to curl in opposite directions. Upon washing, the flat-woven fabric collapses into warpwise ridges and furrows 1/16 inch deep. The fabric is suitable for garments with body, visual interest, and elasticity created by the collapse. The high shrinkage in the width is caused by the collapsing structure more than the yarn.
Sample 4: Twill Pinwheels
Sample Yarns: Warp and weft: 2/16 wool, Old Blue and White.
Setts: 32 epi; 32 ppi.
Shrinkage in length: 11%.
Shrinkage in width: 10%.
This sample combines color-and-weave and a dimensional effect in the classic eight-shaft pinwheel pattern. The firm yarns and high color contrast create clearly defined shapes. The cloth has a nice, low-relief surface texture of hills and valleys between the centers and edges of the shapes. In addition, the cloth is stretchy on the diagonal.
Sample 5: Deflected Doubleweave
Sample Yarns: Warp and weft: 2/16 wool, Wine; 10/2 pearl cotton (4,200 yd/lb; UKI), #107 Melon and #149 Burnt Orange.
Setts: 24 epi; 24 ppi.
Shrinkage in length: 20%.
Shrinkage in width: 19%.
For this sample, I used 2/16 wool for one layer and 10/2 cotton for the other. Setts of 24 epi and ppi are loose for this structure, leaving room for the yarns to shift during wet-finishing. The fabric is light and airy while still stable. The wool layer fulled, drawing in just enough for the cotton shapes to be raised just a little against a wool ground, as though the smooth and lustrous pearl cotton shapes are resting on a fuzzy matte wool surface. This is a suitable cloth for scarves, shawls, or other light-duty uses.
FINAL THOUGHTS
Worsted-spun 2/16 wool is an excellent staple yarn for fine wool fabrics. It is easy to work with and produces crisp designs. The yarn is strong, smooth, and stable, and has minimal shrinkage for a wool yarn. This is not a wool to choose for significant fulling or dramatic differential shrinkage effects, nor is it supersoft to the touch for next-to-the skin wear. It is an excellent choice for smooth fabrics, low-relief texture, and classic designs.
ANGELA K. SCHNEIDER lives and weaves near Memphis, Tennessee, with a variety of looms, only one of which got to participate in this Yarn Lab. Visit her online at angelakschneider.com.