I don't remember the first time I heard the term "fair trade," but I do remember that as soon as I learned what it meant it made absolute sense. As a weaver, I understand more than ever how important fair trade is to keeping textile traditions alive around the world. Given that May 14 is Fair Trade Day, I thought it would be fun to talk a bit about why I love fair trade and why it's so important.
There are so many reason to love fair trade. First of all, it's always nice to know that when you're buying something, whether it's a chocolate bar or a backstrap woven purse, that the people who helped produce that item were paid fairly for their work. Fair wages mean not only a better life for the farmer, weaver, potter, etc., but a better life for their family and their community. What's not to love about that?
The impact of fair trade goes beyond just the financial. For weavers and other artists and artisans around the world getting a fair wage might be the difference between continuing traditional techniques and giving them up for a more lucrative career. Fair trade helps keep Indoneisan ikat, Mayan backstrap weaving, and Indian block printing alive and well. When the younger generation sees they can make a living from weaving, dyeing, etc., it means they're more likely to learn those skills. For those of us who care about not only about these techniques, but also those people who keep them going, this is a huge reason to love fair trade!
Unfortunately fair trade isn't the default when it comes to handmade goods—at least not yet. While at a Weave a Real Peace conference several years ago I heard a heartbreaking story. Due to economic reasons, Mayan women were selling their beautiful, heirloom, handwoven huipils to a retailer for a fraction of a fraction of what these works of art were worth—pennies on the dollar, if you will. These beautiful weavings were then torn into pieces and sewn into bags and other items that were advertised as "recycled" and sold at low prices.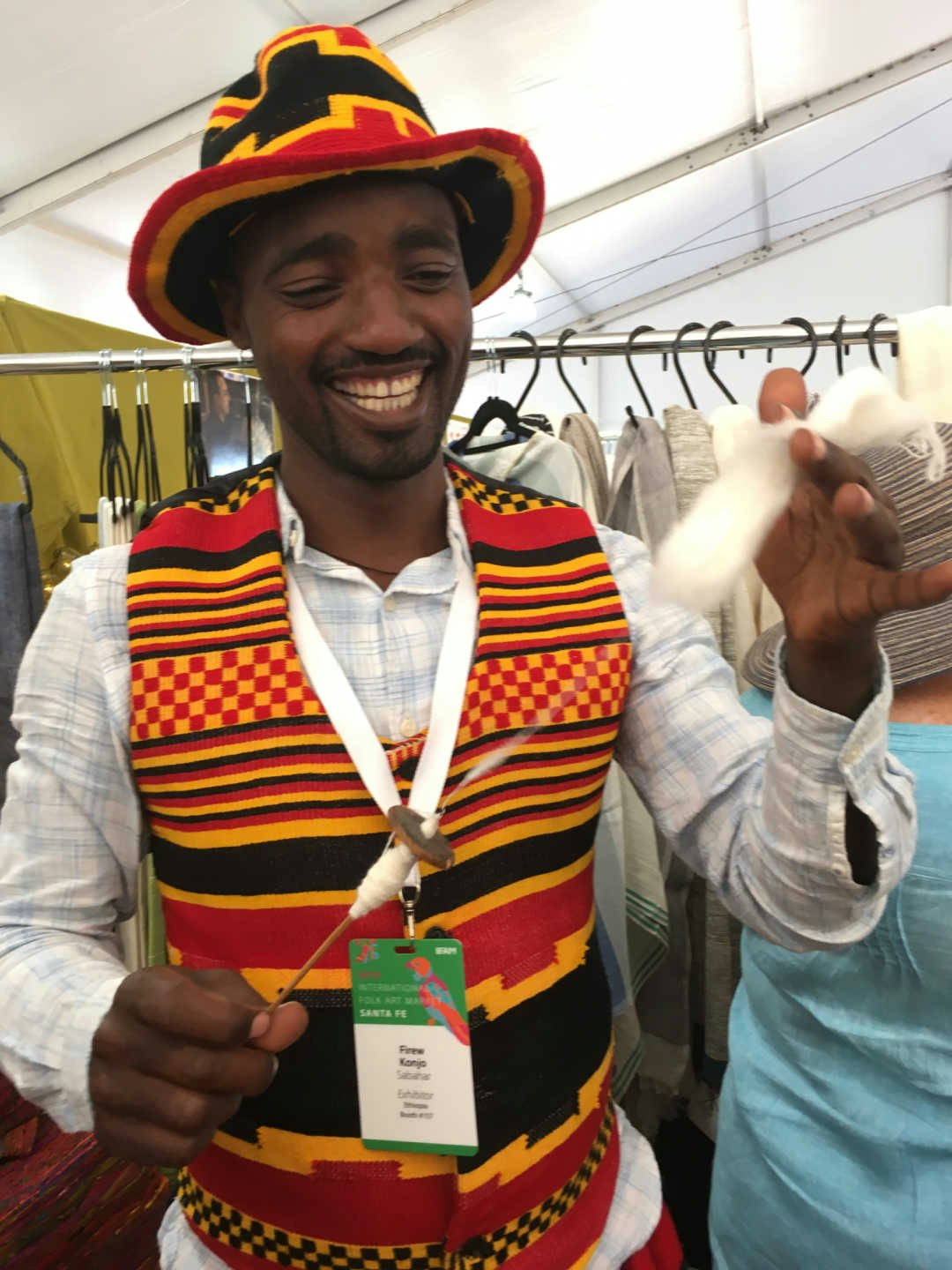 This is why we love fair trade. It protects artisans and their art. So what can you do to support fair trade? When buying handmade items check to see if they are labeled as fair trade. Seek out fair trade retailers or buy directly from the producer—thanks to the wonders of the internet many coops around the world now have websites and online stores. ClothRoads, Ten Thousand Villages, and Fair Trade Winds, Sabahar, and Multicolores are just a few of the online options out there. There are also hundreds of local fair-trade shops in towns around the country and groups that sell fair trade at art shows, farmers' markets, and craft fairs—you just need to keep an eye out for them!
If you get the chance, plan a trip to the Santa Fe International Folk Art Market held one weekend each summer in beautiful Santa Fe, New Mexico. Each year hundreds of artisans from around the world flock to Santa Fe and sell their wares and tell their stories. It's more than just a market—it's a celebration of the artisans, their work, and fair trade, and it's a great opportunity not just to find some truly amazing works of art from Indian silks to Tibetan painting to Mexican rugs, but to also talk with the people who create them and learn more about their work and their culture. I've had the good fortune to attend twice and each time I came home with bags full of beautiful art and textiles and an even greater appreciation for the work and talent that goes into these handmade goods.
So as this year's holiday season goes into full swing and you're looking for the perfect gifts for loved ones, consider seeking out some special fair trade textiles to give away. You'll not only have a one-of-a-kind gift to give, but you'll also have the knowledge that your purchase went towards keeping traditional textile techniques alive and well.
—Christina