Shawls are wonderful items to weave! Because they are wider than scarves, as you throw the shuttle, you get to see and touch and admire a lot more fabric than you can with a scarf. But shawls, like scarves, are rectangles, and therefore they require no sewing. For these reasons I love weaving them, so I have quite a collection. Sadly, although I weave them, I don't wear them. Somehow, when I put on a shawl, I look like I'm going to a gym class with a towel around my neck. If I do put one around my shoulders, it does not seem to stay with me, ending up under the table in a restaurant or on the floor of the car. In spite of this, I collect them lovingly, draping them on chairs and tables and couches, where they please me every time I walk through a room. My chairs and couches look very good in shawls. I also love giving them to friends and admiring how beautiful they look on other, taller people's broader shoulders.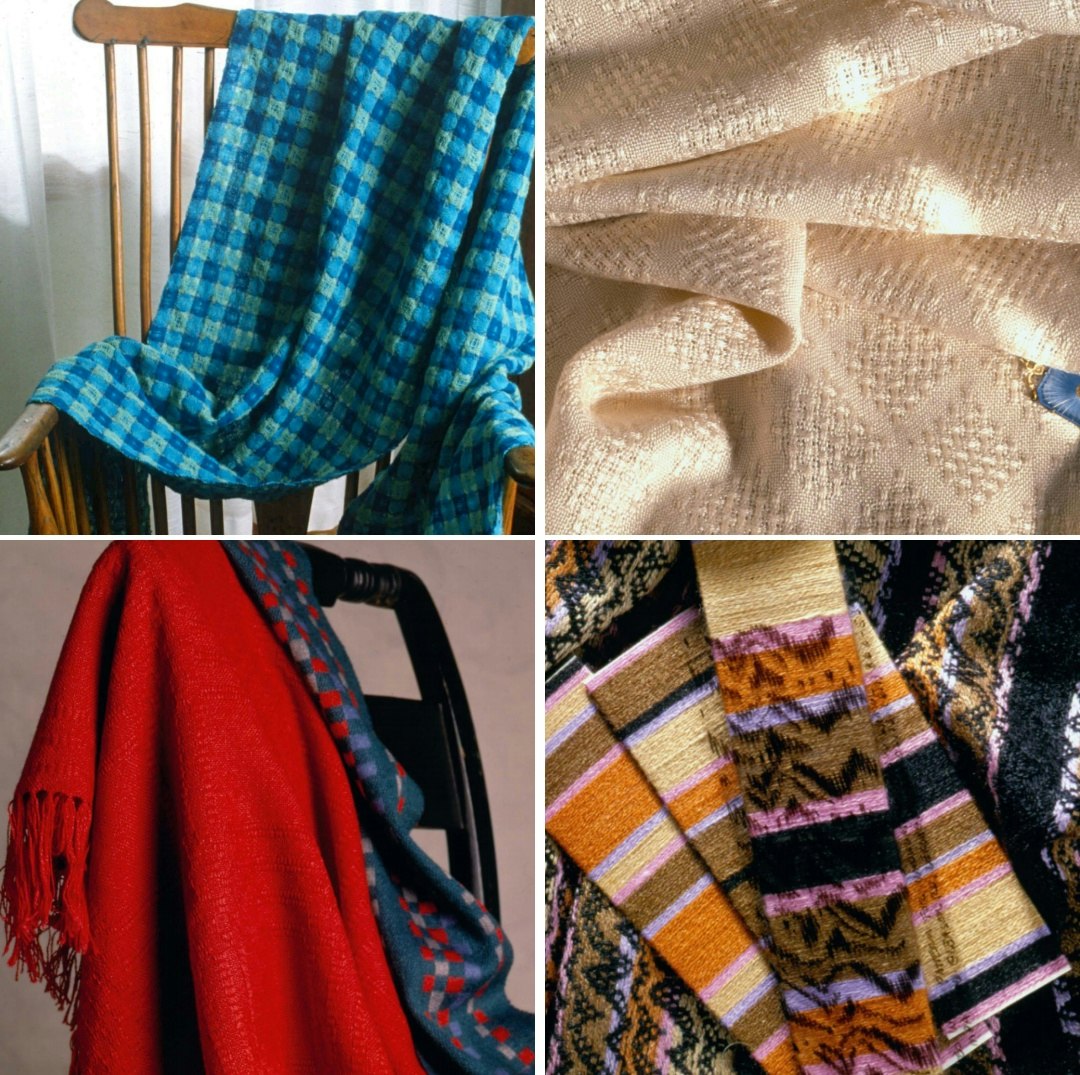 Shawls from the collection: clockwise from top left Colonial stole by Gladys Strong, Silk Lace shawl by Sharon Alderman, Undulating-twill shawl by Sharon Alderman, and Shawl in M's and O's by Jean Scorgie.
Shawls do have a new presence in commercial clothing and specialty stores. It is somewhat annoying that imported "pashmina" shawls can be bought for less than the yarn would cost a weaver. For that reason, a handwoven shawl needs to be especially wonderful and stand out above any shawl you could buy in a store. Luckily, we handweavers can use yarns and weave structures and finishing treatments that are seldom found in commercial fabrics: open laces in silk yarns, loose interlacements in wool that are carefully fulled, metallics and novelties and fragile yarns that require careful tensioning and handling.
The collection of shawls in our new ebook, Top Ten Shawls on Four and Eight Shafts, will give you plenty of options and ideas for weaving luxury items you could not find in a store. One of my favorites was also a landmark in weaving literature: the first example of a special form of doubleweave in which warp and weft threads deflect to form circles and unique shapes. Mary Meigs Atwater included the draft in her Recipe Book, calling it an old "Colonial Stole." The draft begs for further exploration. Other structures in this book of shawls that are uniquely the province of handweavers include Atwater-Bronson lace, M's and O's, loose undulating twills fulled to incredible softness, and more.
Winter is the perfect time for weaving soft warm shawls. You can wrap them around you in the evening (or put them over your knees if you are anything like me). So warp up and get cozy!
—Madelyn
Originally published November 24, 2015; updated October 11, 2023.