Weaving rag rugs is nearly limitless in terms of possibility. With a little creativity and know-how, you can create a lasting rug that's truly unique to your own taste and needs. Just make sure to use good rug-weaving technique, as outlined by Tom Knisely in his course Weave a Good Rug. He covers everything from equipment to finishing techniques, all with the goal of helping you successfully create rugs that look and wear the way you want them to.
Once you've mastered the basics, it's time to play. Here are a few tips for shaking up your rag rugs!
1. Experiment with Structure and Threading
Weaving with rags allows you to experiment with structure and threading. Just make sure you use good rug weaving technique!
When designing, consider the number of colors you want or have to work with, the number of shafts you want to work with, and the durability and requirements of your rugs. A bath mat sees very different kinds of wear than a doormat.
In general, you'll want an unbalanced weave to improve your rug's stability. Simple weft-facing plain weave or twill produces a great rug, but there are many more options. Boundweave, especially krokbragd, works wonderfully for rag rugs as long as you plan your colors so they show up clearly.
Check out the "Colorworks Krokbragd Rug" from the Best of Handwoven: Weaving with Rags collection for a great example. Pile weaves like double corduroy are also excellent choices for weaving rags.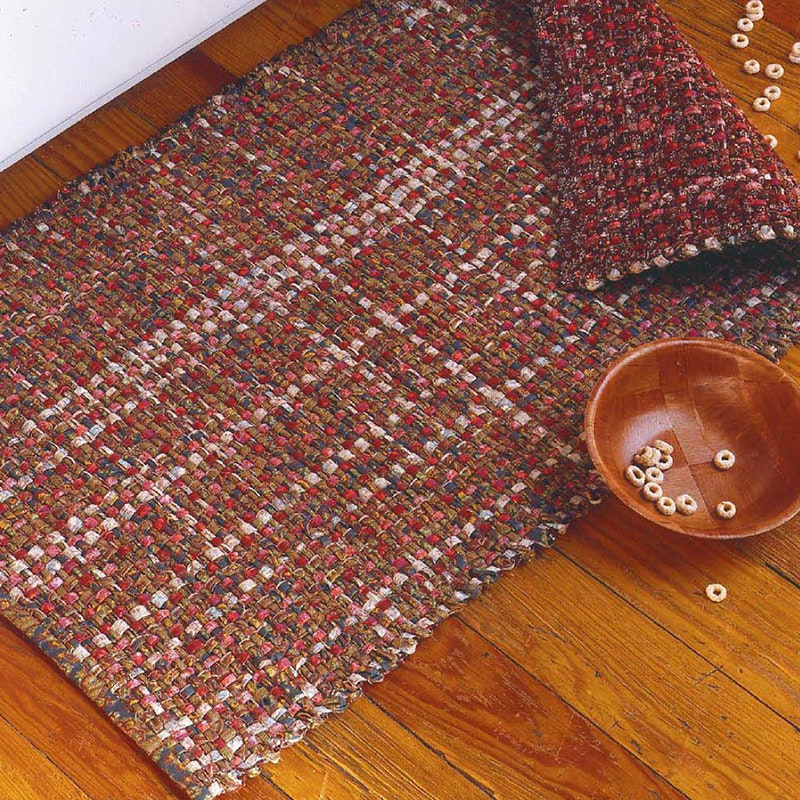 It's even possible to use rags in the warp, if done very carefully. The "Summer Berries, Autumn Leaves" rug is a great example from the collection. It's woven in a doubleweave variation that creates a sturdy rug with two interlocking cushy layers.
2. Expand Your Definition of "Rag"
The most traditional and economical way of weaving rag rugs is to use clothing and other fabric scraps gathered from your own home or purchased from a thrift store.
T-shirts are a favorite, although they tend to cause erratic draw-in. Make sure to create your t-shirt yarn "calamari" style, meaning you cut long loops that are stretched and tied together to keep your selvedges more even. Denim and even pantyhose are other options for material.
One favorite option is to buy sari, kimono, and batik rags or rag yarns. You can also simply purchase cloth to cut into strips, or premade cloth or rag yarn. Poppana "yarn" is a common choice, made of cloth strips cut on the bias.
3. Seek Out New Textures
Even in simple plain weave, there are lots of creative ways to vary your texture. The easiest method is one you'll have a hard time avoiding: unevenly cut rag strips. Learning to embrace and work with the variance this produces in your work is key to enjoying rag weaving.
.
Combining two very different types of rags together is another very effective way to get texture. One option is to twist two rug strips together, as in the "Country Charm Rug," where designer Alma Benedict twisted beige wool coat fabric with upholstery-weight velvet in varying colors.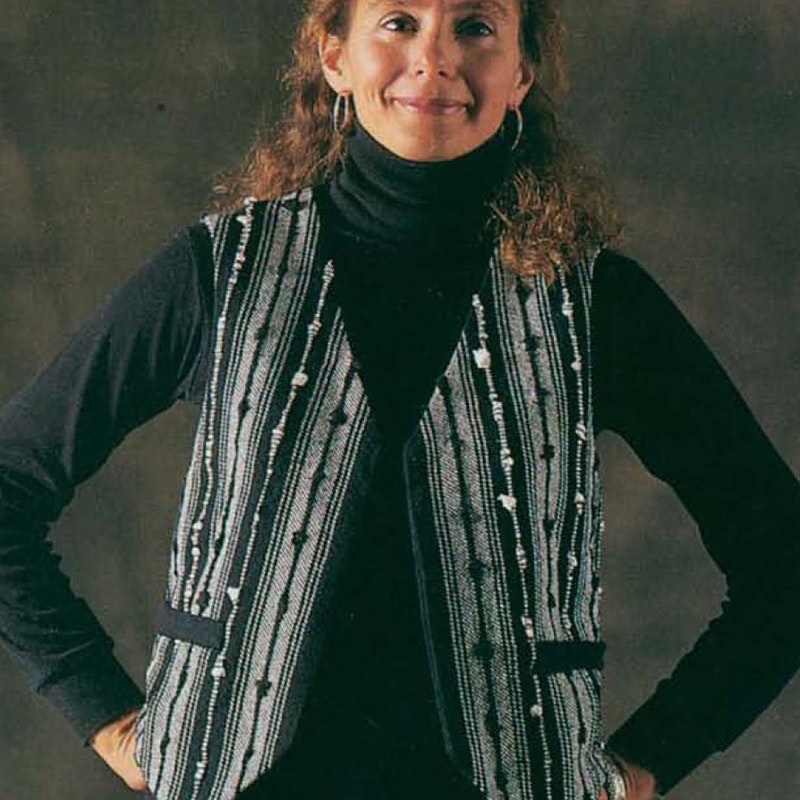 .
Accents can also create texture. Tying knots in your rags creates accent wefts, as in the Ragtime Vests (the vests themselves are somewhat dated, but the knotting technique is worth experimenting with!) from the Weaving with Rags collection. You can also add contrasting, textured, or different-sized accent rags with inlay techniques.
Also experiment with raveling the edges of your rags. There's a great technique for doing this with denim, which creates a nice white pile against a blue backdrop.
4. Weaving Rag Rugs of Many Colors
Finally, there's the coloring of your rags to consider. Obviously you can choose rags that are already colored the way you want them. Buying a whole rainbow of t-shirts is a common choice. You can then experiment with long stripes of the same color, repeating sequences, or a random mix of colors.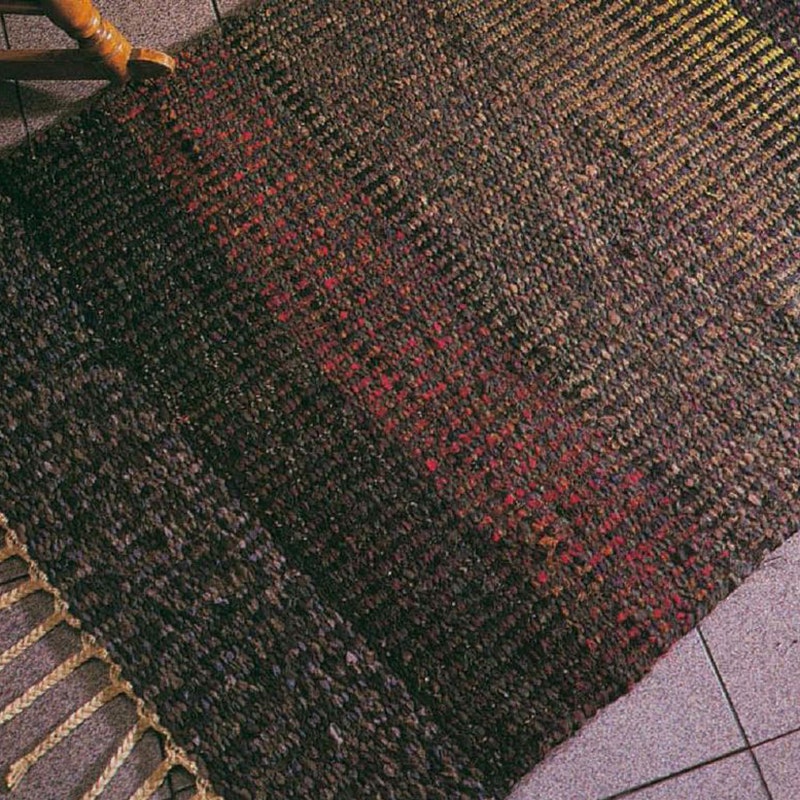 Try weaving patterned rags as well. The size of the pattern, the contrast, and the density of the pattern will all vary the effect you get in your final weaving. Flannel rags can create interesting color depth, as you can see in the "Cotton Rag Rug" from the Weaving with Rags collection.
Don't limit yourself to the "right" side of the fabric; using both the right and wrong sides strategically when weaving rag rugs is a great way to create patterning, and it adds interest by making your rug reversible!
Many people also dye their rags custom colors. Doing a subtle over-dye on a variety of colors can give you a palette of similar colors for rich depth, or you might want to dye all your rags to match exactly.
When weaving rag rugs, the only constraints are your imagination and of course the durability the rug. Lean heavily on Tom Knisely's advice in Weave a Good Rug, Best of Handwoven: Weaving with Rags!
–Andrea
Originally posted June 24, 2016 Revised April 13, 2021