If you find yourself in the vicinity of Los Angeles this fall and are looking for something interesting, artful, and fibery, here are two fabulous exhibits that are opening in September. If you time it right, you could see both in a day! I just looked up the two museums' locations, and by car they are 6 minutes apart, although this is Los Angeles where I regulary double all driving-time estimates.
Influences/Influencers: California Fibers
This smaller of the two shows runs from September 9, 2023, through December 2, 2023. Influences/Influencers can be seen at Craft in America Center, Tuesdays through Saturdays.
Influences/Influencers features the work of 23 members of California Fibers. Emily Zaiden, director and curator of the Craft in America Center, says, "The artists in this exhibition are part of a historic organization that has been at the forefront of contemporary fiber art in Southern California, across the state, and far beyond." Influences/Influencers represents some of the vast influences that are shaping fiber today and simultaneously is a celebration of how fiber has become a beam of influence on the broader contemporary art world in recent years.
Look here for more information about Influences/Influencers.
Woven Histories: Textiles and Modern Abstraction
Woven Histories: Textiles and Modern Abstraction is a larger show of 150 works at the Los Angeles County Museum of Art (LACMA). It runs from September 17, 2023, through January 21, 2024. Woven Histories: Textiles and Modern Abstraction can be seen at LACMA Thursdays through Tuesdays (The museum is closed on Wednesdays.)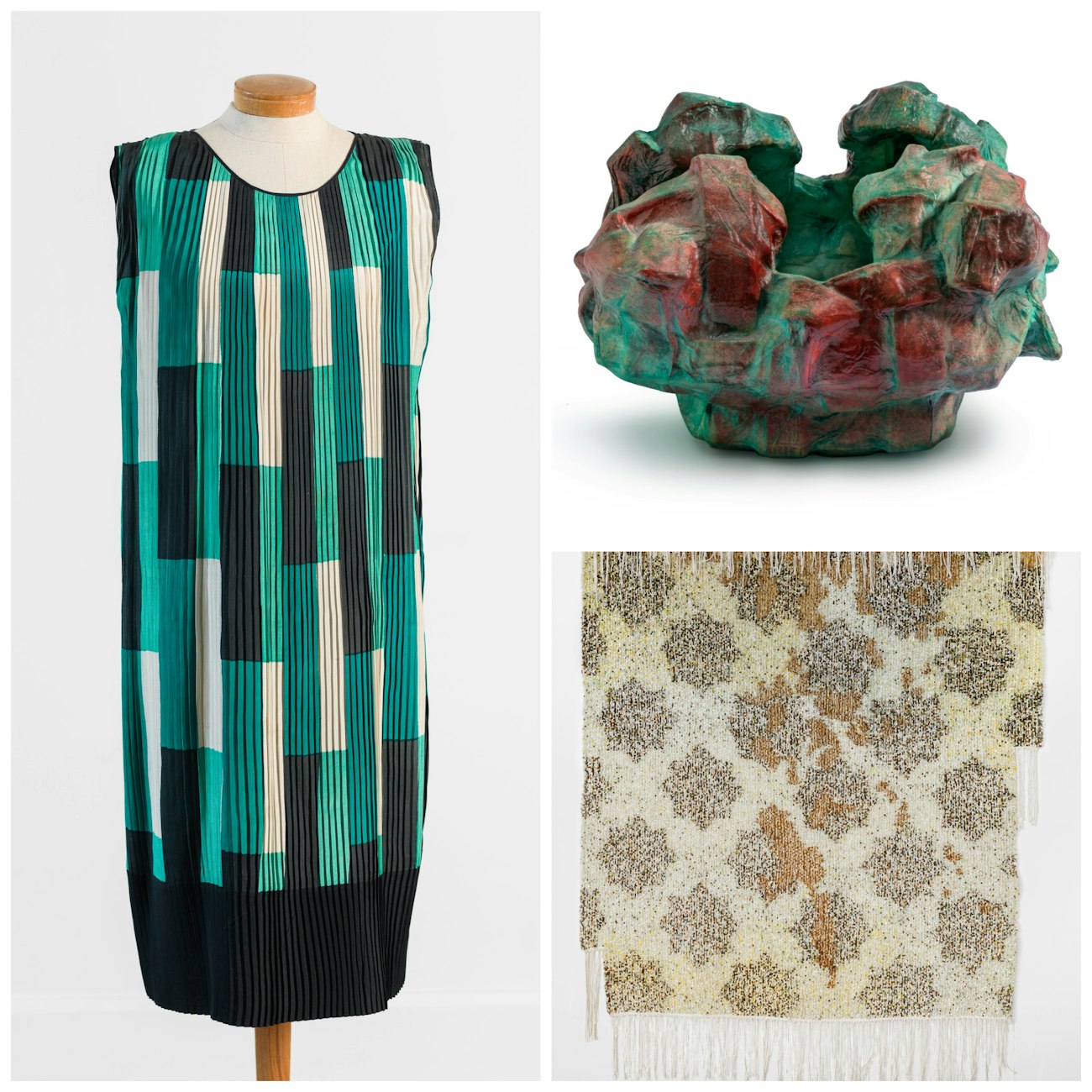 On the left: Sonia Delaunay, Dress, c. 1926, private collection, Germany, photo courtesy Archiv Baumeister. Top right: Ed Rossbach, Lettuce Basket, 1982, Los Angeles County Museum of Art, gift of Dr. Milton and Martha Dalitzky, © Ed Rossbach, photo © Museum Associates/LACMA. Bottom right: Igshaan Adams, Vroeg/ig by die Voordeur, 2020, Beth Rudin DeWoody, © lgshaan Adams, courtesy the artist and Casey Kaplan, New York, photo: Mario Todeschini. Featured in Woven Histories: Textiles and Modern Abstraction at LACMA.
Per Lynne Cooke, the curator of the exhibit and the Senior Curator of Special Projects in Modern Art, National Gallery of Art, "The centrality of textiles in our everyday lives is often ignored or taken for granted, whether in the guise of dress, interior furnishings, and decor, or in the form of metaphors, idioms, and sayings that permeate our speech and govern thought. While often unmarked, these material and immaterial textile choices signal how we want to represent ourselves and the values we embrace. In sum, much that is telegraphed consciously and unconsciously through the significations of cloth and clothing underpins the myriad forms of art-making showcased in this exhibition."
Look here for more information about Woven Histories.
Here's a plan: Get 11:00 a.m. tickets for Woven Histories for a day when both exhibits are open. Grab a bite for lunch after seeing the show and checking out the gift shop and then head on over to the Craft in America Center to see Influences/Influencers. If you have a salad for lunch, it will be a high-fiber fall day! Sounds just about perfect!
Weave well,
Susan