It's time for new beginnings, new projects, and new skills, and I've got the itch to weave rugs for my home. Here is my review of rug weaving video from Tom Knisely, full of ideas to make me, my looms, and my floors very happy.
When I find myself at a decision point in weaving, the voice of my first weaving teacher, Linda Edwards, pops into my head, saying, "It's going to be woven for a long time." That phrase has often saved me or perhaps doomed me to cutting out treadling errors way back in my weaving, rethreading barely perceptible threading errors, and searching for days to find the perfect weft when the one I had planned on using wasn't "right."
I've woven several rugs during my weaving career, some better than others, but to be honest none of them have been exactly what I envisioned. After a few misses, I quit altogether. Lately, however, I started to get the itch again. There are some bare spots on my floors that need rag rugs, and the thought of using a commercially woven rug when I could make my own is unpalatable.
Therefore, I was delighted to be asked to preview Tom Knisley's new two-part video, Weave a Good Rug. My guild study group watched his first video,The Loom Owner's Companion, and were intrigued by it. It's not Titanic, but, like any good workshop, it made us think and gave us new ways to look at looms and tools, how to use them correctly, and how to care for them. Watching it led to discussions among the group about temples, loom types, and draft variations—in other words: the stuff weavers care about. I've always felt if you gained one good idea from a workshop, it was worth it—getting multiple ideas is a home run. The Loom Owner's Companion and Weave a Good Rug are both home runs.
Watching Weave a Good Rug, you can feel Tom's passion for weaving rugs and teaching others to how to weave a rug. He starts with a discussion of rug structures: warp-faced, weft-faced, rep, and rag, and the types of warp yarns that are best for each one. He moves from there to selecting the best loom for your project and the pros and cons of different types. As part of the loom discussion he shows the viewer how to improve their own looms to make them better for weaving rugs. The next section focuses on the tools needed to weave rugs, the different shuttles, temples, and other items necessary to weave rugs, and how to select weft yarns, or fabrics and other fibers for a rag rug.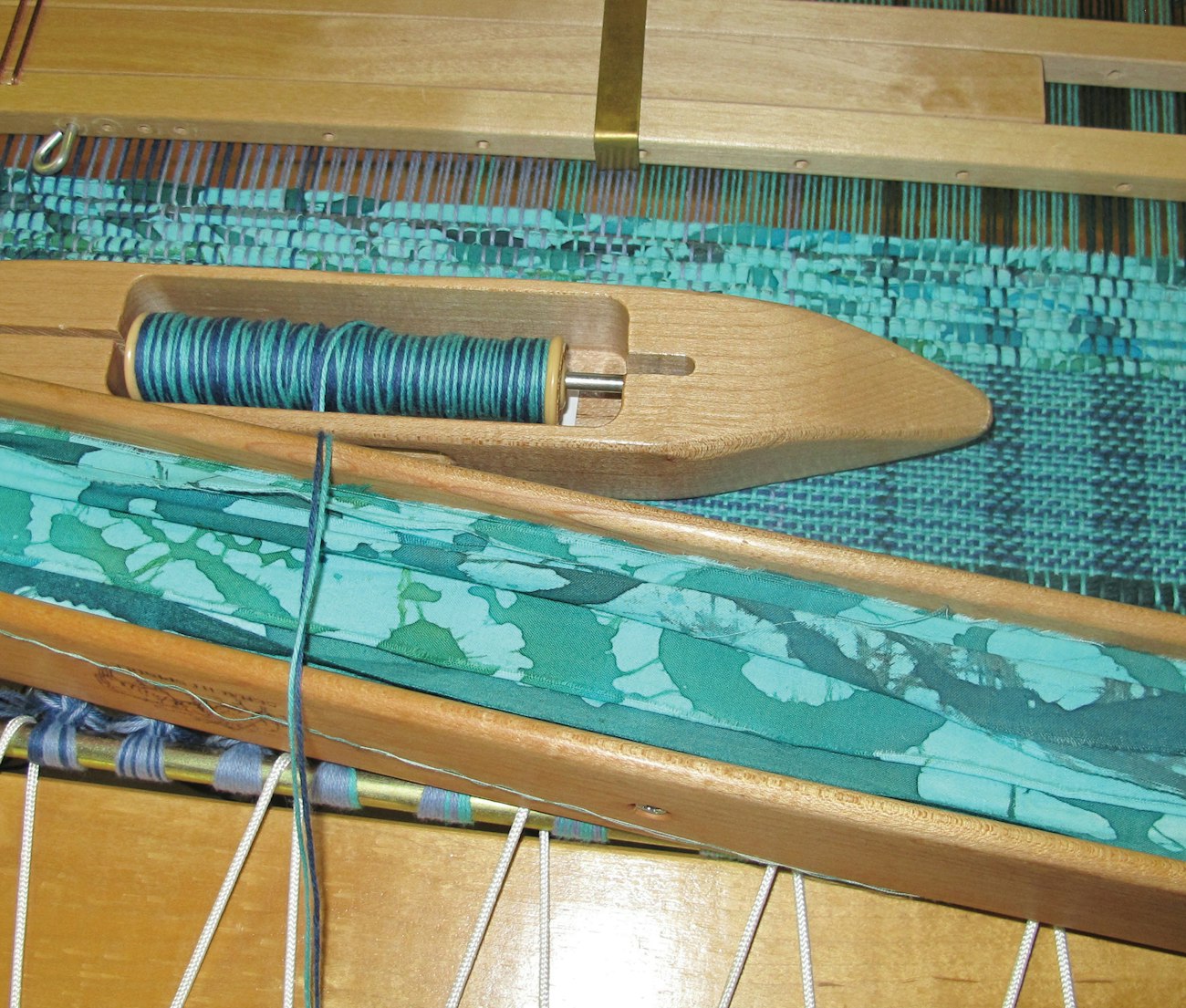 My favorite parts however were in the second half, when Tom actually weaves. Even for those of us who have been weaving for years, it is fascinating to watch how someone else throws a shuttle, adjusts their selvedges and beats their weft in. As he weaves portions of each rug type, Tom introduces the viewer to the details that make a good rug and how to achieve them, such as a tightly packed weft, headers that fold easily, and selvedges that are neat. In the section about rag rugs, he shows how to prepare the fabric and how to start and end fabric strips.
The final portion was finishing, and I found myself learning much more than I had anticipated. I have only ever turned a hem or made twisted fringe on a rug. Tom however shows other finishing techniques, some that would be considered weft-protectors, others warp protectors and some that fulfill both tasks.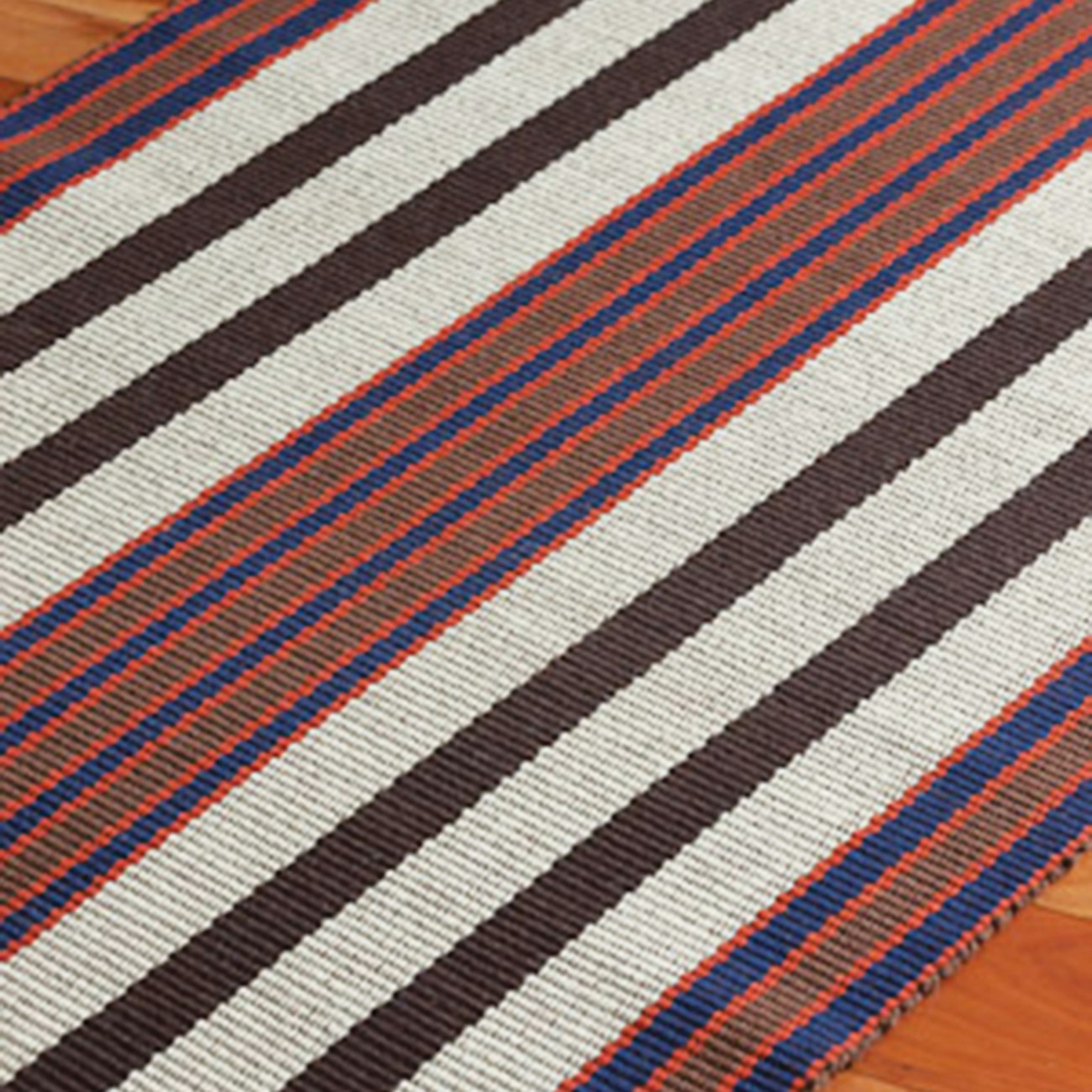 For each of the rug types highlighted in the video, he does a different and appropriate finish. He shows an easier way to do a turned hem, several types of knotted fringe, and how to finish a weft-faced rug with a Damascus edge.
Almost every beginning weaver I have ever known has expressed the desire to learn how to weave a rug. Rugs are utilitarian and, in the best of worlds, also beautiful and long-lived. Whether you are a new weaver or more experienced, you will find Weave a Good Rug useful. It will inspire you, give you new ideas and help you weave a good rug, which will be woven for a long time.
—Susan E. Horton
Originally published 9/26/2016 Revised 01/11/2023