Here is Kim Canon's method for using thrums and weftovers to make dryer balls. —Susan
Do you hate throwing out thrums? When your wool thrums accumulate, make dryer balls! They're fun to make and useful. Two or three dryer balls in the dryer keep sheets from clumping up. Plus, it's a great activity to do with kids. They like to make them and play with them.
Materials needed:
- Wool thrums (and weftovers) about 2 oz. for each ball. Weaving yarns at 800 to 1,800 yd/lb work well. Do not use non-shrinkable or superwash wool.
- Old nylon stockings
- Optional: small amount of wool spinning/felting fleece
- Washer/dryer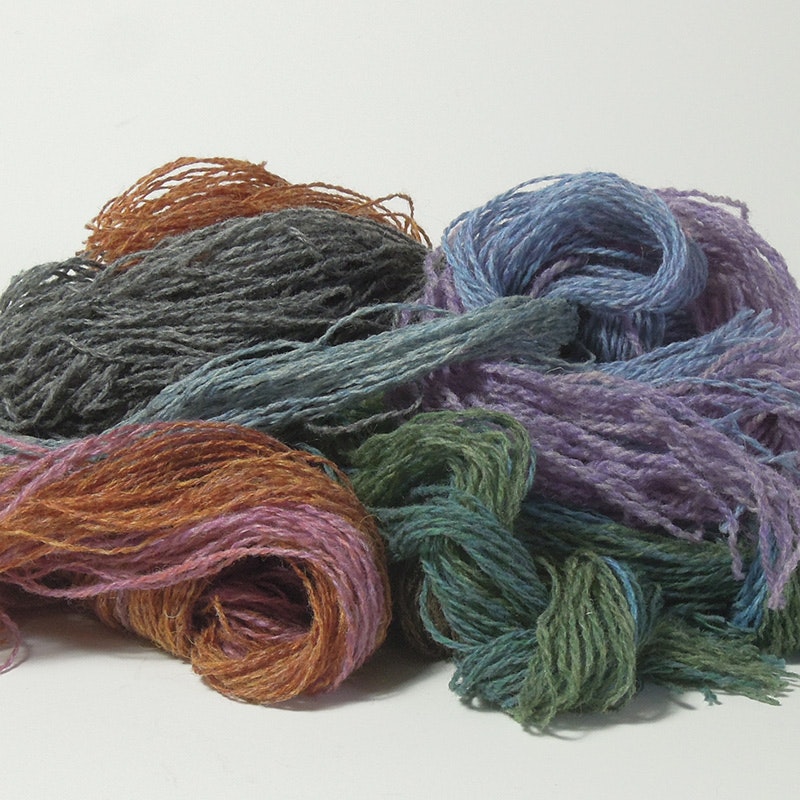 Make the balls:
1. For each ball, squeeze together a handful of wool thrums and short bits of wool yarns.
2. Tightly wind on lengths of thrums, tucking in the ends as you wind. If you use fleece, pat a little on every so often. Wind until the ball is tennis-ball size.
Once you have a collection of balls, get ready to shrink and felt them:
1. Slide each ball into a piece of old nylon stocking. Knot it tightly in place with overhand knots.
2. Put the nylon-wrapped balls in a mesh lingerie bag and machine wash (with detergent) at a very hot setting. The wash can include an old towel or two.
3. Take the nylon-wrapped balls out of the lingerie bag and submerge the balls in very cold water. When the balls are cold, gently the squeeze all the extra water out.
4. Machine dry the nylon-wrapped balls at a very hot setting along with a couple of old towels. (Or dry the balls outside in the hot sun.)
5. When the balls are thoroughly dry and cool, cut away the nylon coverings.
The wool dryer balls are ready to use, but admire them first! If you have extras, share them with friends.