When most folks think of Norwegian weaving, thick, and often densely woven fabrics and elaborately decorated cloth such as krokbragd rugs, rya coverlets, and figured rosepath runners come to mind. While doing cursory research about Norwegian weaving, I began wondering about the everyday weaving Norwegian Americans traditionally used in their kitchens. What, for example, did a Norwegian towel look like?
To find the answer to my question, I contacted Laurann Gilbertson, chief curator at the Vesterheim Norwegian-American Museum in Decorah, Iowa. The mission of the Vesterheim is to tell the stories of Norwegians who emigrated from Norway to America and of their Norwegian-American families. The museum's collections contain over 33,000 artifacts that tell many stories, including how Norwegian textiles evolved and changed as they, too, made the journey from Norway to America.
According to Laurann, the entryways to some Norwegian homes in the nineteenth century had a washbasin and wall cupboard from which hung a towel so guests could wash their hands. The towels were woven from linen and might be decorated with white or red designs, either woven or embroidered. After about 1900, fancier towels, more for decoration than for use, featured elaborately embroidered images including scenes from folklore and women in folk costumes. Some of these "show towels" were embroidered with different motifs on the front and the back so they could be hung with the back side a little lower than the front to showcase both designs at once.
The more utilitarian towels, for wiping up messes or cleaning dishes, were woven in simple plain weave or twill, sometimes with colored stripes, often in reds and yellows that were easy to dye using indigenous plants. (According to Laurann, blue dyes and yarns were rare in Norway until the advent of commercially available dyes, and thus blue was reserved for only the most special of items.)
Norwegian immigrants brought these textile traditions with them to America. Though limited on how much they could transport across the ocean, many immigrants brought necessary items for their new homes and articles too special to leave behind, including kitchen linens. They also brought their weaving knowledge and traditions and continued to weave items for their homes in the new country.
Weaving in America was different than in Norway. First, unless families raised flax themselves, linen yarn was not always easy to source, and so weavers used the easier-to-find cotton. In addition, it was hard to avoid the Victorian fashion of decorating one's home to the gills with lace and embroidery, both handmade and purchased.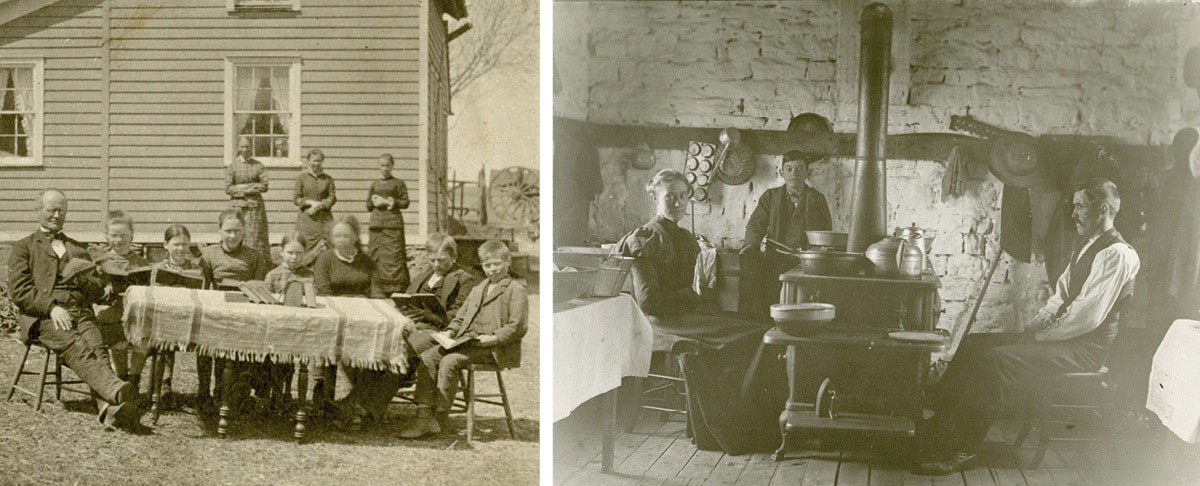 In a typical Norwegian-American kitchen of the nineteenth and early twentieth centuries, you might find a handwoven damask linen tablecloth. These tablecloths were brought over from Norway and sometimes made from two lengths of cloth sewn together. During the Victorian period and beyond, traditional tablecloths might be replaced by runners. For special occasions, including Sundays, damask linen napkins would be brought out. (These beautiful napkins were so highly treasured, it wasn't uncommon to give a well-loved, previously owned set to couples on their wedding day.) Rag rugs lay on kitchen floors, and simple but beautiful towels were used for everyday tasks.
Perhaps the most interesting and unusual item you might find in the kitchens of Norwegian immigrants was the ostebånd, which translates literally into "cheese band." The ostebånd was a thin woven band highly decorated with embroidery or lacework. The band was wrapped around large blocks of cheese, typically geitost, and secured with a decorative pushpin. The ostebånd provided a place to hold the cheese while slicing it, to avoid touching it with bare hands. Often the ostebånd had a coordinating mat that was placed under the cheese. While this might sound odd to modern audiences, according to Laurann, the ostebånd is "part of a long tradition of decorating dairy products." Many in the nineteenth century, not just Norwegians, would use decorative molds for their butter, for example.

When speaking of household textiles, it should be noted that one of the hallmarks of Norwegian and Norwegian-American handicrafts is that basic tools and other utilitarian items were designed to be lasting, useful, and beautiful. According to Laurann, there is a long tradition of making items that are "a joy and a pleasure to use."
Even after Norwegian and later Norwegian-American families became financially established, women would sometimes continue to handweave. As Laurann put it, "Economics can't explain it all." In some cases, women preferred to weave linens because of the belief that handmade items were of better quality than store-bought. In many cases, though, women continued to weave because they found joy in the process of weaving, especially for their own homes. This delight in weaving and in surrounding oneself with handwovens transcends generations and cultures. It is this sense of delight and wonder that has kept weaving alive into the twenty-first century, as new weavers discover the joy of handweaving a simple but beautiful towel to hang in their kitchen.