In this article from Handwoven November/December 2022, Tracy Kaestner describes her favorite handwoven towels and then goes on to detail her planning and design process to create more favorites. Instructions for weaving her new "Perfect Towel" are in the issue. It might just become your own favorite! ~Susan
In 1999, I cotaught a seminar for the Contemporary Handweavers of Texas Conference; it happened to be the organization's 50th anniversary, so we called our seminar 50 Ways to Weave a Wonderful Towel. That seminar eventually morphed into a workshop: The Perfect Towel. These two teaching experiences set me on a path of collecting handwoven towels: my own designs and those woven by various Houston guild members. At one point, my towel collection got so large that I realized it was time to quit saving them and start using them. With daily use, I have found I have favorites (shhh, don't tell the other towels), towels that I turn to time and again. This realization prompted me to revisit the topic of the perfect towel.
I go through a process when I start planning a new towel that begins with determining its purpose. Here are some of the questions I consider:
Where will it be used, kitchen or bath?
Does it need to be super absorbent, or will it be used primarily for show?
How big should it be? Will it be used for drying wineglasses, hands, dishes, my body, or something else?
Does it need to match a specific decor, mine or the recipient's?
Will it be woven out of stash yarn? (This can determine the quantity of towels I can weave.)
Answering these questions helps determine the parameters of a towel: its size, yarn type, colors, and weave structure.
I weave mostly kitchen towels, and for that purpose, I like a generously sized towel. My favorite way to figure out the finished size for a project is to measure something I already own. I get out a kitchen towel with dimensions that I like. If I wove the towel in question, I go back to my notes and see how wide in the reed it was and its woven length. If I don't have that information, then I work backwards, adding width and length for draw-in, take-up, and shrinkage. Most of my kitchen towels are between 20 and 24 inches in the reed and 30 to 36 inches long (woven length on the loom prior to washing and hemming). This results in a finished towel 16 to 20 inches wide and 24 to 28 inches long.
Once I've determined what kind and size of towel I want to weave, I begin thinking about weave structure, yarn characteristics, and color combinations. These three elements work together to make the perfect towel. There are many weave structures that will work well for towels, and the weave structure, in turn, might determine the yarn I choose. For example, if I'm weaving lace, I use linen or cottolin, yarns that are a little firmer to show off the lace. For a towel with a border of summer and winter or overshot, I combine 8/2 (pattern only) and 16/2 unmercerized cotton (warp and tabby weft) because I don't want the border to be too thick and bulky.
Returning to my list of questions, let's say I want a towel for drying wineglasses. I want that towel to be both lightweight—so it will fit in a glass—and absorbent. I prefer a thin yarn and plain weave for that type of towel. In all cases, I use natural fibers for towels: cotton, cottolin, or linen. I also like extra-absorbent kitchen towels, so I don't use mercerized cotton unless it's a fingertip towel that I don't expect to be used but simply needs to look pretty.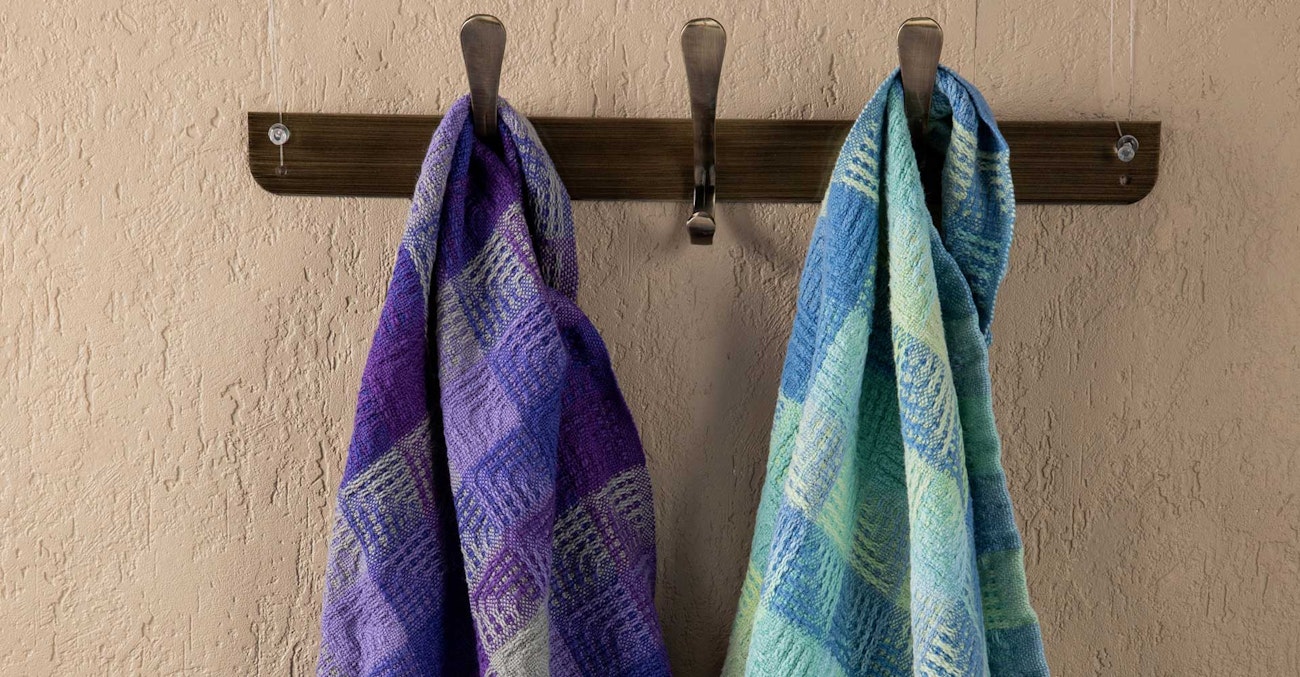 In my towel collection, when analyzing which towels get used the most, I find that my favorite kitchen towels are made from cottolin. I love the way well-used cottolin towels feel and how absorbent they are. I have a plain-weave cottolin towel that has been washed at least a hundred times. It feels almost suede-like, and the colors are still vibrant after many washings. I have a scrap from the original warp that was only washed once, and yes, if you compare its colors to the towel, they have faded a bit in my well-used towel, although what is more striking to me is how much the fabric continued to shrink with washing over 18 years!
The accompanying towel project is a remake of one of my top favorites. The original towel (the aqua one in the picture on page 68 and above) is 18 years old. It happens to go perfectly in our half bath. I noticed that I would dig around in the stack of towels in that bathroom for this towel. I asked myself why—is it because it's pretty? No, it's because I like the way it feels when I touch it, although pretty is good, too! The combination of cottolin and lace creates a lovely hand. The structure is turned Atwater-Bronson, which I like because, unlike Bronson lace, it has pattern created by a combination of warp and weft floats on both sides of the fabric. For the new towels, I used my favorite colors in the purple family as a nod to Very Peri, Pantone's color of the year, and threw in some gray, which is so prevalent in home decor right now.
In the Perfect Towel workshop, I told the participants that there is no one perfect towel for everyone; the perfect towel is the towel that suits your needs perfectly—and this towel is perfect for me!
TRACY KAESTNER attempts to weave many perfect towels in her studio in Houston, Texas. Her towels are only considered perfect if the hems are done by hand!