There are many themes in weaving, but two of them seem to be making objects that contain a message and/or solve a problem. For instance, for Handwoven March/April 2007, I wove a runner with a name draft based on my name. A few years ago, I made a pin-loom woven shawl using purple, white, and gold—the colors of the Suffragette Movement—to honor the 100th anniversary of the 19th Amendment. And it's not just me. Often, in their project introductions, designers write about the reasons they chose their color scheme or why a specific weave structure evokes certain feelings for them. As an example of problem solving, Deborah Jarchow wove the Travel Shawl that was in Handwoven May/June 2018 to create a light-enough-to-stash shawl that would work as a blanket scarf in a chilly airport.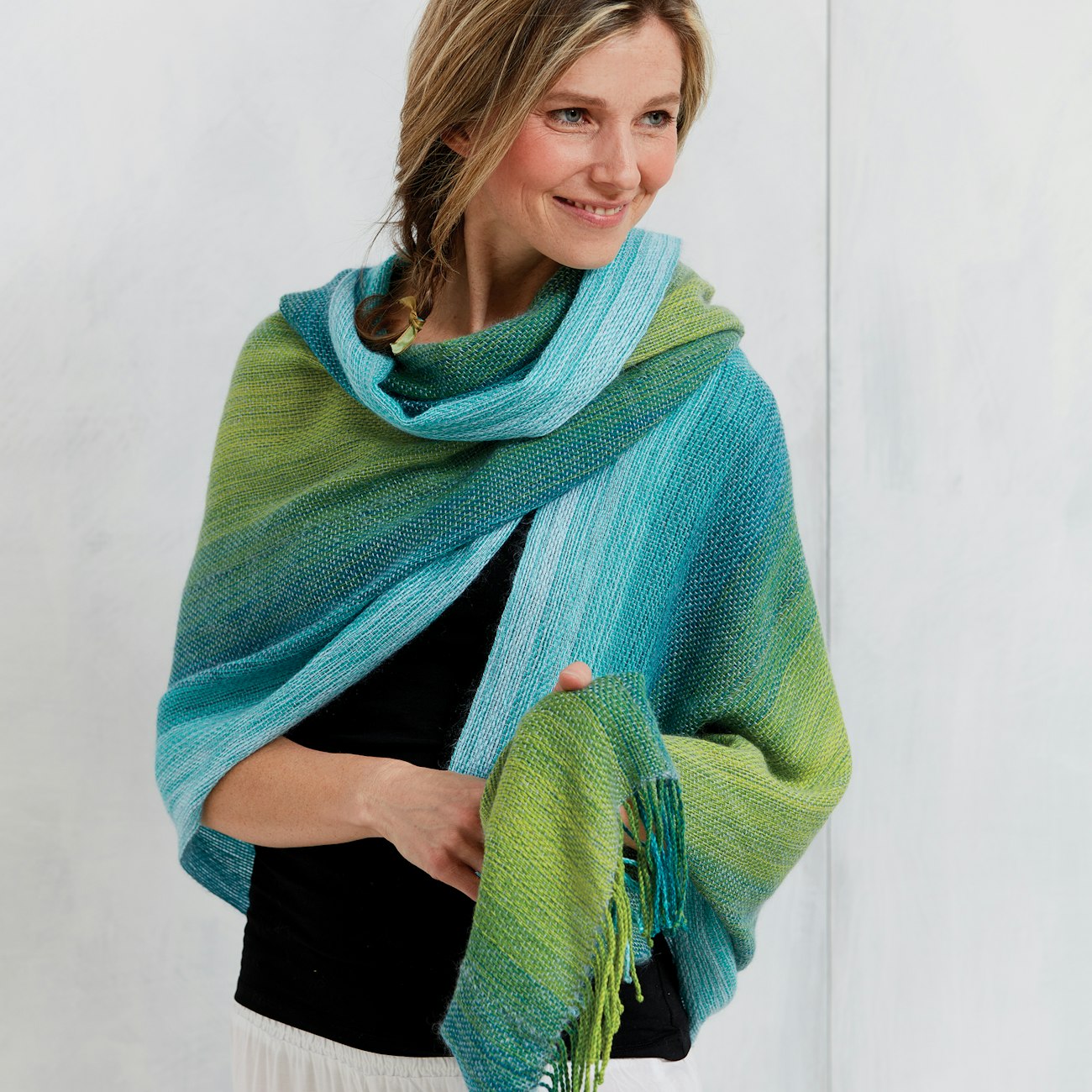 The Travel Shawl by Deborah Jarchow is light enough to throw in your carry-on but large enough to keep you warm. Photo by George Boe
For these Problem Solving 101 napkins, I was trying to solve the problem that arises in our household called "Whose napkin is it?" I solved the problem using accent colors in the weft, a different one for each napkin. With the napkins, I also solved the problem of having a pre-wound warp in my stash with no intended project in mind. I took it as a challenge and thoroughly enjoyed developing a pattern around it. As for messages, if there is one, it may be this: "I'd rather spend my time doing just about anything besides washing, drying, and pressing napkins."
Problem Solving 101 Napkins Pattern
The mostly plain-weave napkins have a few stripes of basketweave in both warp and weft. I wove them using 6-shafts and two colors of navy but with the variety of 8/2 cotton colors available, I challenge you to design your own set, maybe using that huge cone of cotton you have left over from a past project and some smaller cones of coordinating colors that are cluttering up your stash.