It happened again yesterday. I finished a little crochet purse, put in the ends, blocked it, looked it over a few times, and then filed it away in my closet. I've noticed myself doing the same thing with handwovens. After spending months planning, warping, threading, and weaving a runner or scarf, I take it off the loom, finish the ends and wet-finish, admire my work for a few minutes, and then fold it up and tuck it away. For me, much of the pleasure of weaving and other fiber arts is in the making and not necessarily in the having.
In her article "Selling Your Handwovens" in our May/June 2022 issue, Deb Essen makes the point that probably the most common reason handweavers sell their work isn't about supporting themselves. She says that most weavers sell their work to support their handweaving habit, clearing the decks if you like, and making room for more yarn and projects so they can keep weaving.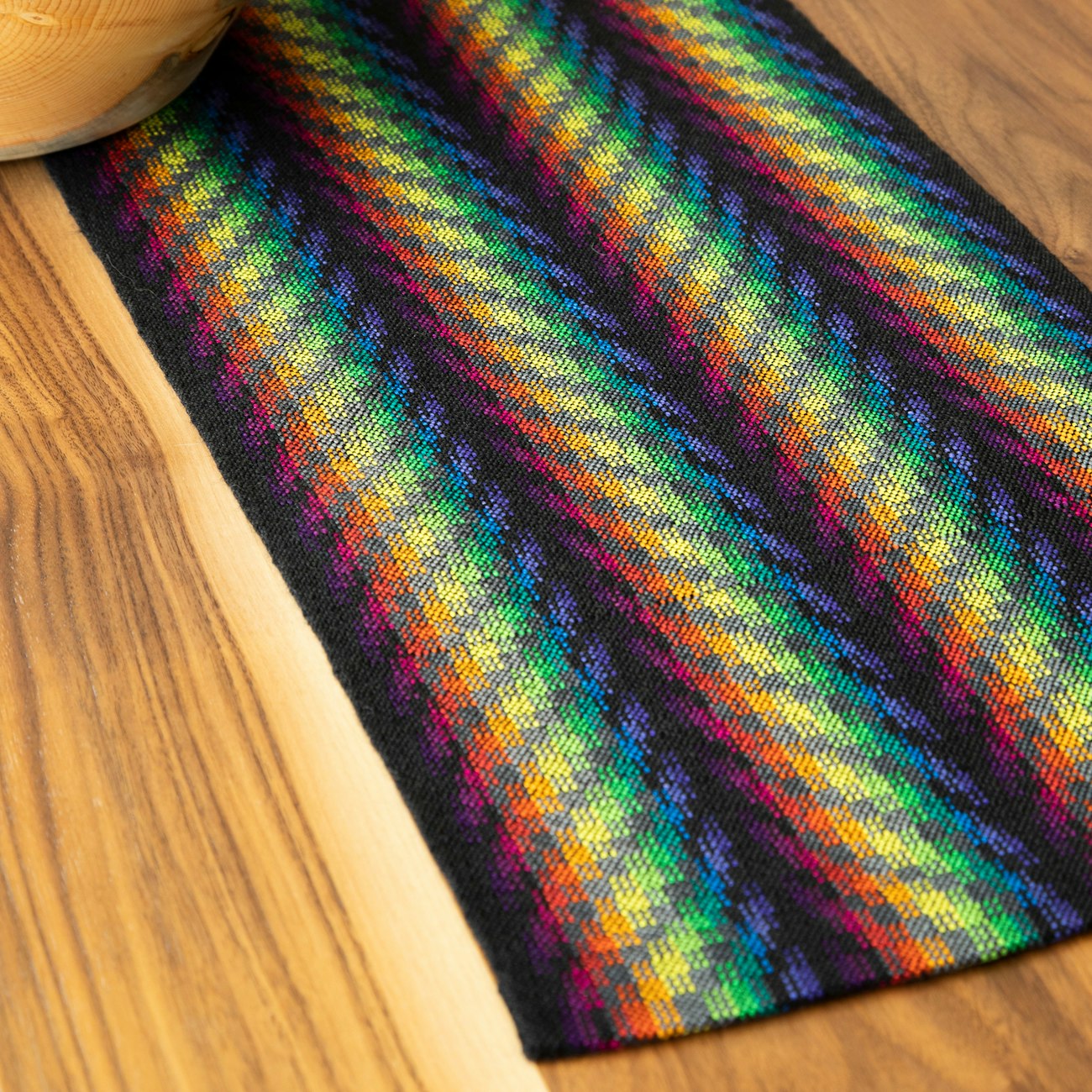 In her project article for the Doubleweave Spectrum Runners that were in January/February 2020, Marty Benson said that the runners made her laugh every time she saw them. If that's not a reason to weave, I don't know what is! Photo by Matt Graves
That sort of begs the question: Why do we all keep weaving, knitting, crocheting, etc.? In other words, why would I crochet a purse that doesn't closely fit my aesthetic, or weave a runner that doesn't match my dishes or a scarf that doesn't work with my wardrobe? I can't begin to answer for the rest of the fiber world, but for me it's because at least for weaving, I love the planning, warping, threading, and weaving process, and I am interested in the unknown—whether it's color, structure, or any other aspect. We all have our personal color wheelhouses, but the challenge of a new colorway beckons until we give in and try mixing purple and gold. Likewise, while personally, I could weave twill and overshot until the cows come home, the little bit of angst that comes with a new weave structure or new-to-me yarn is often just enough to ignite my imagination and push me to weave "just to see."
My crochet Japanese Knot Bag based on a free pattern from Universal Yarn; designed by Rick Mondragon. Photo by Susan E. Horton
And the crochet bag? In that case, my impetus was different but still based on a goal and challenge. Crochet is a bit of a mystery to me and following a crochet pattern even more of one. Trying a different technique and making sense of what appeared to be a very foreign language kept me engaged. The bag is cute and I guess you could call it a success, but it probably won't see the light of day too many times before I give it away.
It's always a nice bonus if what I've made works in my wardrobe or in my home. I keep some of my weaving, gift most of it, and donate the rest. It all works for me. I weave for the pleasure of the making and not for the having.
Weave well,
Susan