I try to do a little weaving every day, but I'm not always fully successful. I like to get in a few picks during lunch and a few more after work. It's a nice habit to be in, and good for me mentally, but projects don't progress very fast. The weekends are another thing, and a three-day weekend often feels like a treasure if there aren't many other obligations that chop it up.
The March/April 2019 issue of Handwoven was about weaving styles with origins in the US, and it feels like these projects are perfectly positioned for starting over the upcoming 3-day Memorial Day weekend. As you might expect, overshot plays a large role in the issue but is used by the designers in unusual ways. For example, Rosalie Neilson interpreted an overshot draft in her rep weave Rose Circles Bed Runner while Sara Pate also used an overshot draft but in doubleweave overshot for her Alaska Flag Doubleweave Coverlet. Christina Garton followed a more traditional approach to an overshot draft when weaving her Ancient Rose Scarf but used two sizes of very modern Tencel (100 percent lyocell) for warp and weft.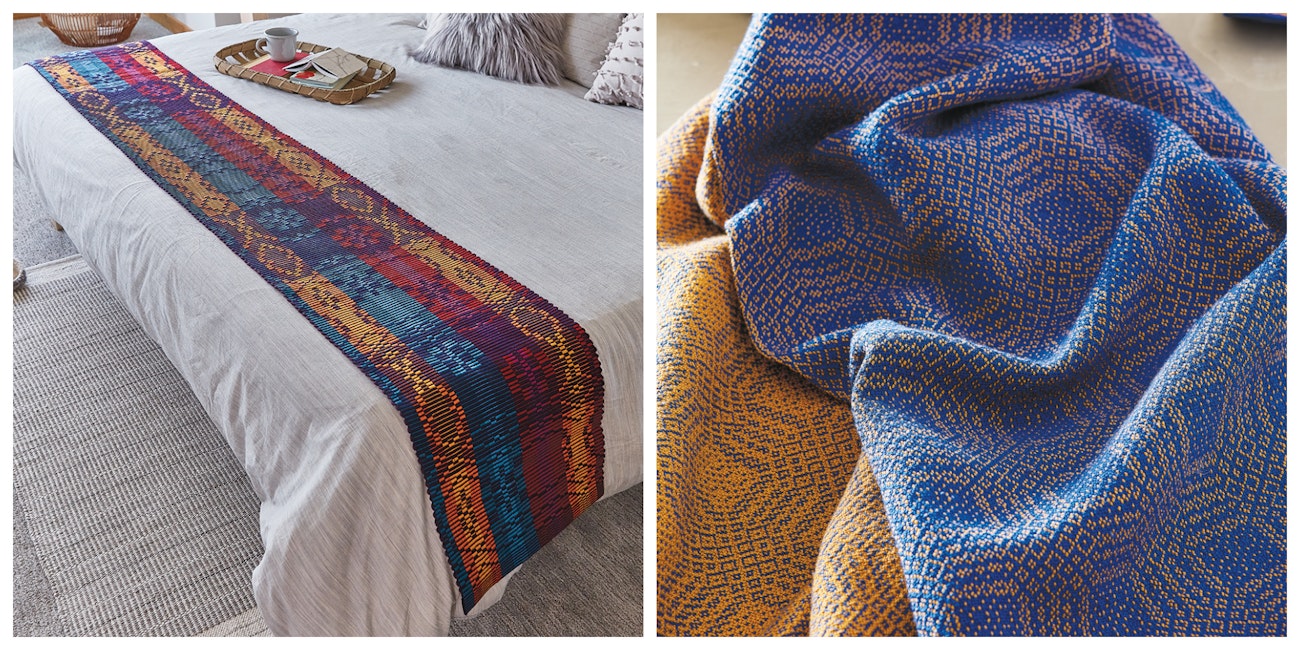 Rosalie Neilson's rep bed runner on the left and Sara Pate's doubleweave coverlet on the right: Both have their roots in overshot, but they show the influence of modern aproaches to weaving.
Check out the projects, pick one or more that you'd like to try, sort through your stash for likely yarns to use and then purchase the ones you still need to get started. You can get a quick glimpse of all 10 projects in the issue by looking through the WIF entries in the Handwoven Library using this link.
Happy Memorial Day weekend! It's a great time to start your Americana weaving.
Weave well,
Susan