When my first child was born, I was given two baby blankets. One was a soft, quilted, commercially made snuggle sack and the other was a small hand-crocheted blanket made by Sister Claudia Foltz of Marylhurst College from whom my husband and I were taking music lessons. Both of the blankets were used and loved by our son and then our daughter. The commercial snuggle sack wore out, and I cut it down, put on new edging, and reinforced the backing, until it was a tattered little rag slightly bigger than a handkerchief. Sister Claudia's blanket, on the other hand, saw plenty of use and is still as bright and pretty as the day it was given, and I have stored it away in anticipation of grandchildren to come.
Nothing shows you care like woven baby blankets. Whether you want to give a friend a handwoven gift for their new baby or create an heirloom for a baby of your own, any of these four handwoven projects are sure to become a treasured keepsake. The lesson from all this is that a baby blanket lives beyond infancy. It may be a lifelong comfort to one person growing up, or it may be passed on through generations. Baby blankets should be handmade to love and to last. Of all the handwoven textiles we can give, a handwoven baby blanket is among the most powerful and meaningful, a gift for the ages.
This free eBook includes four woven baby blanket patterns. You'll explore huck lace, supplementary warp and weft, M's and O's, and waffle weave. The blankets are for 4 and 8 shafts, so any weaver with any loom can find a project.
If you're weaving a baby blanket for the first time, you'll find the projects easy to follow, with detailed instructions and images. Experienced weavers will love advancing their skills while creating a beautiful blanket that will be cherished for years to come.
Sneak-Peek!
Huck Lace Baby Blanket by Linda Ligon
This lightweight cloth is the perfect project to get started weaving baby blankets. A simple crocheted edging borders Linda Ligon's lightweight baby blanket which is delicately patterned with huck lace diamonds. Woven on an 8-shaft loom with unmercerized cotton, a favorite weaving yarn for baby blankets, this blanket is sure to become a treasured keepsake.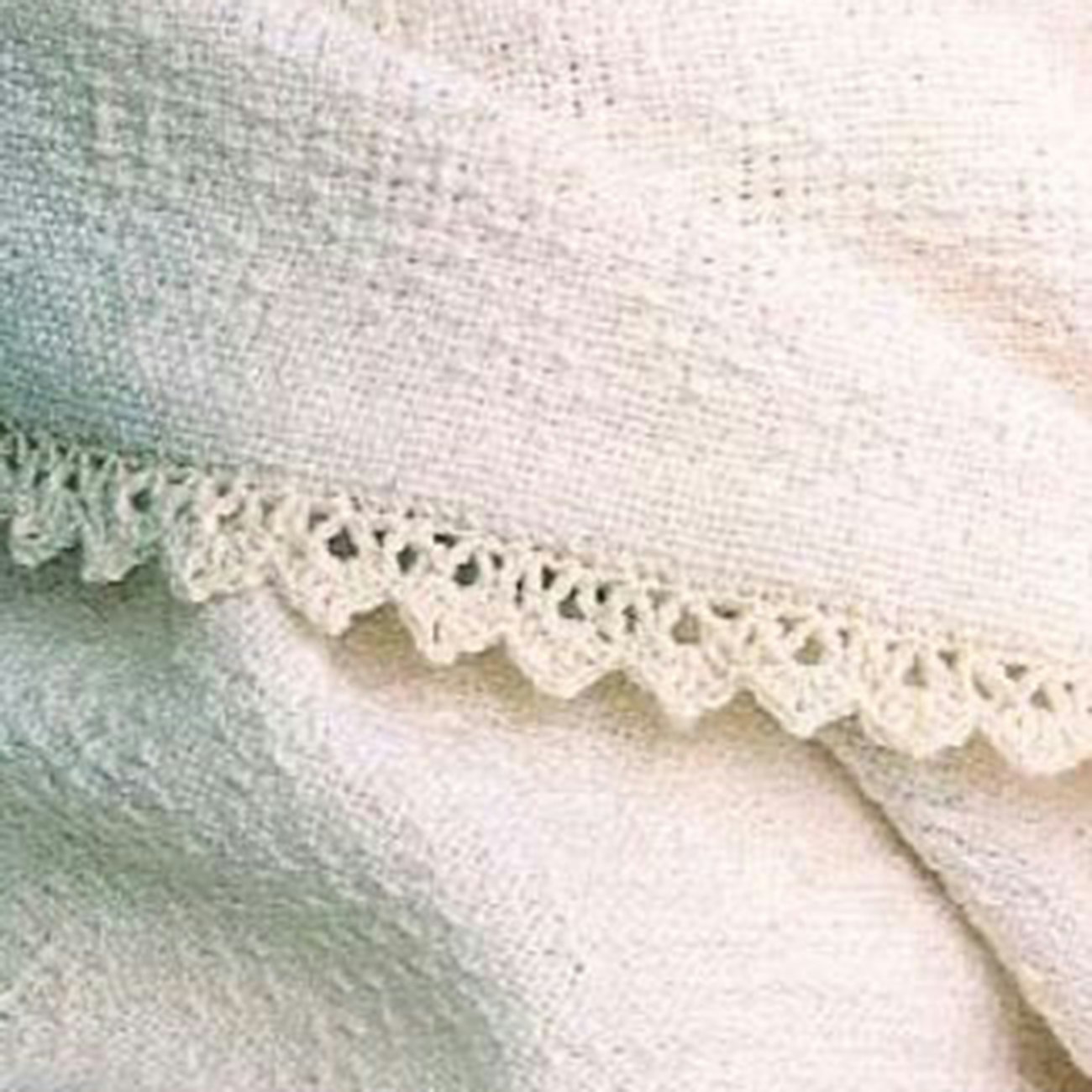 This huck lace baby blanket would make a perfect handwoven gift for a new baby and can be found in our free eBook on woven baby blankets. This classic baby blanket was originally featured in Handwoven May/June 1999. Though these more vintage issues don't quite match the quality of our later editions, this is still a lovely and endearing photo, and we wanted to share it with you.
Crayon Blanket and Pillows by Beverly Savel
Crayons struck Beverly as an ideal motif for the border of a child's blanket, but how to weave the border on all four sides? The solution is to use a supplementary weft for the top and bottom borders and a supplementary warp for the borders on the the sides. Experiment with the 8-shaft blanket, and then weave the matching crayon pillows on 4 shafts.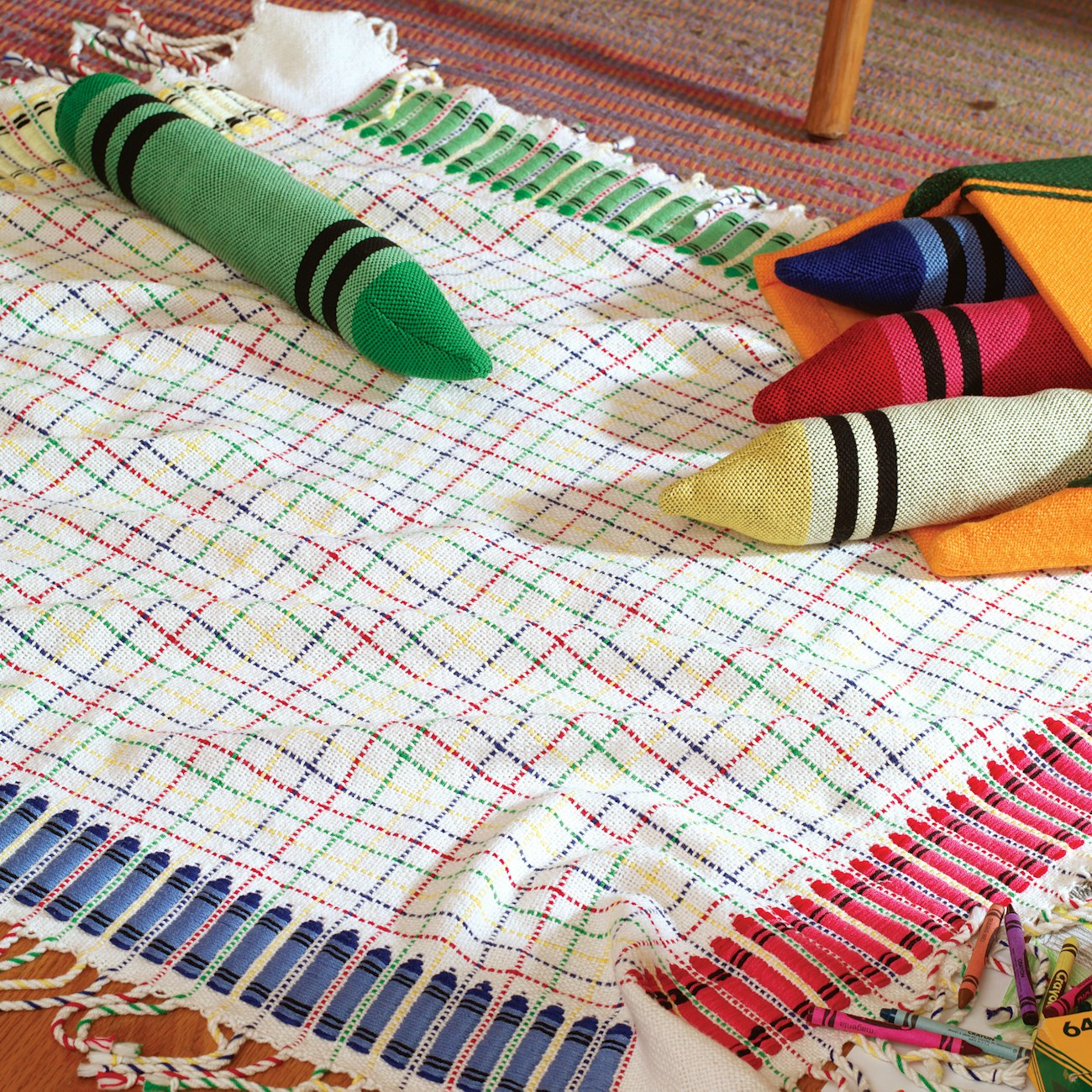 This woven baby blanket requires an 8-shaft loom to create the crayon motifs.
A New Look at Threading M's and O's by Kathleen Farling
Did you know that babies don't see color until they're several months old? So why stick to pink for girls and blue for boys? The floats in M's and O's provide an opportunity to play with color at the loom. You can change the pair of wefts any time, creating stripes and gradations of color and a different look for every piece. This 4-shaft weaving project might be the only baby blanket pattern you ever need! Just keep changing up the colors.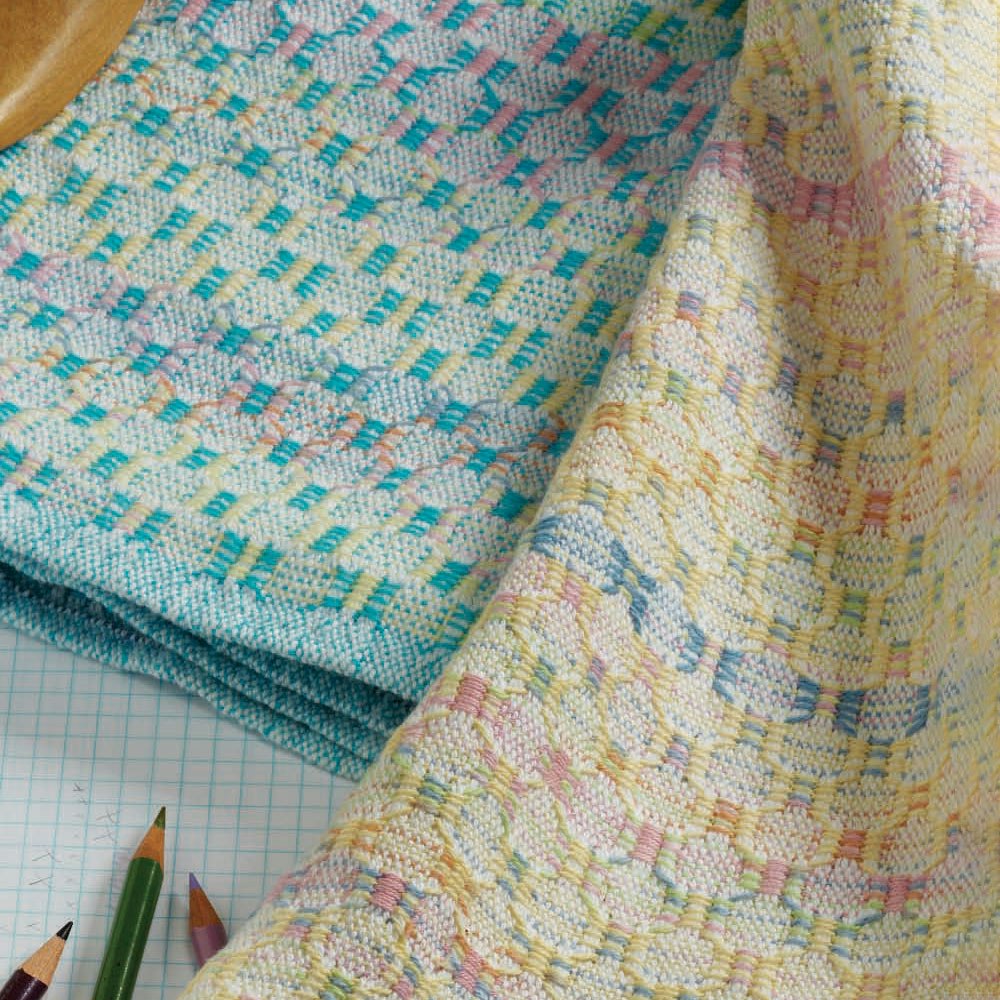 The M's and O's weave structure allows for lots of color play even on a 4-shaft loom.
Waffle Weave Baby Blanket by Suzie Liles
Waffle weave produces an especially insulating fabric, perfect for keeping a newborn nice and toasty. It also shows off luxury yarns with its distinctive dimensional cells framed by long floats. This blanket is woven in a bamboo/superwash wool/silk blend. What a perfect recipe for a handwoven baby blanket that is durable, washable, and most importantly, baby soft.
Waffle-weave cells add texture and warmth to these baby blankets.
Weaving a baby blanket is one of the most rewarding weaving projects you can undertake, as you pour your love for the newborn into every pick. Plus their small size means you don't need a giant loom to weave one! But deciding what to weave can be tricky. Which structures are baby-friendly? These four baby blanket projects are woven in structures that don't have long floats to catch on baby fingers. They also use washable, durable yarns, so these heirlooms will last for many years.
We hope these patterns bring you pleasure in the weaving and joy in the giving as you see them used and loved for years to come.
Published 07/05/2018 Revised 04/12/2023