Subscribe to The Long Thread Podcast:

Lynda Teller Pete, a fifth-generation Navajo weaver, lives in two worlds: the world of a traditional Navajo woman weaving exquisite tapestries, and the world of book author, curator, board member, world traveler. How she balances these diverse roles is a story of energy, discipline, and family ties.
In 2010, Lynda Teller Pete was living in Denver with her husband Belvin, working full-time in a demanding government job in the Department of Labor, living the life on a modern urban Indian, doing a little weaving in her spare time. Then she pivoted. Quit the job and sat down at her loom and made the commitment to return to her roots.
With her older sister, Barbara Teller Ornelas, Lynda began teaching weaving classes and producing award-winning tapestries. In 2017, the two of them wrote Spider Woman's Children: Navajo Weavers Today. They followed this with How to Weave a Navajo Rug and Other Lessons from Spider Woman, both published by Thrums Books/Schiffer Publications. And at the same time, Lynda collaborated on another book for the Denver Museum of Nature and Science, and she curated exhibits and lectured across the country. She and Barbara were featured in a segment of the PBS series Craft in America. She keeps a full teaching schedule, including classes for Navajos only as well as more culturally focused classes for non-indigenous students.
In 2022 she was elected to the board position for Equity and Inclusion by the prestigious Textile Society of America, and in the same year she was recipient of a Luce Foundation fellowship for Indigenous Knowledge, which will result in the translation of How to Weave a Navajo Rug into her native language. Her list of accomplishments and responsibilities goes on and on. And yet most any night, late into the night, you would find Lynda at her loom, rhythmically beating the pattern wefts into place in yet another tapestry. For after all, night is when the spider does its work.
This episode is brought to you by: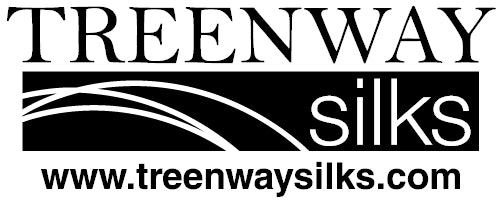 Treenway Silks is where weavers, spinners, knitters and stitchers find the silk they love. Select from the largest variety of silk spinning fibers, silk yarn, and silk threads & ribbons at TreenwaySilks.com. You'll discover a rainbow of colors, thoughtfully hand-dyed in Colorado. Love natural? Treenway's array of wild silks provide choices beyond white.
If you love silk, you'll love Treenway Silks, where superior quality and customer service are guaranteed.
Links
Lynda Teller Pete and Barbara Teller Ornelas's website
Upcoming classes from Lynda Teller Pete and Barbara Teller Ornelas
How to Weave a Navajo Rug by Lynda Teller Pete and Barbara Teller Ornelas
Spider Woman's Children by Lynda Teller Pete and Barbara Teller Ornelas The Tellers on Craft in America
Textile Society of America
Luce Indigenous Knowledge Fellowships 2022