Janney Simpson and I were in the same area study group of the Handweavers Guild of Connecticut about 20 years ago. I loved her weaving and designs then, and I still love them today! I like learning how weaving teachers developed their skills, and what inspires them, so I asked Janney a few questions about her weaving journey, a journey she is still on as she continues to explore weaving and not just the deflected double weave (DDW) she is known for. What most struck me was Janney's determination to learn and how she hasn't stopped learning even when she may know more about weaving than many of us! —Susan
Learning to Weave
I met my first loom in seventh grade in a Home Economics class—in the 1960s in Evanston, Illinois, a while back! I wove a narrow band on a Structo loom with a cotton warp and weft, uniquely embellished with sticks and beads. I was so taken with how a loom worked and made a mental note that someday, I would weave on a loom again.
Many years later after high school and college, then working full-time as a scientist, and starting a family, I took a weaving class, again in Evanston, Illinois, and learned to warp and weave on a 4-shaft table loom. I was hooked! In the late 1970s, my father kindly bought me my first floor loom (a 4-shaft LeClerc) that I still weave on today.
I have been weaving ever since, taking classes and workshops, reading lots of books and magazines, and experimenting—also known as SAMPLING! I love to design, wind warps, and dress looms. The ah-ha moment of throwing the shuttle and magically turning yarn into cloth still excites me.
Janney Simpson with one of her many looms in The Barn (her studio). Photo from New Dimensions in Deflected Doubleweave Video
I have had wonderful teachers. The Handweavers Guild of Connecticut, Guilford Handcraft Center with Lucienne Coifman, New England Weavers (NEWS) conferences, Convergence meetings, and lots of other workshops paved the path for me. I learned from every class and every instructor.
In early 2000s, Fran Curran encouraged me to apply for a teaching position at Wesleyan Potters in Middletown, Connecticut. I was hesitant, but she insisted. That experience opened many doors for me and broadened my exposure to different weave structures, weavers, and the challenges we all encounter in the weaving process.
I find that the teacher always learns the most. When I was teaching at Wesleyan Potters, one of my students was a wonderful weaver who was sight-impaired. She came to class with a helper and a golden retriever. She taught me the importance of articulating the weaving process that was far more challenging than a quick "let me show you." The experience taught me a lot.
A few years later, Laurie Autio invited me to apply to her EiAW (Explorations in Advanced Weaving) four-year program. Soon I realized how much I did not know and how much more there was to learn about weaving. Laurie's depth of knowledge inspired me, and I still use her handouts as my main source of reference.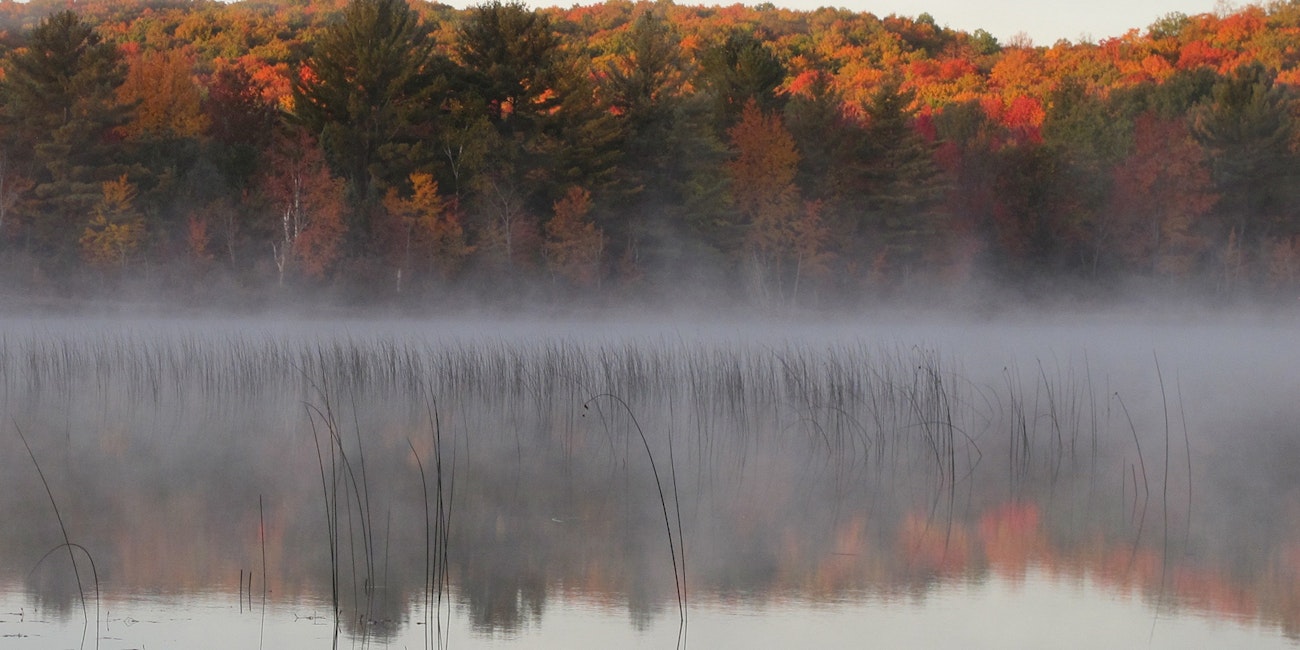 Inspiration in the form of a lake in autumn shrouded by mist is close to Janney's home in Michigan. Photo by Anita Osterhaug
Inspiration
I find inspiration in many different places. I am fortunate to live in beautiful northern Michigan and am outside a lot. Nature has always captured my attention, and there is an abundance here. I am fond of Japanese art and often study Japanese wood-block prints for color and design choices.
I am currently on a little short break from deflected double weave and had the pleasure of taking an online double weave color class with Jennifer Moore that I loved! Now, I am in the middle of an online summer and winter class with Jill Staubitz. I am very glad to have these online opportunities, so I can continue to gather with fellow weavers via Zoom when getting together in person is not possible.
Once it warms up, I will head back to The Barn and return to DDW to explore using finer yarns, smaller blocks, and weave-structure-controlled shaping in my future work.
Advice for New Weavers
Don't be afraid to make mistakes. None of us is perfect.
Take the time to learn to wind a good warp and dress a loom with good tension.
Add extra warp length for sampling.
Find a good class to see whether weaving is for you and stay on the trail for a while. Learning to weave takes time.
You do not need to understand everything about weaving to enjoy the process, but the more you understand, the more you can make it personal, whether that means a different type of yarn, a new sett, or a treadling sequence you make up.
Enjoy the process; the opportunities are endless.
Weaving is part of my life every day. I would be lost without it. In my studio, I am surrounded by color, texture, weaving books, and friends to share it with. I think weaving helps keep our minds and bodies actively working and certainly is a wonderful way to spend the day.
Continue your own weaving journey with Janney as one of your guides in this new deflected double weave course. Watch it once or watch it many times and take your own weaving to a new level!