In December 2022, because of what was called an Arctic Blast, we cancelled our trip to the Northwest that included a couple of nights in Seattle. I wasn't entirely sure what Arctic Blast meant meteorologically, but I fully understood that for those of us on the ground, it would mean driving and taking ferries in snowy, sleety, and icy conditions with strong winds thrown into the mix. At the time, I was disappointed, but now I'm pretty happy about how it's working out. We are rescheduling the trip for this spring, and it just so happens it will coincide with Ikat: A World of Compelling Cloth at the Seattle Art Museum (SAM).
In case you don't know what ikat is, briefly, ikat is resist dyeing warp and weft threads in specific ways so that when they are woven into cloth they create patterns. Traditionally the resist has been tight ties around the threads. To me as a weaver, simple unplanned ikat is easy enough to understand, but when you look at some of the more complex examples of ornate and very structured ikat designs, it feels impossible. Today we talk a lot about fast fashion and slow fashion, but rest assured that ikat is part of the second type. Although there are printed knockoffs of ikat, real ikat takes time and attention to detail.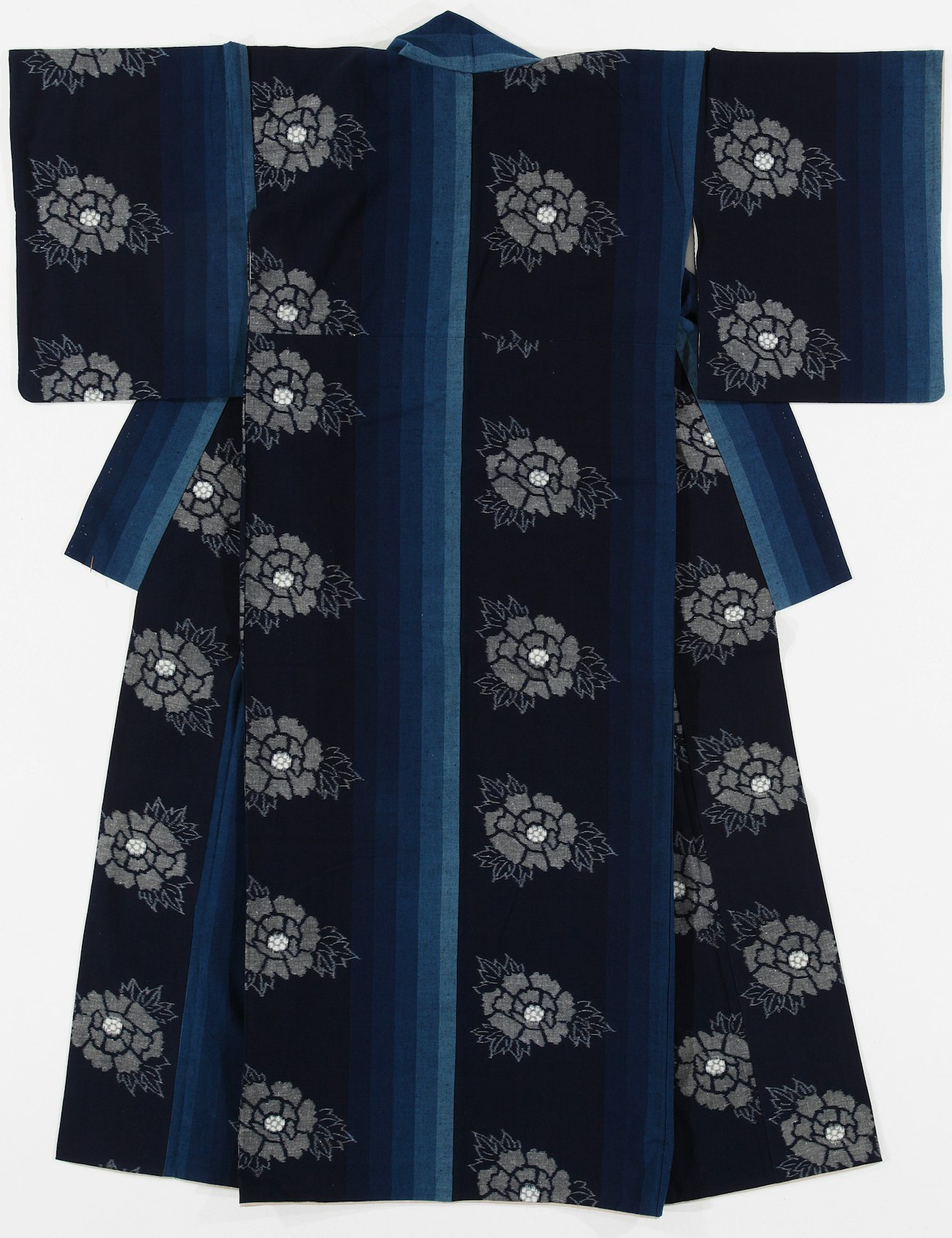 Kimono, 20th century, Japan (Kyushu,Kurume), cotton double ikat, 65 x 50 in.,Collection of David and Marita Paly.
Here is a decription of the Ikat: A World of Compelling Cloth exhibition by Pamela McClusky, Curator of African and Oceanic Art: "Ikat embodies a commitment to slow and meaningful creation. This exhibition is a rare opportunity to see stunning examples of this art form up-close. I'm thrilled to share these works from SAM's collection and the generous new gifts and loans from the Paly Collection with our visitors; I hope they come away in awe of the artists' dedication to this intricate process."
The more than 100 collected pieces (three of which I've inserted here to tempt you) come from Africa, Asia, the Americas, and Europe and include ikat from contemporary times back to the 12th century. Of course, if you go, you can simply view and read about ikat, but you can also more fully immerse yourself in the art form with videos, multimedia materials, and even raw weaving materials. In addition, as a special feature for the exhibition, contemporary ikat artists Roland and Chinami Ricketts have created a large-scale installation that gives visitors the experience of walking into an ikat.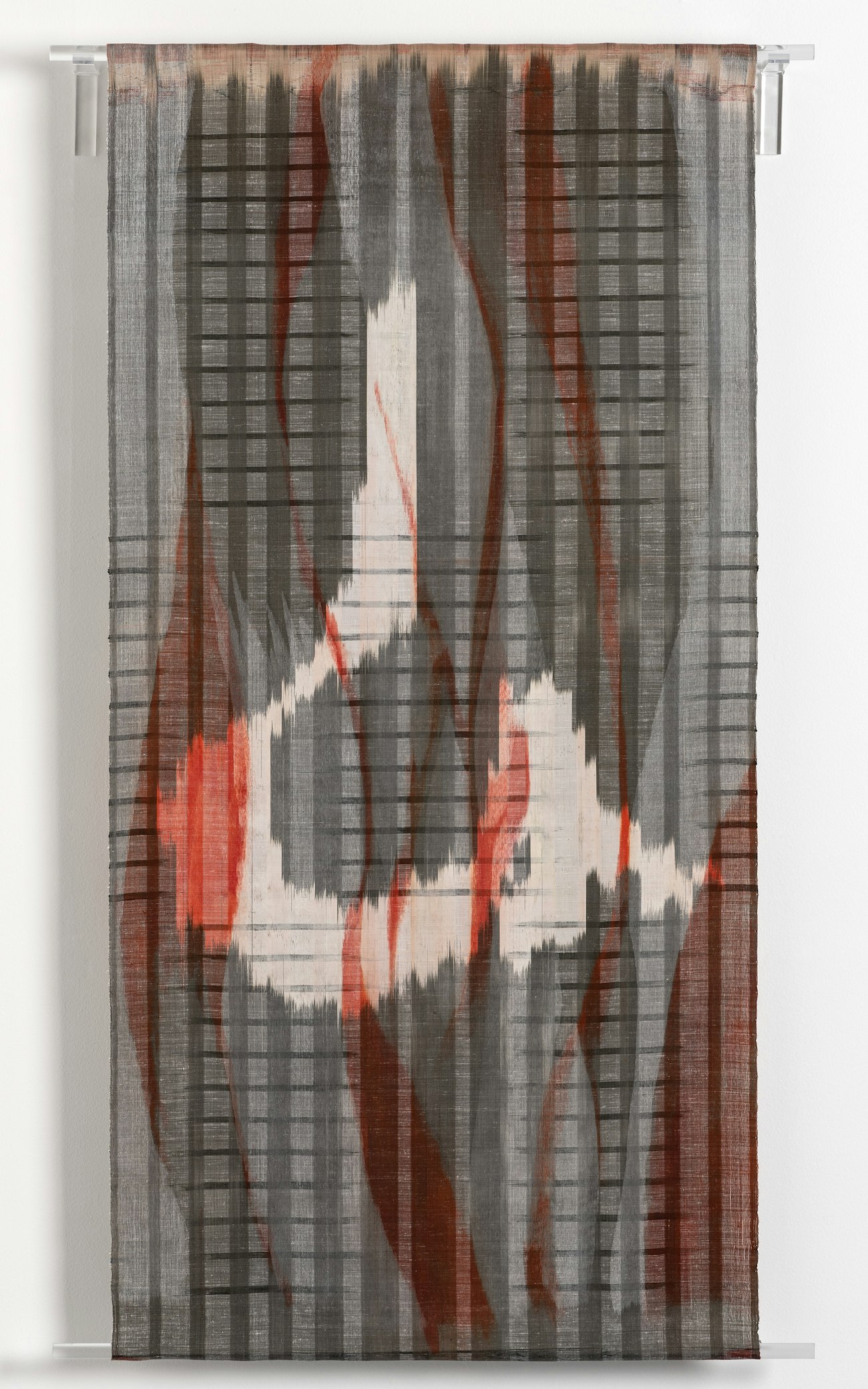 Anchor, from the DARE series, 2020, Polly Barton, American, b. 1956, silk, double ikat with additional dye, 64.5 x 31.5 in., © Polly Barton, courtesy of the artist and Chiaroscuro Gallery
If you are interested in learning more about ikat's place in the world historically and socially, how it is done, who did it, who still does it, and seeing up close and personal some beautiful examples of ikat cloth, I suggest you take a detour to the Northwest this spring and check out Ikat: A World of Compelling Cloth. The exhibition opens on March 9 and closes on May 29. Here is a link to the museum's website so you can plan your own visit.
Big fiber-art shows aren't super-common, so it feels extra exciting to be able to see this special show, and I can't wait.
Weave well,
Susan