While looking through Jennifer Moore's Doubleweave: Revised and Expanded, I became fascinated by doubleweave pick-up, especially by how Jennifer used it to make circles. The design reminded me of Lucy Neatby's double-knitting pattern Bubbles Scarf (see Resources). I set myself the challenge of transforming Lucy's scarf into doubleweave. Before starting, I emailed Lucy and asked permission to use her design and received a prompt positive response.
Yarn
Lucy knitted her scarf with Kauni Wool 8/2 Effektgarn, which is great for subtly changing rainbow colors in knitting. However, in weaving, the color changes create long warp stripes that wouldn't work for this project. I started looking for a handpainted warp with a gradation of colors but couldn't find quite what I was looking for. It came to me that I could dye my own. I have a weakness for soft yarns, so I picked out my favorite blend of merino/cashmere/nylon (MCN) sock yarn (see Resources). The superwash merino makes up 80% of the yarn, but the 10% nylon keeps the yarn from being too stretchy, and the cashmere adds extra next-to-skin softness.
Warp
I based my calculations on a 60-inch finished scarf. Estimating 10 percent shrinkage meant I'd need a total of 66 inches of weavable warp on the loom. There were 11 sections in the original knitting diagram, so each section represented 6 inches of weaving. I needed two warps, one for the natural layer and one for the rainbow layer.
I chose 6 inches for a finished width and again allowed for 10 percent shrinkage, which meant I needed about 6 2/3 inches in the reed at a sett of 24 ends per inch, or 80 ends per layer. With calculations in hand, I measured out two warps of 80 ends each, one for each layer, adding 30 inches for loom waste and fringe for a total warp length of 96 inches. On one warp, I carefully marked with ties where the loom waste would be at the beginning and end of the warp while still under tension on the warping board. These lengths will change once tension is taken off the warp, so it is important to mark them beforehand. I soaked both warps in warm water to prepare them for dyeing. It's essential to treat both warps the same way to avoid differential shrinkage later.
I laid the warp that was to be the rainbow layer out on a long table and evenly divided the center portion of the warp into six individual color sections. Using acid dyes, I started with red and following the color wheel, dyed each section in turn with orange, yellow, green, blue, and purple. I dyed the front loom waste in red and dyed the back loom waste purple. This way, if my calculations were off a little bit, it wouldn't show in the final scarf.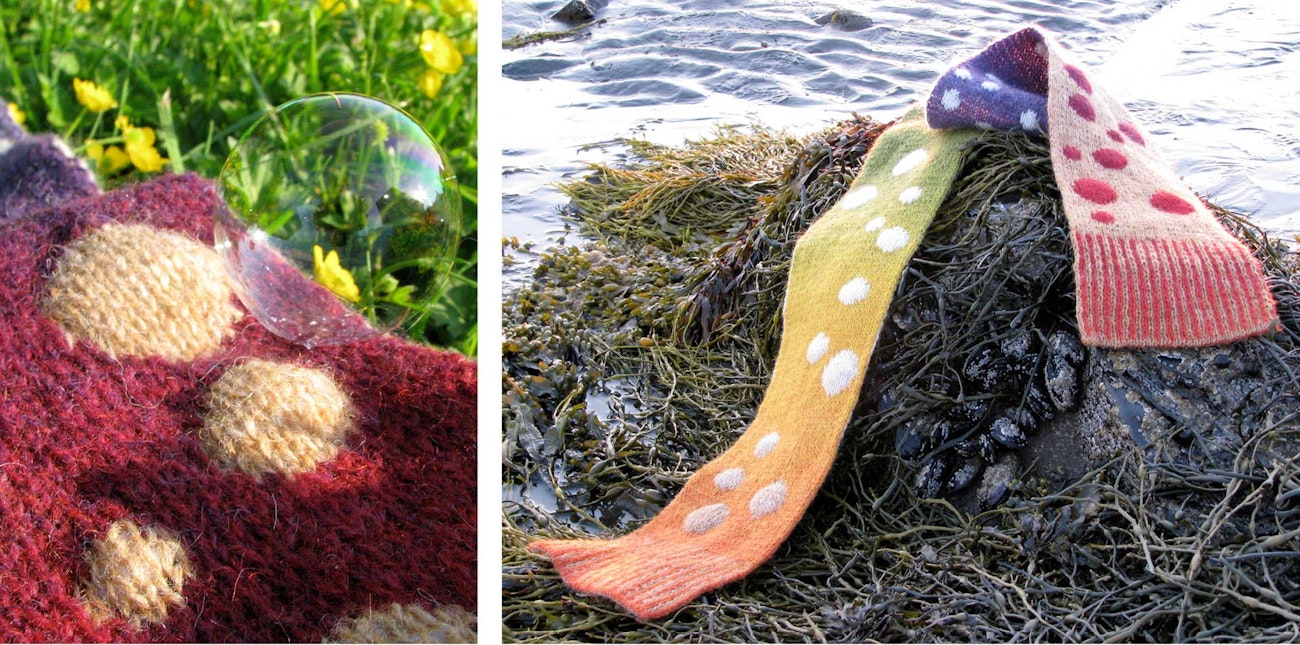 Weft
Next, I dyed my weft yarns. The original knitting pattern had striking, bold colors and the only way to get pure colors like that in weaving is for the warp and weft to be the same color. To achieve those pops of bold color, I dyed a rainbow set of six 50-yard mini skeins for weft. I also soaked a 200-yard skein of natural weft as I had done for the natural warp.