It's October and in New Mexico that means the weather is finally starting to cool down, restaurants are putting posole back on their menus, and it's the start of skeleton season. I'm not just talking about regular old spooky Halloween skeletons, although we have plenty of those. In New Mexico folks go all out in preparation for the Día de los Muertos fiesta.
All the curio shops (we have many) load up on even more Día de los Muertos goodies than they normal (it's a year-round industry here). You can buy skeleton papel picados (banners made from intricately cut paper), ceramic Las Catrinas (female skeletons in fancy dress with a big, feathered hat), sugar skulls printed on everything and anything, and, of course, various celebrities reinterpreted as skeletons. Skeleton Frida Kahlo is a big favorite, although you can also find Skeleton Elvis, Skeleton Marilyn Monroe, and much more.
During the actual Día de los Muertos fiesta, the town square is filled with offrenda (altars to the dead) laden with flowers, food, photos, candles or incsense, and all sorts of goodies for the returning spirits to enjoy before heading back to the land of the dead. People dress up as skeletons and paint their faces with elaborate designs to look like the sugar skulls that decorate many of the offrenda. While it might seem like a bit macabre to those on the outside, the happy skeletons serve as a reminder to celebrate the lives of those who have passed on, rather than to mourn their deaths.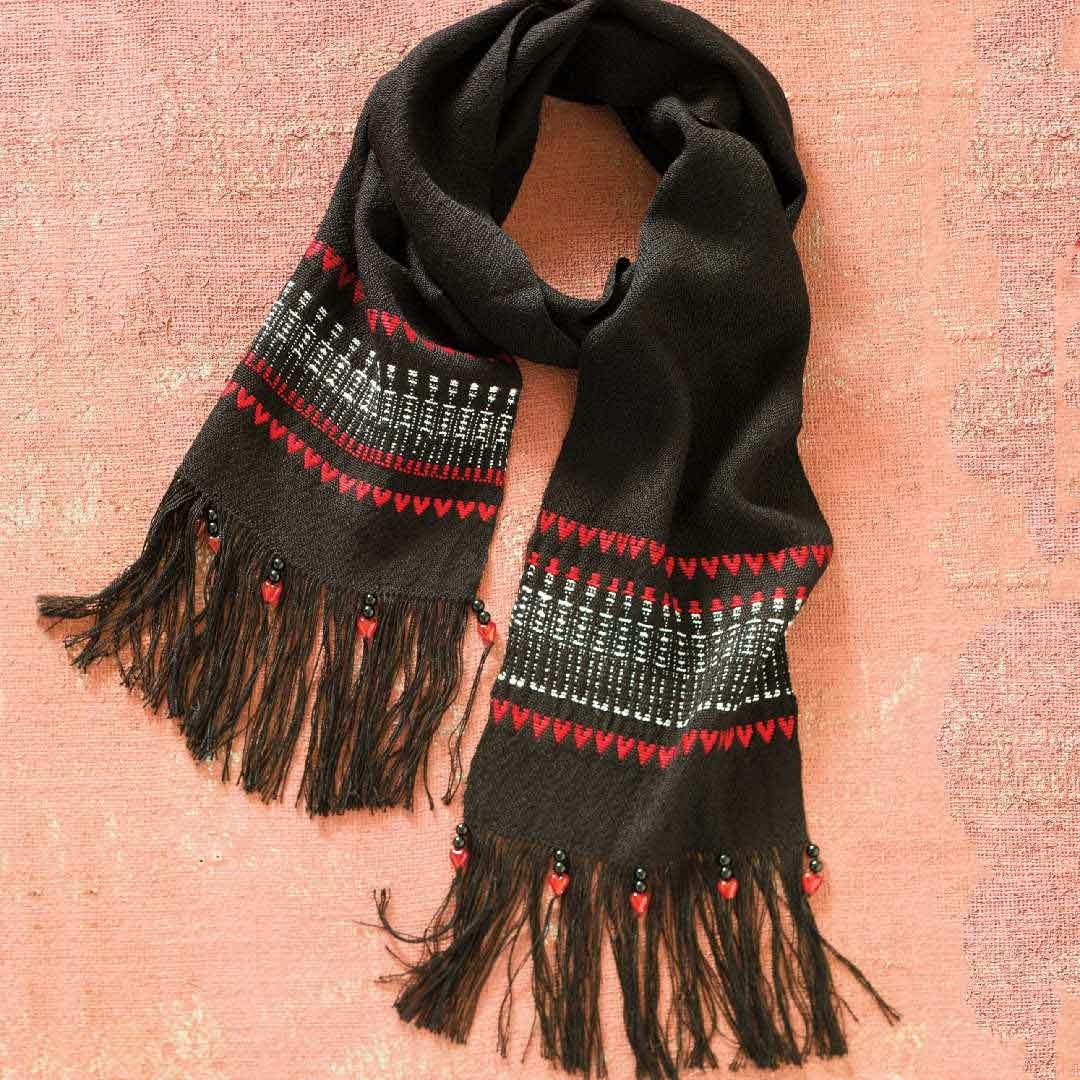 Now what does this have to do with weaving? Well, it's really all just a segue to talk about one of my favorite projects to ever appear in Handwoven: the 8-shaft Hearts 'n Bones scarf by Nancy Peterson from the September/October 2013 issue. Día de los Muertos inspired the scarf but it's not a Día de los Muertos scarf in that it doesn't feature sugar skulls, Las Catrinas, or the other usual imagery, but instead there are generic skeletons and skeletons with jaunty top hats, bordered by sweet little hearts.
Because of this Nancy's scarf is perfect for wearing to your local Día de los Muertos fiesta (if you're lucky enough to have one) without worrying about cultural appropriation, wearing on Halloween, and for wearing on Valentine's Day, too. If you feel the need, just tell folks that it represents how true love never dies. Of course you don't need a reason to weave or wear this scarf other than it's great fun.
Love this scarf and want to weave it? You can find a free download of the pattern here!
I hope you love this scarf as much as I do!
Happy Weaving, Christina