When Kris Bruland, a weaver and software architect, created Handweaving.net 18 years ago, it held fewer than two hundred weaving drafts. Today, the site is home to over 75,000 weaving drafts—including some from old pattern books originally written with quill pens. Although Kris has technical skills beyond many, the site is accessible to anyone and currently available on a subscription basis.
It isn't surprising that Kris was attracted to weaving. His computer science background strongly emphasized the relationship between math and patterns, but it was a Schacht Baby Wolf loom that started Kris on his weaving adventure.
He had given his wife the loom for Christmas. She was pregnant with their first son, and learning how to weave wasn't on her list of things to do at that time. The loom sat untouched in their living room for a year. The unused loom intrigued Kris. He thought it looked interesting and that it might be fun to try weaving on it. Like many of us, he bought the iconic Learning to Weave by Deborah Chandler and taught himself how to warp a loom and read a weaving draft. His first weaving project was "a super ugly yet awesome red and green scarf full of errors" that he has to this day.
The Handweaving.net story begins in earnest in 2003. After Kris learned about computerized looms with dobbies, he purchased a 60-inch production AVL loom. Then, using his software engineering expertise, he wrote his own software to run the loom. He turned to old handwritten and industrial-age drafts he had acquired to weave fabric on the AVL, including a major collection of over 2,900 drafts, Atlas d'Armures Textiles by Bernard Fressinet, published in 1905 in France. Today that is one of the collections available on the site.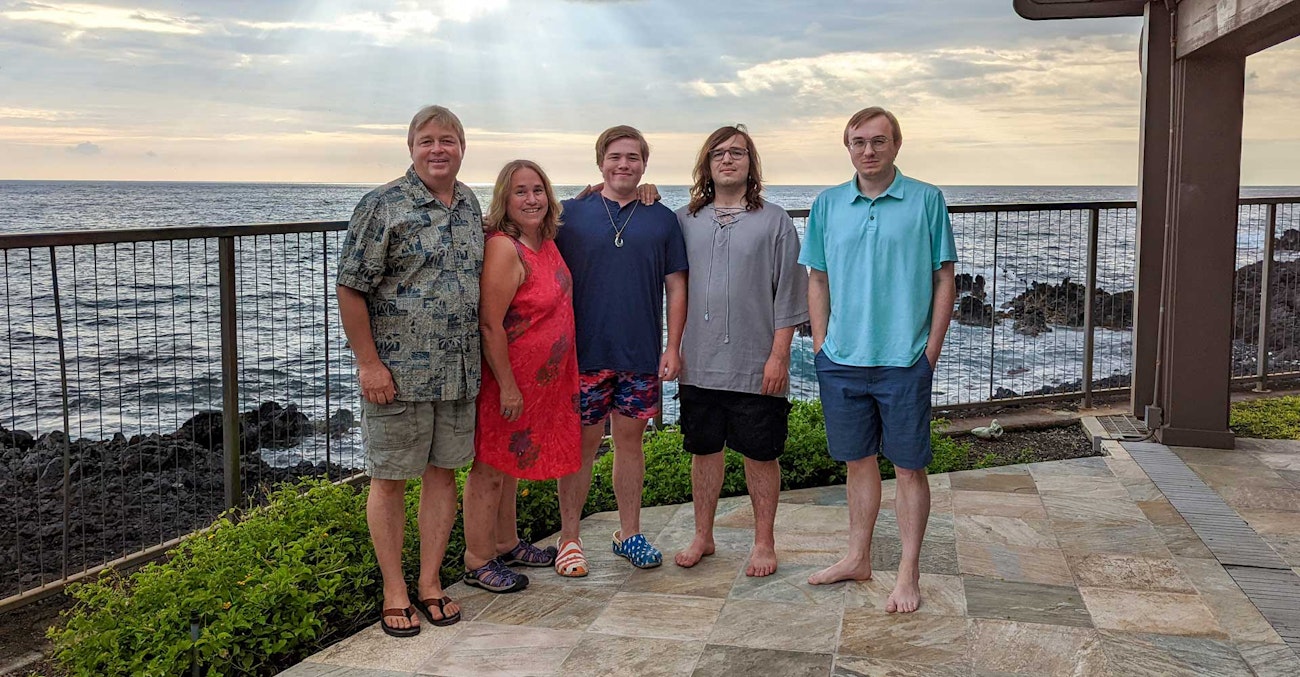 Kris Bruland and family (from left to right): Kris, Patty, Micah, Noah, and Benjamin. Photos courtesy of Kris Bruland.
Bringing historic drafts back to life through his loom fascinated him, and Kris became inspired to write a custom software package using WIFs (weaving information files) to weave these historic patterns on his loom. At that point, he began thinking a website with drafts would interest weavers. In 2004,Handweaving.net was launched with every one of the close to two hundred drafts manually entered in WIF format.
It was Kris's discovery of Ralph Griswold's On-Line Digital Archive of Documents on Weaving and Related Topics that transformed the website. Ralph, a computer science professor at the University of Arizona, was interested in historic patterns and had created a digital archive from scanned copies of his collection of thousands of old documents on weaving. In fact, it was Ralph who had provided Kris with Atlas d'Armures Textiles. A mutual interest in weaving and computer programming led to a friendship between the two men until Ralph passed away in 2006.
When Ralph agreed to share his scanned material—ultimately used for producing over 60,000 drafts—Kris realized that manually entering each draft into weaving software wasn't feasible. To overcome that obstacle, he wrote pattern digitization software that allows him to quickly produce modern weaving drafts from the scanned pages of historic weaving books and other documents. Today, you can easily access the 75,000-plus weaving drafts, including many from historic sources not found anywhere else. In addition, there are historical materials about weaving contributed by museums, libraries, and individuals.
Kris is often asked if he has any favorite antique drafts. While he loves every collection, there are two that he finds especially remarkable and beautiful. Mušterske bukve Jožefa Bernika 1878 is a collection of 191 block and star work drafts provided by the Loški muzej, a museum in Slovenia. His other favorite is Die färbige Gewebemusterung by Franz Donat, published in Germany in 1907. It is a collection of 832 color-and-weave patterns garnered from Ralph Griswold's archive and the HathiTrust Digital Library.
With thousands of drafts on the site, its robust and logical search capability is key. The drafts are arranged in collections of 74 original works. Using filters, you can search by weave structure, keywords, tags, specific draft numbers, drafts with the same threading, most popular drafts, and more. Conveniently, you can limit the search results to only those that can be woven on your loom. Every draft has detail pages and can be printed and downloaded.
If Handweaving.net included only the draft archive and historical document collection, the site would still be a weaving treasure, as essential to a modern weaver as Davison's A Handweaver's Pattern Book and Strickler's A Weaver's Book of 8-Shaft Patterns. However, the draft archive is only part of what's available on the site. Handweaving.net is interactive—the "Draft Editor" lets you create new drafts completely from scratch and allows you to modify any draft already on the site.
If you want to play with color in your own or someone else's drafts on the site, the "Color Editor" will let you do that. With a few clicks, you can completely change a draft's colors to fit your stash, to match a photograph you love, or to add gradients in the warp or weft. If that isn't enough of a rabbit hole, you can interactively explore profile drafts, expanding nearly every draft on the site into a profile and then plugging in other structures to see how a drawdown of that new draft would look and whether it is a worthy candidate for your loom.
If you are looking for more draft fun, the "Amalgamation Editor" can send you on a wild ride. With only a few clicks, you can watch as your draft is transformed into more complex and striking versions of itself. Kris credits Alice Schlein for developing the technique used for this drafting tool, and he explains how it works in a tutorial. Watching the drafts change as you alter the parameters will make you feel as if you've just acquired a new secret weaving power.
Handweaving.net has become a virtual community. Weavers can add to the website by contributing their own drafts, by adding tags to existing drafts, and by creating their own public boards. There are hundreds of eye-catching boards created by users—just scrolling through them is inspiring in itself.
On Facebook, there are multiple communities related to Handweaving.net including a public page where important updates to the site are announced and Projects for Hand-weaving.net, a private group of over 4,000 members that was created by Karen Harmin, a longtime supporter of the site. Members post photos of their work to showcase projects using drafts from the site. A colorful drawdown gives an idea of what the weaving will look like, but the stunning scarves, blankets, garments, runners, and towels shared on this Facebook page bring the drafts to life.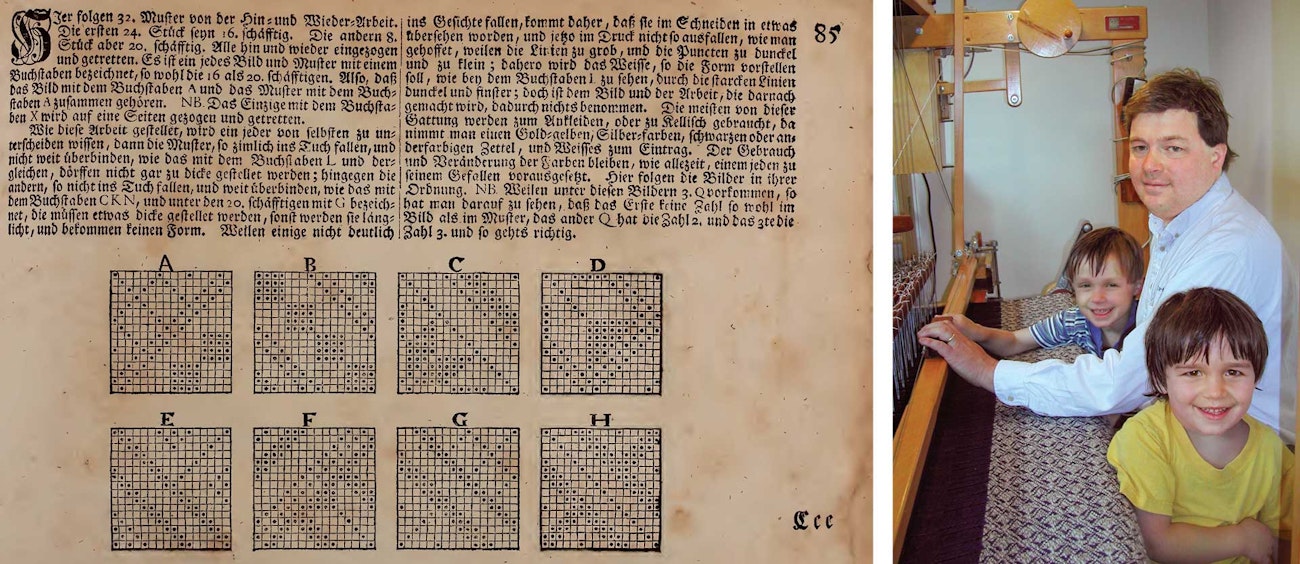 Kris is a member of that private Facebook group where he discusses important updates to Handweaving.net, adds comments to posts, and interacts with group members. When a member of the group posted that she couldn't upload her 37-shaft draft to Handweaving.net, Kris asked her to send it to him. Soon after, she posted that thanks to Kris, the draft was now on the site and gave its number in case anyone wanted to weave it.
The art, skills, and knowledge of weaving must be intentionally preserved and perpetuated to prevent their loss. The Handweaving.net community is doing just that. However, while subscribers see the expanding weaving tools and draft collections, they don't see the behind-the-scenes technical effort the site requires. The time-consuming work that Kris puts in is what keeps the site stable and secure.
Both Handweaving.net and its associated online groups are more than websites; they are a living community of weavers. Reading the posts and comments, it's impossible not to feel the passion and enthusiasm for the gift Kris has given to the weaving community. He has created a weaving universe that, like our physical universe, is constantly expanding. Finding new ways to enrich our weaving experiences is his passion. If you haven't visited Handweaving.net in a while, I encourage you to do so.
As a weaver who grew up without the internet, SHERRIE AMADA MILLER especially appreciates the gift that websites such as Handweaving.net have given to today's weavers.