For about 10 years, I lived in a town that celebrated (and still celebrates) Groundhog Day. No, it isn't Punxsutawney, Pennsylvania, but a small town on the shoreline of Connecticut. For the small parade on February 2, a huge fiberglass groundhog sporting a different outfit every year makes its way from its storage unit at the boat docks to the top of Main Street in the bed of an antique truck. Other antique vehicles follow, as well as a crowd of townspeople using noisemakers and banging pots and pans. I didn't attend the parade every year that I lived there, but I did enjoy the small-town atmosphere of the somewhat, perhaps, corny celebration.
That said, I have probably watched the Groundhog Day movie more times than I attended the parade. It always intrigues me how well the movie brings me as a viewer to the point of being completely exasperated with the repetition and then changes its rhythm right before I'm ready to quit watching. I feel that way about some of my weaving projects. Although sometimes I love the repetition of a simple treadling, I tend to get antsy after a bit and start looking for ways to change things up. I suppose I've woven multiple pieces that are identical (well you know, as identical as handwovens can be), but my favorite warps are the ones that will let you play—whether it's with treadling, tie-up, weft type, or colors. Perhaps not all projects lend themselves to exploration, but many do.
In honor of the groundhog's shadow, I decided to find some shadow-weave patterns from Handwoven that can be woven with different wefts, and/or treadling patterns for different looks. You can see all three of them in the top photo.
And because in the movie, Bill Murray wears a woven scarf that looks like a simple color-and-weave design, I tracked down some color-and-weave patterns for the rigid-heddle loom.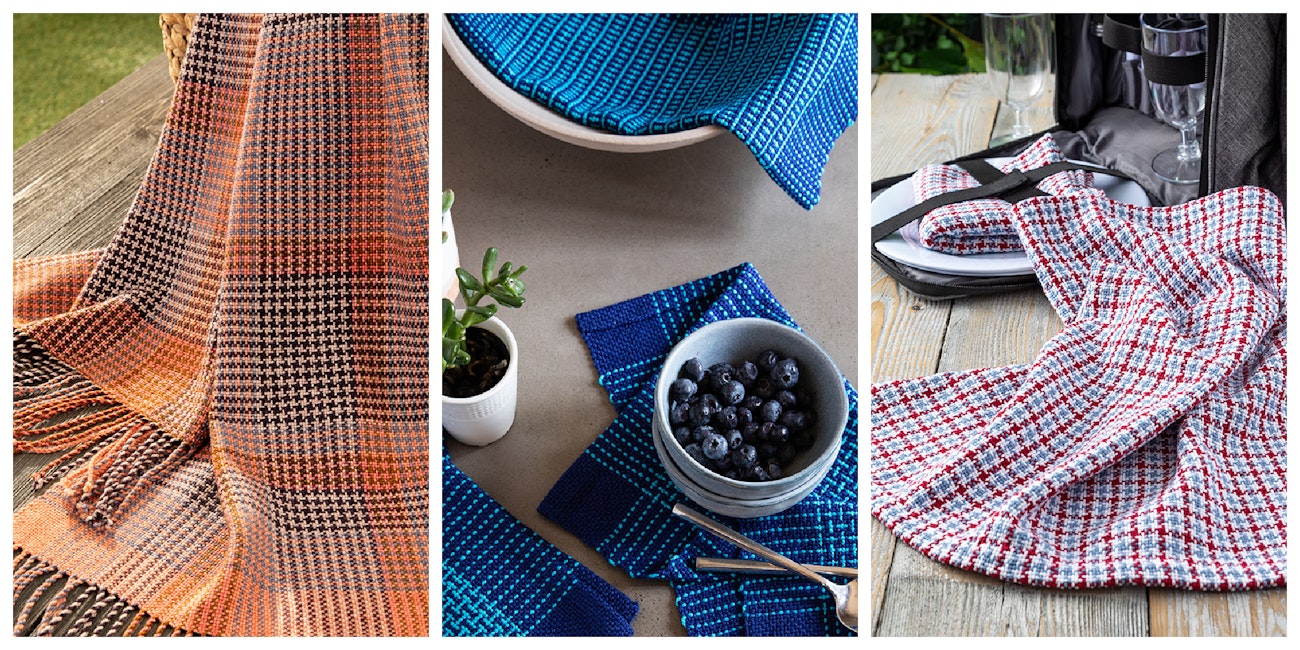 The designers for all six of these (which ironically includes me!) have provided for the antsy among us. Follow their lead or take your own path. Put on some extra loom length and see what happens. Here's an idea straight out of the movie: Weave until you can't stand the repetition anymore and then switch it up. Who knows what you might discover. Another kind of shadow? Or a new color-and-weave combination?
Weave well,
Susan
P.S. If the groundhog sees its shadow this year and you are looking to learn something new during those six more weeks of winter, we have a whole range of courses to check out. Those include one on shadow weave and our newest course on color-and-weave on the rigid-heddle loom.