One of the first classes I took after learning about weaving rugs was a rug workshop with Jason Collingwood. I loved the idea of rug weaving. I was going to make handsome, substantial handwoven rugs that would be fun to weave, brighten up my decor, and wow friends with my fledgling weaving prowess. I loved Jason's class. I came home and happily worked my sampler back from the end of the class to the beginning, so that I would remember everything we had learned.
My first rug weaving workshop was a success, but I learned two things that kept me from a career in rug weaving. First, I learned that my Baby Wolf loom is fabulous for workshops. (You can fit two Baby Wolfs, three spinning wheels, countless bags of yarn and wool, and four fiber fanatics in a Toyota Previa and hit the road. We have pictures to prove it.) However, I was going to need a bigger loom for major rug weaving. The second thing I learned is that you're supposed to put your handwoven masterpieces on the floor and let people walk on them!!! The very idea!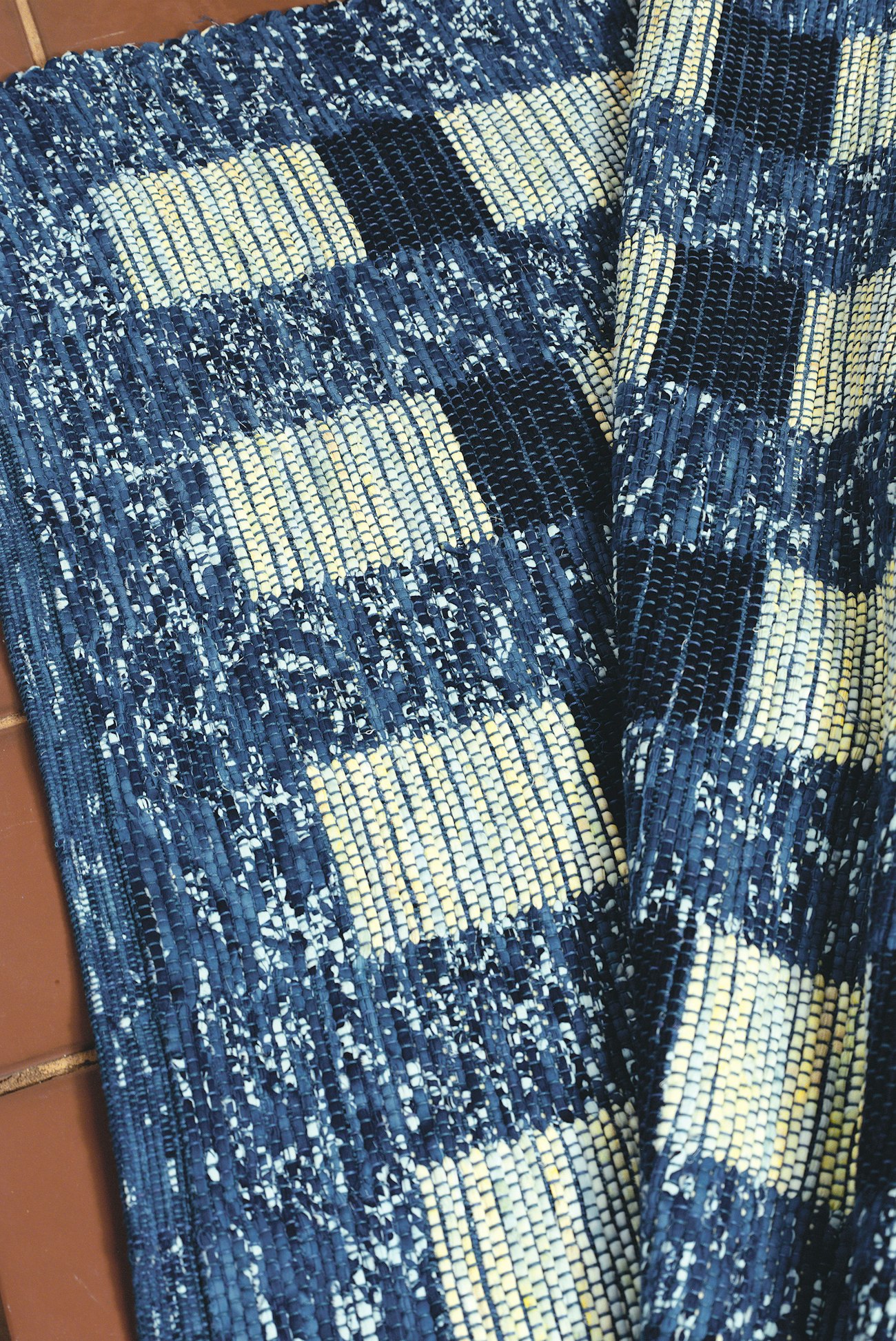 Debra Sharpee's rug combines Indonesian batik fabric with Scandinavian style.
Since then I've become more realistic about my handwoven "masterpieces." Table runners will catch candle wax and gravy spills, towels are meant for wiping, clothing gets dirty, and weaving is enjoyed most when it is seen and used. And eventually a magnificent old Cranbrook loom came into my life, just the thing for rug weaving. After figuring out how to assemble the pieces, replacing the worn hand-tied string heddles with Texsolv, figuring out the countermarch tie-up, and practicing with the loom, I'm finally ready to weave an actual rug. But where to start?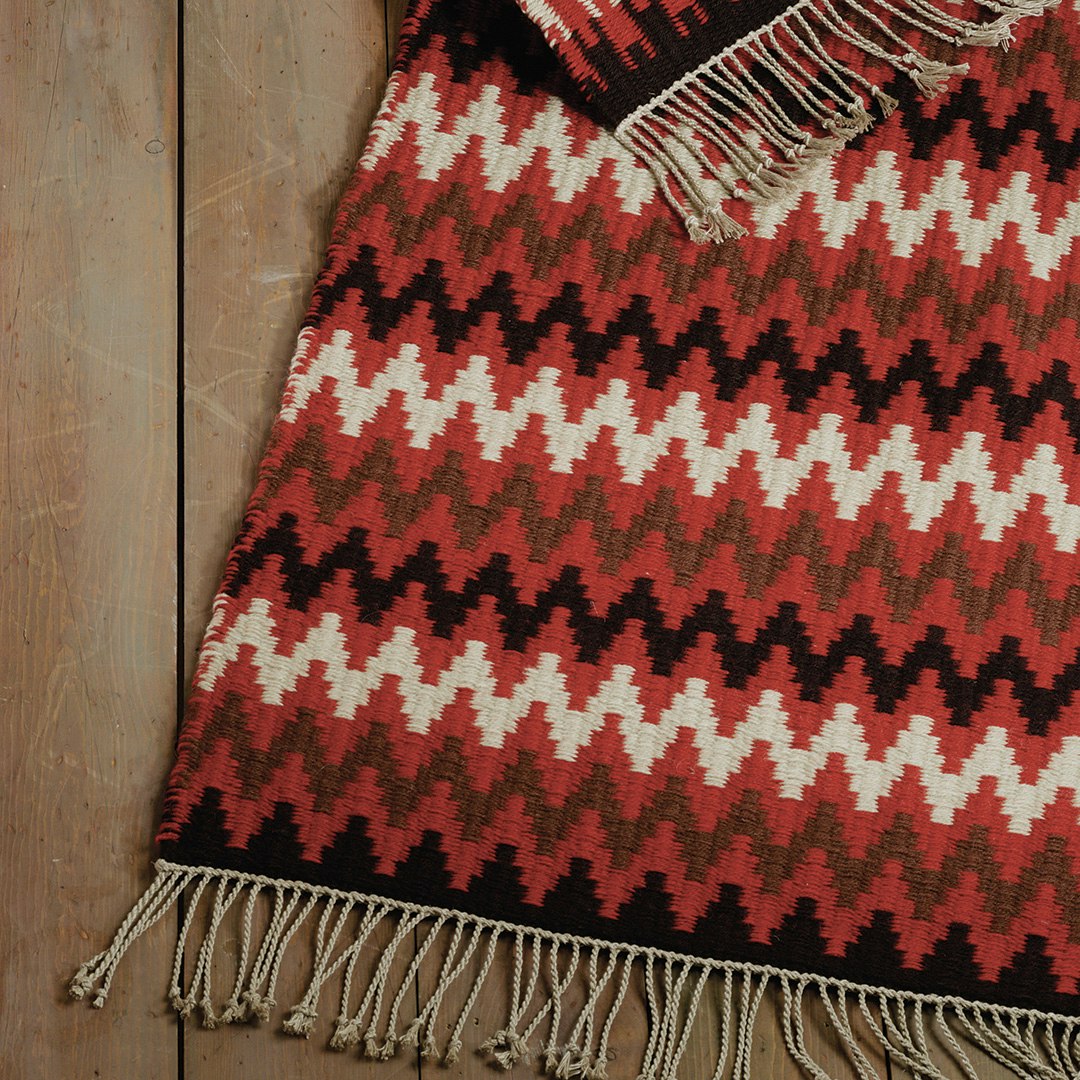 Tom Knisely's krokbragd rug will give you hours of weaving pleasure.
I chose the woven rugs in this latest free pattern collection because they are handsome, substantial, and guaranteed to wow your friends with your weaving prowess, but mostly because they are wonderful opportunities to explore new techniques and materials and find your own rug weaving bliss. As Tom Knisely points out, his krokbragd rug can be warped up in a jiffy and give you many hours of weaving pleasure, playing with vibrant wools. Debra Sharpee's international excursion combines the serenity of indigo-dyed Indonesian batik fabric with a thoroughly Scandinavian double-binding technique similar to taquete. Then Tom Knisely is back to introduce us to the playful color possibilities of warp rep in shining cotton.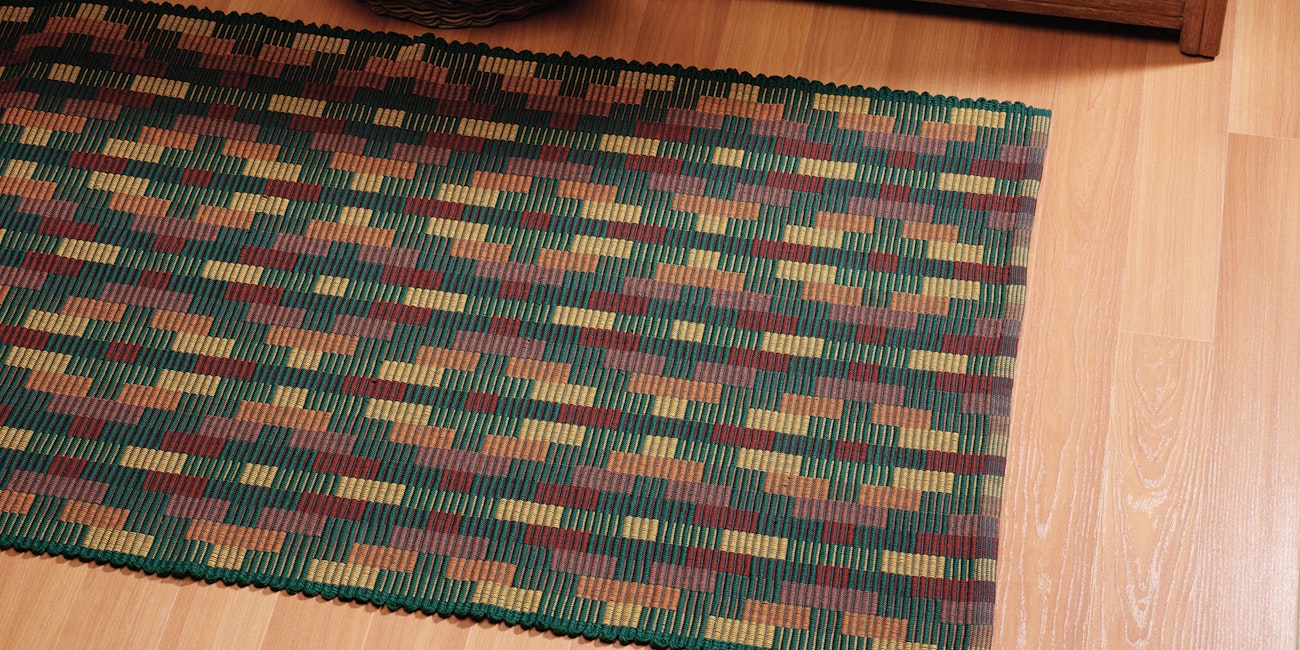 Each of us needs to find our own weaving personality. You might find your bliss with bright and beautiful warp rep.
Whether you adorn your floors with your new masterpieces or hang them on the walls to admire, you'll be warm in the glow of your new rugs and a few steps closer to finding your own weaving personality. Enjoy!
3 Free Rug Patterns + Tips and Tricks for Successful Rug Weaving
Anita's favorite rug patterns from this article can be found as a free PDF in the Handwoven Library!
Visit the Library
Anita Osterhaug is former editor of Handwoven magazine.
Originally published March 20, 2017; updated September 20, 2023.