It seems like nearly everyone I know has a sourdough starter and is baking wonderful bread. Naturally that made me think of the fabulous tubular doubleweave bread back designed by Laura Demuth in the March/April 2015 issue. Don't have 16/2 linen? That's fine! Try substituting 8/2 cotton or cottolin. And of these yarns would make a beautiful bag worthy of a crusty loaf of homemade sourdough. —Christina
I suspect that many a weaver is also a baker. Bread is the stuff of life in much of the world. The pleasure of creating the perfect crumb in a loaf of bread is much like the satisfaction of achieving the desired "hand" in a well-woven textile. And opening the oven door to freshly baked loaves has much of the same appeal as unrolling a completed weaving from your cloth beam. Both events are little births.
I have been a baker of sourdough loaves for as long as I have been a weaver. The two activities flow well together in my day, and there is great pleasure in moving from loom to oven, patiently watching my creations develop. I take care to spray my loaves with water after placing them on a heated baking stone in a steamy oven to achieve that wonderful sourdough crust. And it is always a disappointment to have to put my cooled loaves into plastic bags for storage, compromising my carefully achieved chewy sourdough texture.
With this problem in mind, I decided to weave a bread bag that would be worthy of my fresh loaves. I chose the doubleweave structure because I liked the idea of making a bag from a woven tube, and I chose twill because it is a more dense weave than plain weave, making it more effective at keeping air from moving around the loaves while still allowing the bread to breathe. Finally, I chose linen in clean, Scandinavian-style colors because I love its natural strength and the way it gets softer with use. My loaves keep quite well in my linen bags for 2 or 3 days, especially if I put them in the bags cut side down.
Even if you are not a baker, a bag like this would make a wonderful gift for someone who is, and who knows, a fresh loaf might just find its way to you in gratitude . . .
Resources
O'Connor, Paul R. Loom-Controlled Double Weave from the Notebook of a Double Weaver. St. Paul, Minnesota: Dos Tejedores, 1992. Crockett, Candace. Card Weaving. New York: Watson-Guptill, 1973.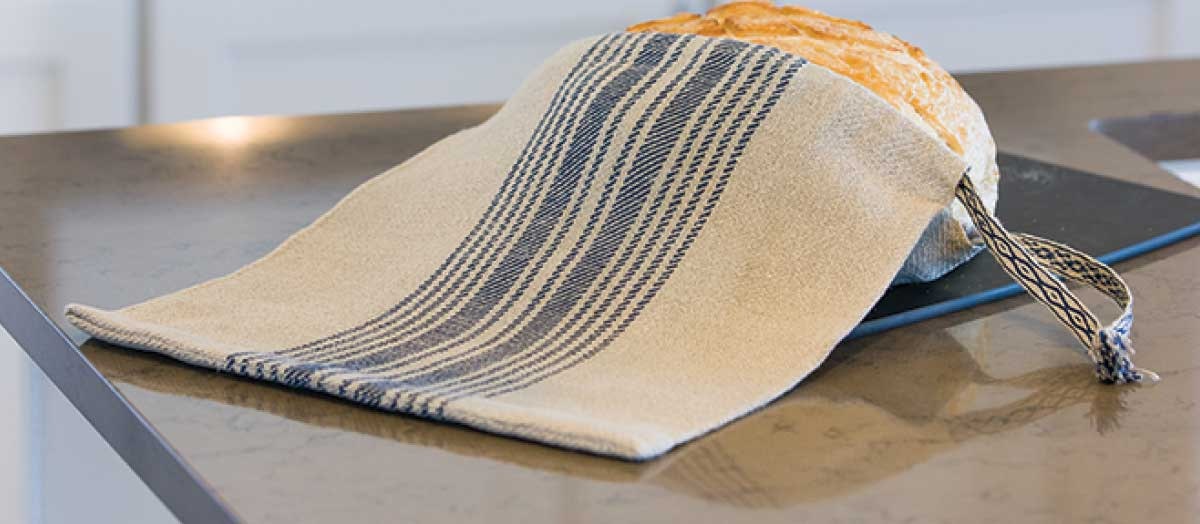 Structure
Doubleweave.
Equipment
8-shaft loom, 13" weaving width; 12-dent reed; 1 boat shuttle; 16 cards for band weaving; 1 belt shuttle.
Yarns for Bags
Warp: 16/2 line linen (2,400 yd/lb; Bockens), #0000 unbleached, 968 yd; #603 blue, 280 yd. Weft: 8/1 tow linen, (2,400 yd/lb; Bockens), #0000 unbleached, 668 yd.
Yarns for Band
Warp: 16/2 line linen (2,400 yd/lb; Bockens), #0000 unbleached, 228 yd; # 603 blue, 156 yd. Weft: 8/1 tow linen, (2,400 yd/lb; Bockens), #0000 unbleached, 16 yd.
Other Supplies
12"–16" temple (optional); hand mirror; sewing thread.
Warp
Warp length for bag: 624 ends 2 yd long (allows 2" for take-up, 35" for loom waste). Warp length for band: 64 ends 3 yd long (allows 8" for take-up, 24" for loom waste).
Setts
Warp: 48 epi (4/dent in a 12-dent reed); selvedges 24 epi (8 threads per selvedge sleyed 2/dent). Weft: 48 ppi (24 ppi in each layer).
Dimensions
Width in the reed: 13". Woven length (measured under tension on the loom): 35". Finished size after washing and hemming: 2 bread bags 11½" X 12" each.
1 Wind 624 warp threads 2 yd long, using the color sequence indicated in the warp color order, Figure 1. Use your preferred method to warp the loom, and thread following the draft in Figure 2. Sley the first and the last 8 ends at 2/dent and the rest of your warp at 4/dent. Do not use floating selvedges.

2 Wind a bobbin of the 8/1 tow linen and begin weaving according to the draft, Figure 2. Use a mirror frequently as you weave to check that the lower layer is without error. Weave until your piece measures 15".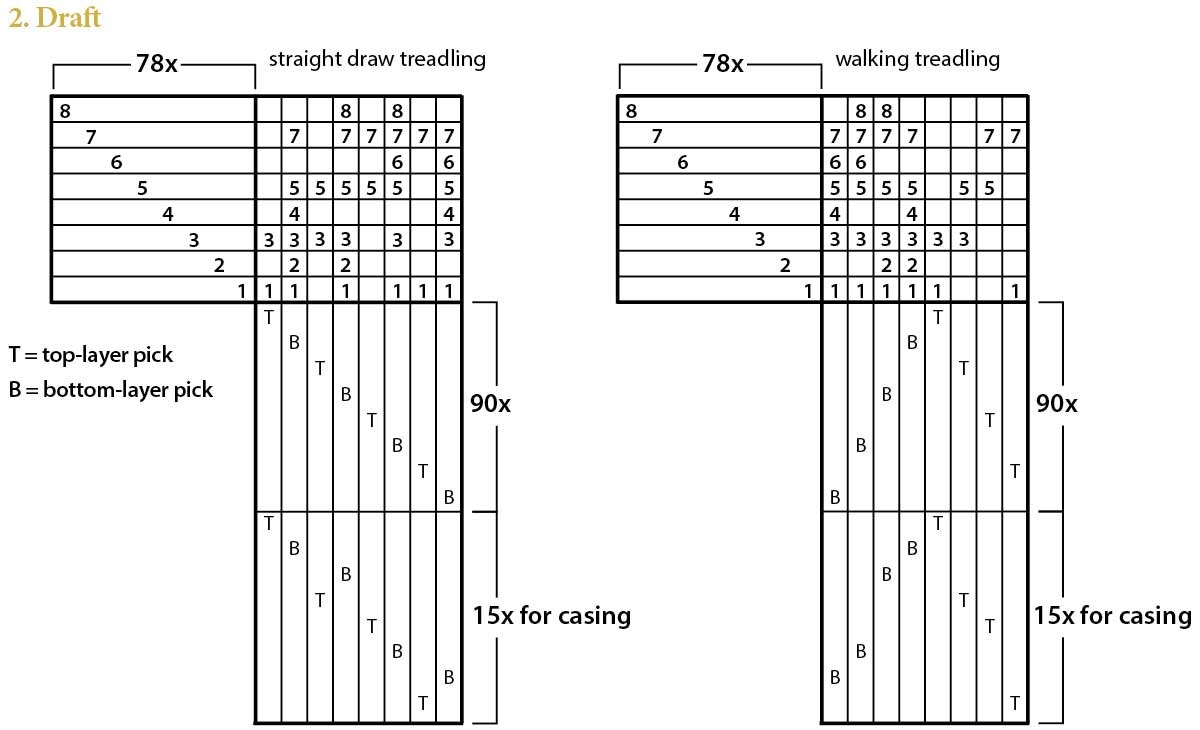 3 You will now weave the casing of your bag using the treadling indicated in the draft, Figure 2. This section is woven open on one edge. You have been weaving top, bottom, top, bottom, but you will now weave this section top, bottom, bottom, top, top, etc. Weave in this way for 2½".
4 If you are weaving multiple bags, weave in 2 picks of contrasting yarn as a cutting line and repeate steps 2–3.
5 Remove fabric from the loom and machine zigzag the raw edges. Machine wash in warm water using mild soap. Lay flat to dry. Lay flat to dry. Machine stitch or apply Fray Check to both sides of the cutting line and cut apart.
6 To finish the bottom of the bag, turn the bag inside out and sew across the bottom 1" from the raw edge. Finish the raw edge as desired.
7 Sew the casing with the bag turned inside out. Turn the top raw edge in ½" and press; turn in again to the point where the edge opening begins and handstitch in place. Thread the card-woven tie through the casing.
Weaving the Tie
1 Measure a 3 yd warp and thread the cards following the draft, Figure 3. Take care to match your color order to each lettered hole and follow the threading direction indicated by the arrows.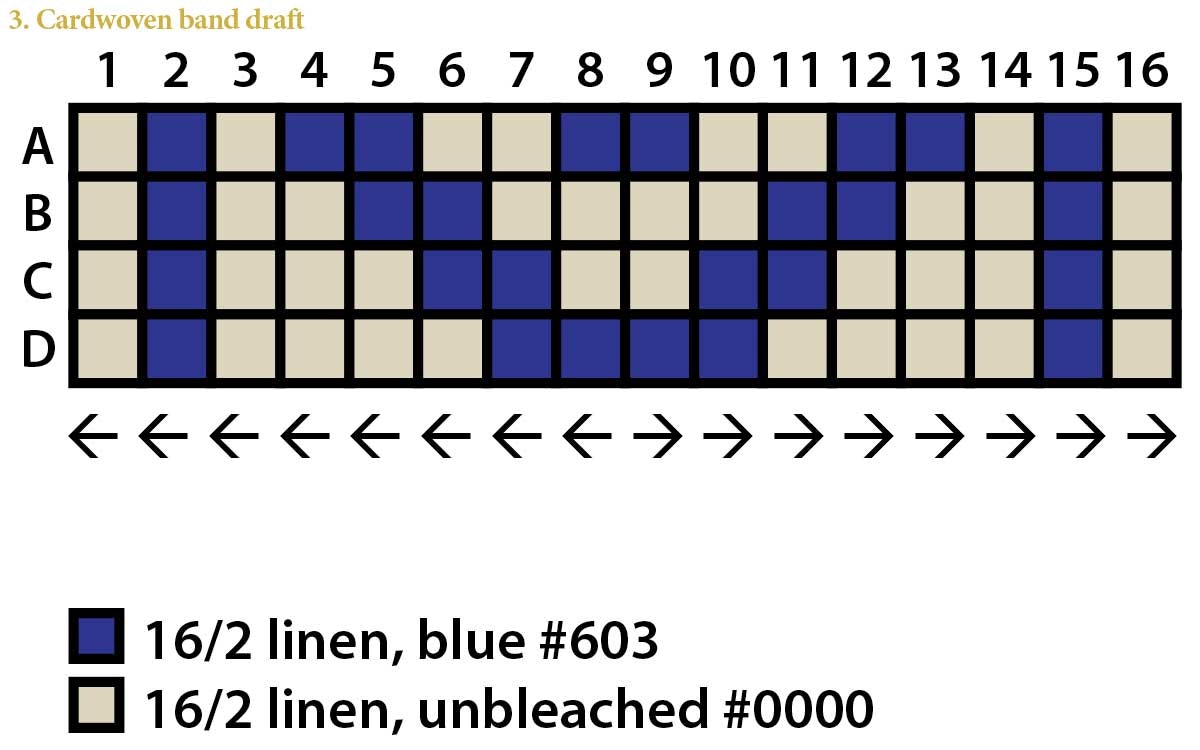 2 Wind 8/1 tow linen on your belt shuttle and begin weaving with your card oriented so that "A" and "D" are on top. Weave by rotating your cards forward (away from you) 4 times, then turning the cards backwards (toward you) 4 times. Weave in this manner for 72" (36" per bag) maintaining a width of approximately ½". Cut the ties apart and thread through bag casing. Whipstitch the tie ends, leaving 1" for fringe.