Do you remember your first proper (as in non-sampler) weaving project? For me it was a set of twill dishtowels in navy blue and white cottolin. It took me eight long hours to warp the loom, but as soon as I sat down with my shuttle, all the hours spent carefully threading heddles were forgotten, and I lost myself in the joy of weaving. It was like magic, watching the intersection of warp and weft create the pattern pick by pick. I can't tell you how proud I was when the towels were wet-finished and hemmed—I couldn't believe I had actually made something that pretty; that I had created real, usable cloth. In that moment I truly felt like a weaver.
Handwoven placemats and towels are perfect for brand new weavers–or for experienced weavers looking for a weaving project that is both relaxing and uncomplicated. Looking back, I realize how smart I was to choose dishtowels as a first project:
First of all, cottolin (and cotton for that matter) is very easy to work with: it's not slippery, it's strong, and it won't full or felt when you wet-finish it. Second, the draft was simple to thread and had a short treadling repeat so it was easy to remember my place. Third, the project I was following made four dish towels so I could experiment with color and treadling. Last, it was something I could use immediately and often—unlike scarves or shawls, dishtowels are not seasonal, nor do they have to coordinate with your clothing.
Each of these five 4-shaft weaving patterns for beginners is easy to accomplish and includes step-by-step instructions to complete it quickly and successfully. Any one of these placemats and towels will bring a beautiful splash of color to your kitchen or table.
When I am asked by new weavers about a good first project, I suggest kitchen linens: dishtowels, napkins, and placemats. Even as an intermediate weaver who loves experimenting with new fibers and structures, I find myself constantly reaching for my cones of 8/2 cotton and setting up the loom for dishtowels. I've gotten quicker at warping since my original batch, but the joy of weaving and admiring the finished project remains the same.
From a colorful, striped handwoven towel to a set of 12 different but coordinated handwoven placemats, weavers of all skill levels will find inspiration from the weaving projects offered in this free eBook titled, Free Hand Weaving Projects for Beginners. And all you need is a 4-shaft loom!
Here is what you'll find inside:
1. A placemat project that makes the most of a long warp.
Learn how to weave with this 4-shaft plain-weave handwoven placemat project. Anything but Plain Placemats by Janet Dawson. Photo by Joe Coca
Anything but Plain, Twelve Placemats on One Warp by Janet Dawson These handwoven placemats are all about color – and lots of it! The weave structure could not be simpler and the weaving is almost too easy. But watching the constantly shifting warp colors and using a different weft color for each placemat will hold your weaving interest. When you're all finished with this free weaving project, you'll have twelve different but coordinated, customizable handwoven placemats from just one warp.
2. Huck patterned placemats perfect for beginners.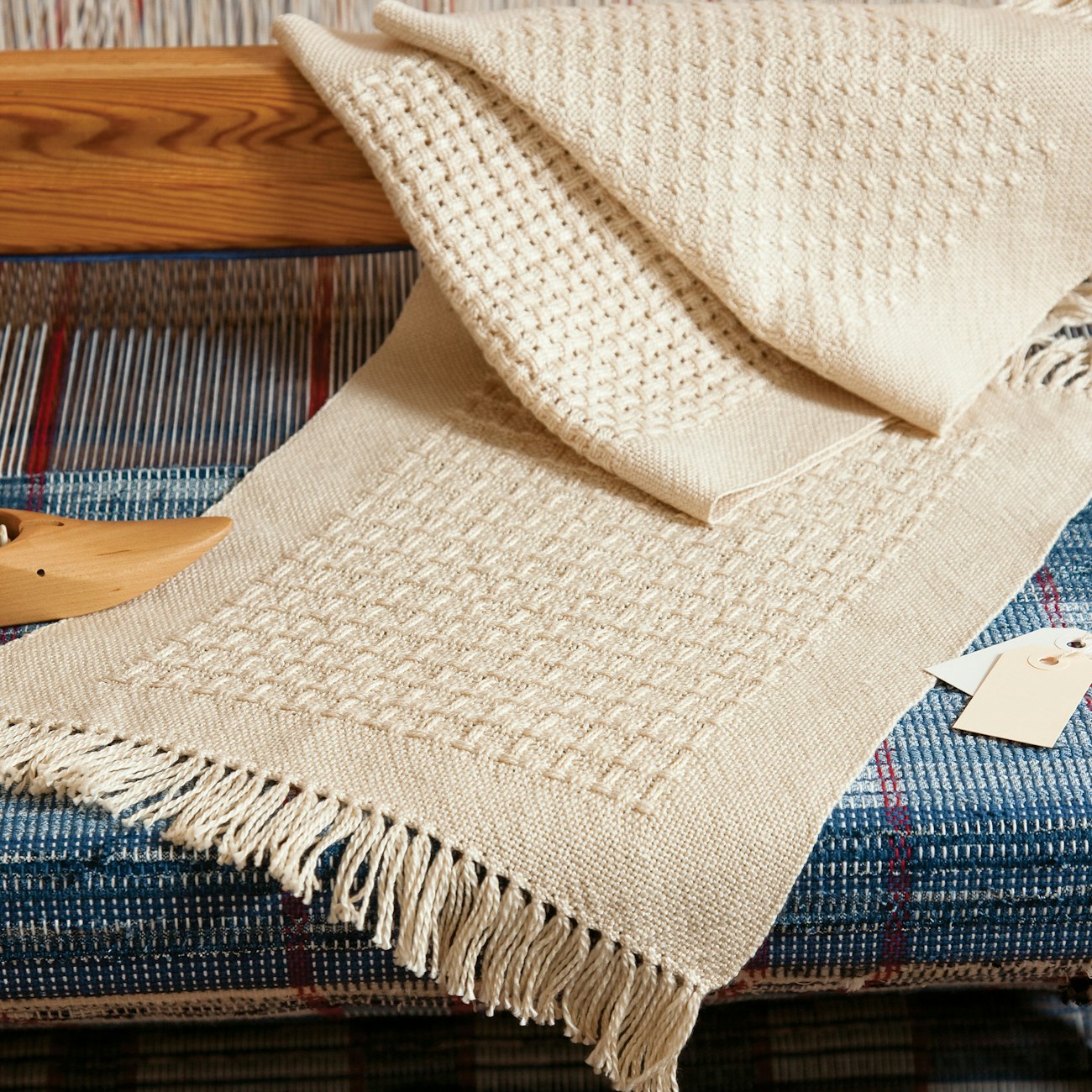 This elegant but simple huck pattern is a great beginner project. You don't have to buy a lot of expensive yarns to weave these placemats and you'll learn a lot. Elegant Placemats by Suzie Liles. Photo by Joe Coca
Elegant Placemats by Suzie Liles Weave a placemat using inexpensive yarn that is quick to weave, easy to care for, and sure to please! This free weaving project can be woven in any color – Suzie suggests natural colors, because they can look more elegant and provide great wedding gifts. Experiment with huck weaving as you weave handwoven gifts or decor for your own home. Huck makes great weaving for beginners!
3. Striped towels that can be woven as stripes or plaid.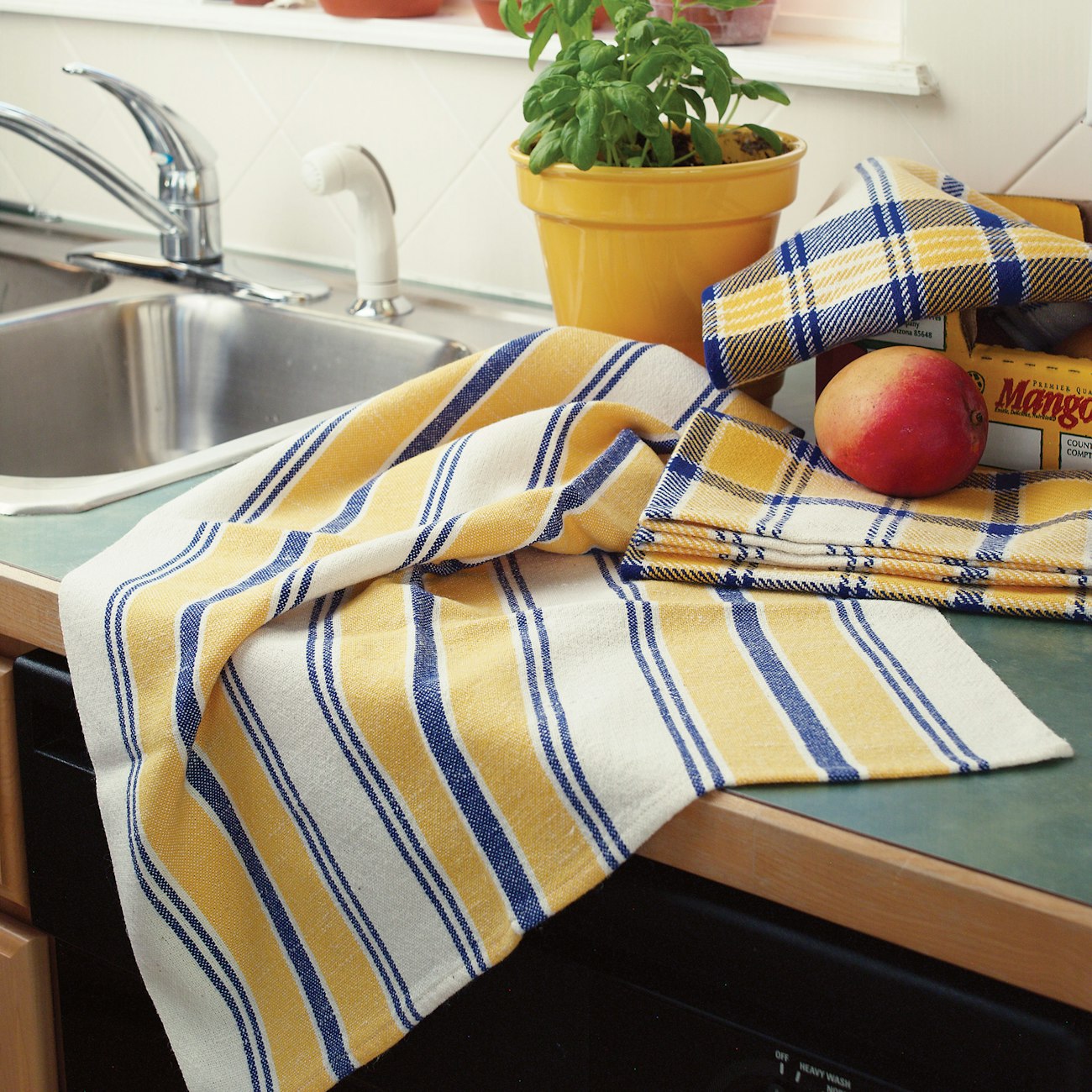 Learn to weave a handwoven towel with step-by-step instructions. Playing with Stripes towels by Jean Korus. Photo by Joe Coca
Playing With Stripes by Jean Korus Towels are wonderful weaving patterns for beginners, because there's so much room to experiment. Add a splash of colorful stripes to the kitchen with these beautiful and easy to weave striped dishtowels. This weaving project is great for brand-new weavers or the experienced weaver looking for something relaxing and less complicated. Weave a variety of different towels on a striped warp and enjoy playing with the different colors and patterns as you go.
4. Huck lace and linen dishtowels that are pretty and thirsty as well as being fun to weave.
Learn about weaving huck with this dishtowel weaving project. Huck Windows by Marjorie Erickson. Photo by Joe Coca
Huck Windows, Dish Towels in Linen and Lace by Marjorie Erickson This free weaving project incorporates the huck lace structure using linen–the fiber of choice for a quality handwoven towel. You'll expand your huck weaving skills while weaving an absorbent, durable towel for your kitchen. Find out how that huck patterning appears during wet finishing, and discover which yarns will emphasize the lacy structure. Weaving patterns for beginners don't have to be boring!
5. Striped twill towels that use variegated yarns to great advantage.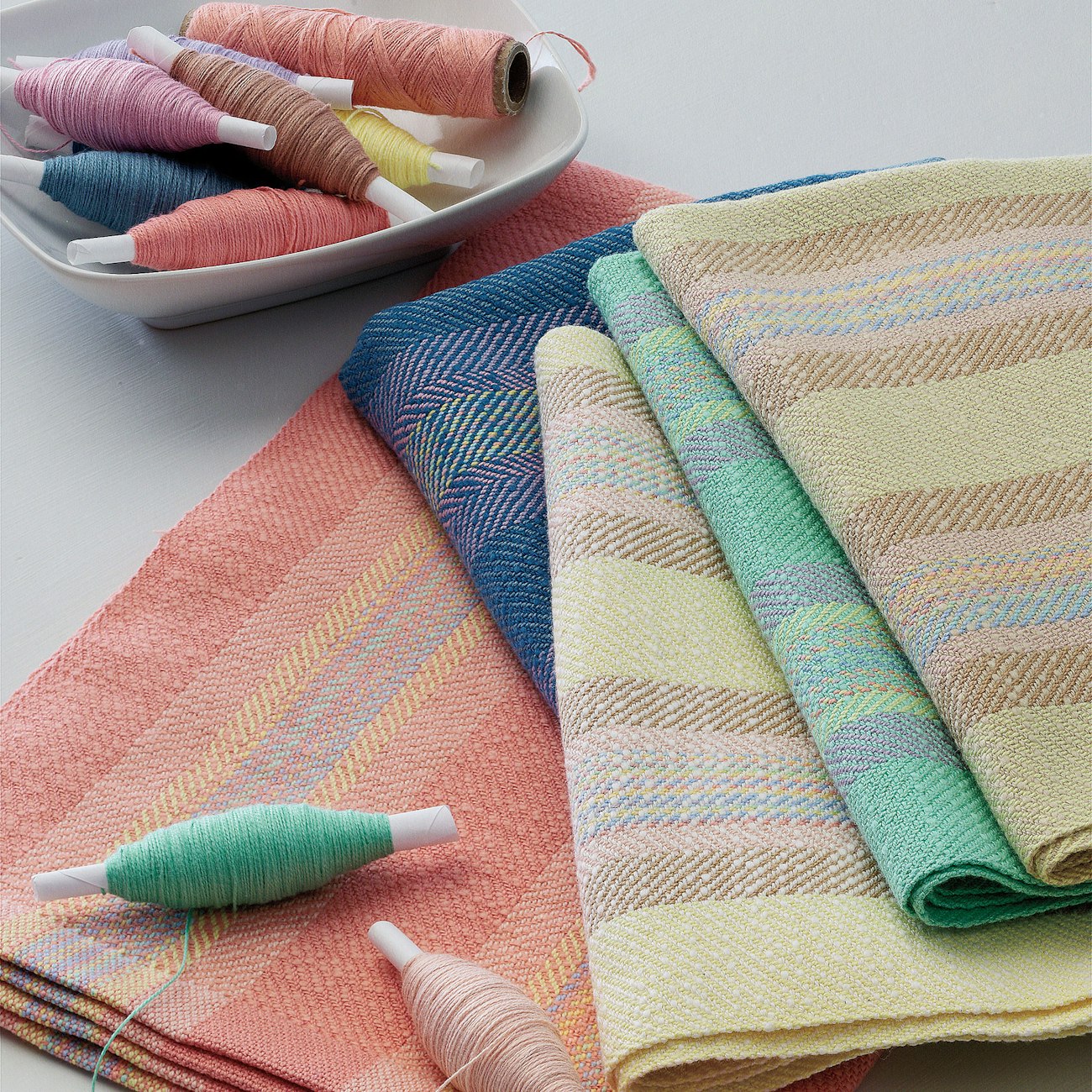 Learn how to weave beautiful twill towels using variegated yarns as accents. Spring Bouquet Towels by Laura Fry. Photo by Joe Coca
Spring Bouquet Towels by Laura Fry A variegated yarn can add zest to your weaving, but variegated yarns are often more expensive than solids, so use them as an accent and/or a color inspiration. Laura decided to design a set of towels to experiment with the colors in her new variegated yarn. The project instructions are written so you can weave four towels in each of her colorways. You can pick your favorite or go wild and weave them all.
Experience the satisfaction of completing a woven mat and placing it on your table for the first time to be enjoyed for years to come. Add a truly personalized splash of color with a handwoven towel that is fun and easy to weave, or weave a whole set of coordinating placemats. With these patterns you'll be able to experiment with huck lace, twills, and plain-weave variations as you master beginning weaving techniques on your 4-shaft loom. Just because you're a beginner doesn't mean you can't weave something truly beautiful. Check out these weaving patterns for beginners and get weaving!
Published July 10, 2017 Revised July 10, 2023