A lot of weavers prefer to stay in their weaving wheelhouse, but many of us find it fun and interesting to try different looms and techniques at least once, to see whether we like them. I believe Nancy Peck, one of our favorite designers, is in that second category. Nancy is an accomplished multi-shaft weaver who works on computer-controlled looms, but she is also adept at adapting 4-shaft loom drafts to the rigid-heddle loom. In addition, she weaves with a wide variety of yarns. Many of the yarns Nancy uses are designated as knitting yarns, but she ignores that classification and puts them on her looms. She seems to experiment a lot, and the results are fascinating and beautiful.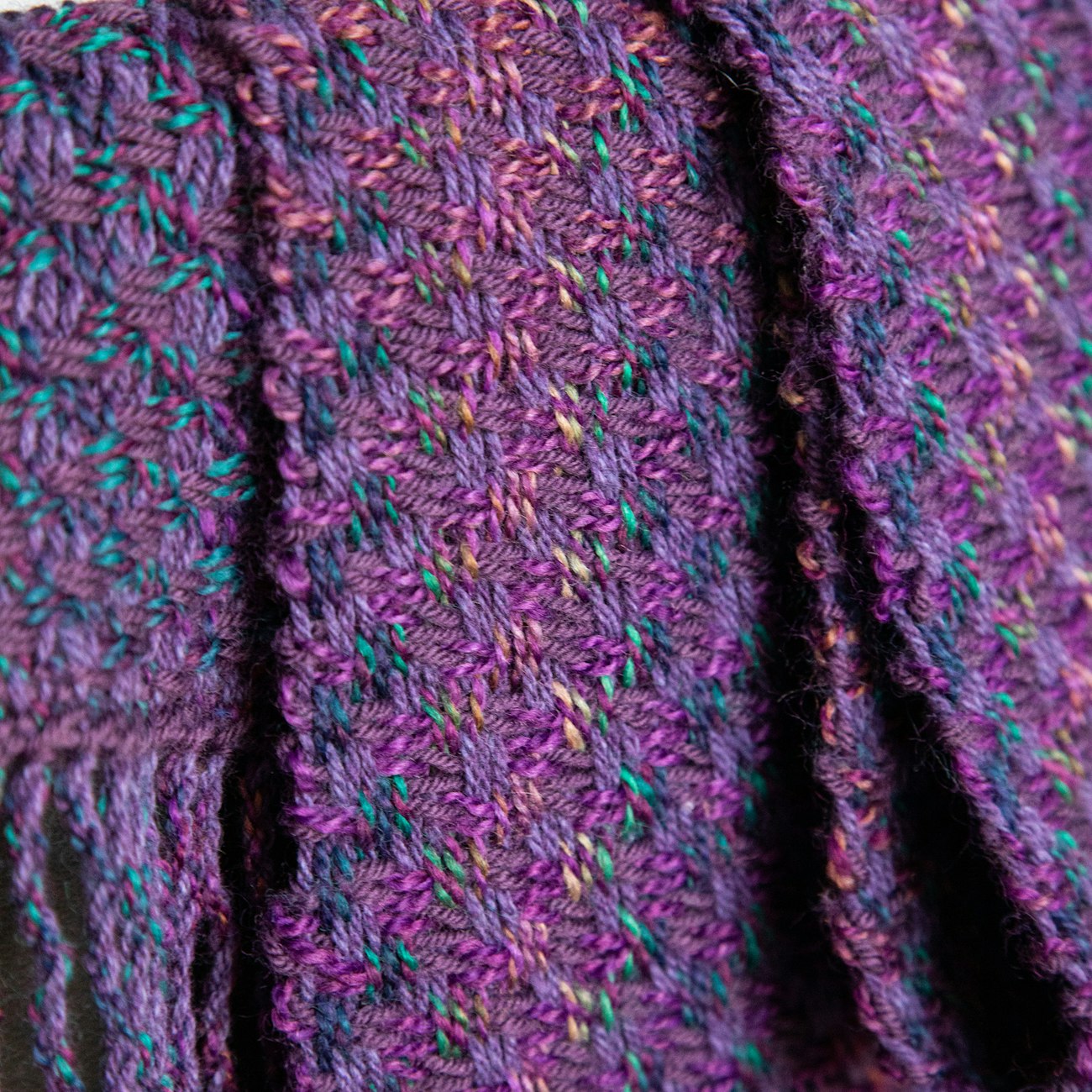 Nancy's scarf uses a self-striping sock yarn in both warp and weft as well as a solid-colored sock yarn. It looks complicated, but it's a simple twill. Photo by Matt Graves
Per Nancy, "I've discovered that it's possible to weave many four-shaft patterns with two heddles, a pick-up stick, and a heddle rod." We published a rigid-heddle version of Nancy's Fantasy Twill scarf in Handwoven January/February 2023. And, sure enough Nancy's scarf used all of the equipment she listed and was woven with two types of sock yarn, a solid and a self-striping cake yarn.
If you are firmly in the multi-shaft weaving world and don't have or use a rigid-heddle loom, you'll enjoy this version of Nancy's scarf pattern written for 4-shaft looms. Current subscribers to Handwoven magazine can login below to access this subscriber bonus pattern.
You can weave the beautiful scarf as you explore the world of weaving with sock yarns. Give it a whirl! Who knows, you may just want to borrow your guild's rigid-heddle loom one day. Things are starting to get wild! What's next, a pin-loom?
Weave well,
Susan
Bonus 4-Shaft Scarf Pattern Download