When Susan E. Horton first told me her plan to have an architectural theme for her March/April 2023 issue of Handwoven, I was immediately jealous. What a fun theme for weavers! As we talked about the possibilities, my jealousy turned into eager anticipation to see the final projects. The designers who answered our call did not disappoint, and the issue is full of incredible, vibrant, and creative projects all with unique interpretations of the theme.
While I could not, would not pick a favorite, I keep coming back again and again to the Palm Springs Cocktail Carpets by Jennifer Kwong. Everything about these cocktail carpets (or mug rugs, if you prefer) feels mid-century modern (MCM). I could go through all the elements inspired by architecture of that era, but I'd rather share Jennifer's artist statement. She wrote: "My goal was to capture the fun, frivolity, and lightness of the mid-century-modern style. I focused on reproducing elements that would translate through weaving: clean lines, the cheery colors of painted doors, asymmetry of the structures, and the distinctive look of breezeblocks."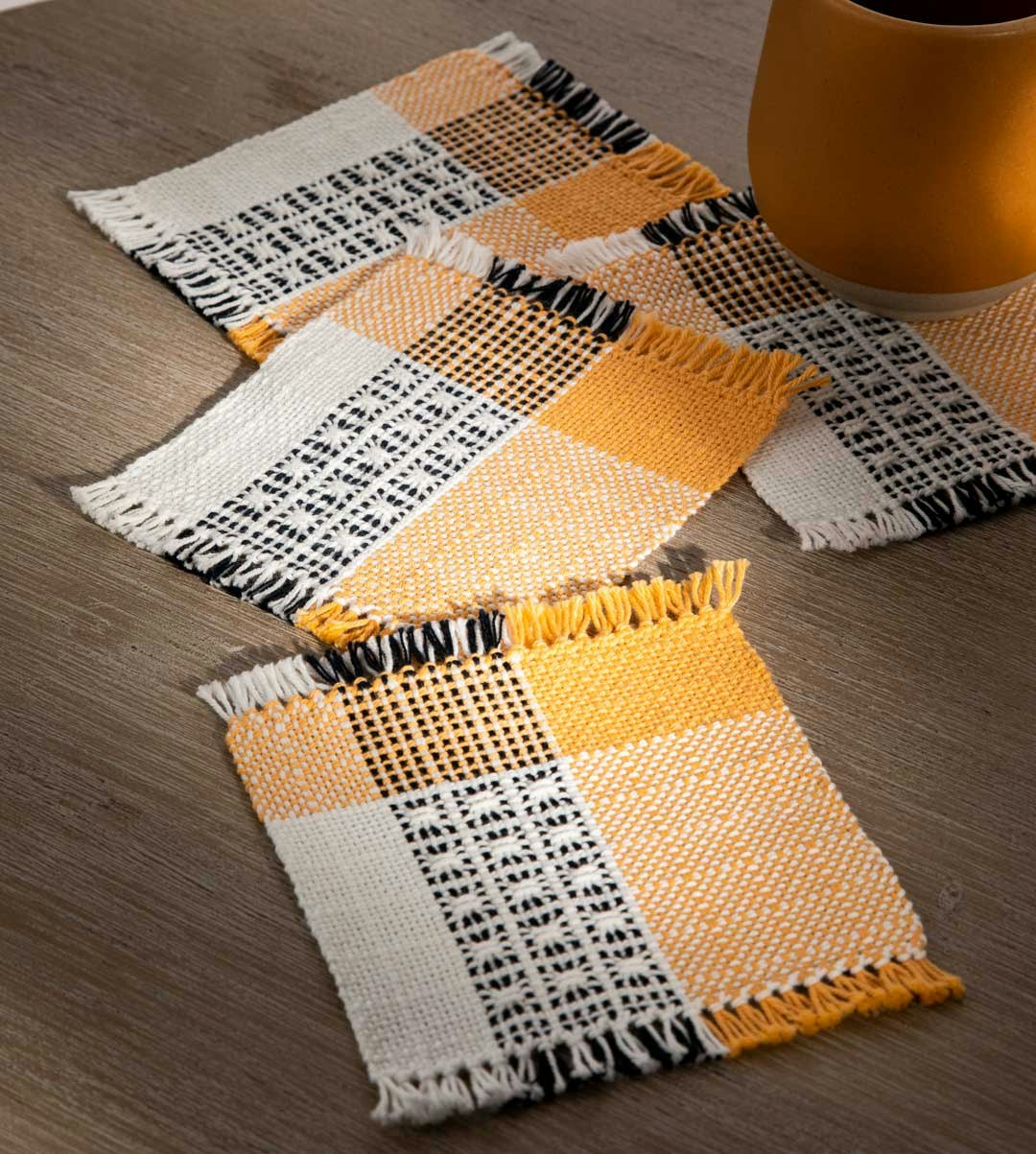 Personally, I think she knocked the assignment out of the park. Not only are these beautifully MCM, but the texture of the piece adds another element of architecture to her weaving. It's not a flat piece of cloth—there's a subtle dimension of raised threads in the bits of the basketweave grid and a few huck stars.
Best of all, this project is incredibly beginner friendly. It's one of those projects that only looks complicated because of how cleverly Jennifer combined simple design elements in a way that looks complex. I don't get much chance to warp my floor loom these days as I focus more on small-loom weaving, but I think these are reason enough to dust off my trusty 8-shaft HD loom. The project uses fewer than 80 warp ends so it's a perfect quick-to-warp project (well, as quick as anything is to warp on a floor loom). Next time I have a 3-day weekend, I think I'll reserve a day to lock myself in the studio and weave up a set of these cocktail carpets.
Until then, I'll keep flipping through the amazing March/April 2023 issue and suggest you do as well! The issue is wall-to-wall eye candy in the project section, and I particularly enjoyed the feature article about Icelandic wool, probably because of the accompanying sheep photos.
Happy Weaving!
Christina