Hello Madelyn,
I have been intimidated by projects that require weaving weft stripes in different colors that repeat themselves regularly. Can I carry the yarns along the selvedge in some way or do I have to cut each weft after I've used it, start the new color leaving a tail on the edge, and then begin again with the new color?
Thanks for your advice —Carol
---
Hi Carol!
It is always painful to change colors in the weft; the process completely disrupts the rhythm of weaving. Also, if the weft stripes are very thin and the changes occur often, the overlapping tails of the new and old wefts can build up a bit, since the weft is twice as thick in those spots. For both these reasons, whenever the weft stripes are relatively narrow and the stripes use the same colors in a repeating order, I carry them up along the selvedges.
First, I place all of the shuttles on a stool to one side of the loom; see Photo a. (You can choose to have another stool on the other side if you want to carry one or more colors up along one selvedge and one or more up the other selvedge. For this example, I'm placing them all on the same side. This choice depends on the number of colors involved.)
Then, as I weave, I treat the inactive wefts exactly as if they were floating selvedges: for each pick, entering the shuttle over them (Photo b) and exiting under them (in my example here, exiting under only the floating selvedge on the other side). As I take the shuttle out on the other side, I pull gently on the inactive wefts and the active weft to remove any possible weft loops (Photo c).
When the shuttle passes through the shed to come back to the side where the inactive threads are resting, I take my catching hand under them and under the floating selvedge, so that the shuttle automatically exits under all of them (Photo d).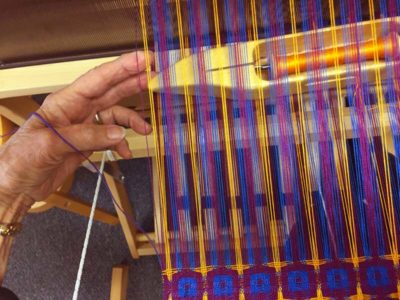 I then repeat the process, taking the shuttle back over them all as in Photo b.
This might seem like a time-consuming process, but, in fact, it does not take more time than if the inactive wefts were not there once your catching hand becomes accustomed to sliding under them. The only added step is pulling on them to firm the edge, but even that becomes automatic. You don't have to pay any attention to the order in which you place the shuttles on the stool.
You will be able to see the inactive wefts along the selvedge (more or less depending on the weave structure), but care in pulling the wefts as you go will still produce a smooth edge (Photo e).
—Madelyn
If you have a weaving question we would love to hear from you! Please email Madelyn!