Editor's note: In Handwoven September/October 2021 we featured Sherrie's Fishing for Compliments towels. They were a fun stash-busting summer and winter project, perfect keeping for your own kitchen or gifting to friends and family. These 12-shaft Black Cat Towels are similar in weave structure and design and will bring some Halloween fun into your weaving life.
Notes from designer Sherrie Amada Miller
Weavers seem to have an affinity for cats. For many of us, our cats are our best weaving buddies. I've always enjoyed the challenge of including animal imagery in my weaving, and when I saw my cat perched on top of my loom, I knew it was time to add a cat towel to my collection of animal-themed pieces.
For design help, I turned to my favorite weave structure, summer and winter. This structure reserves shafts 1 and 2 for the tie-down threads, leaving the rest of the shafts for pattern blocks. The more shafts available, the more blocks and the more detailed the image or design can be. Understanding how this works comes with a dangerous side effect. There should be a warning to weavers that once they try this technique, they will always wish they had more shafts. Curing "loom envy" can be quite expensive.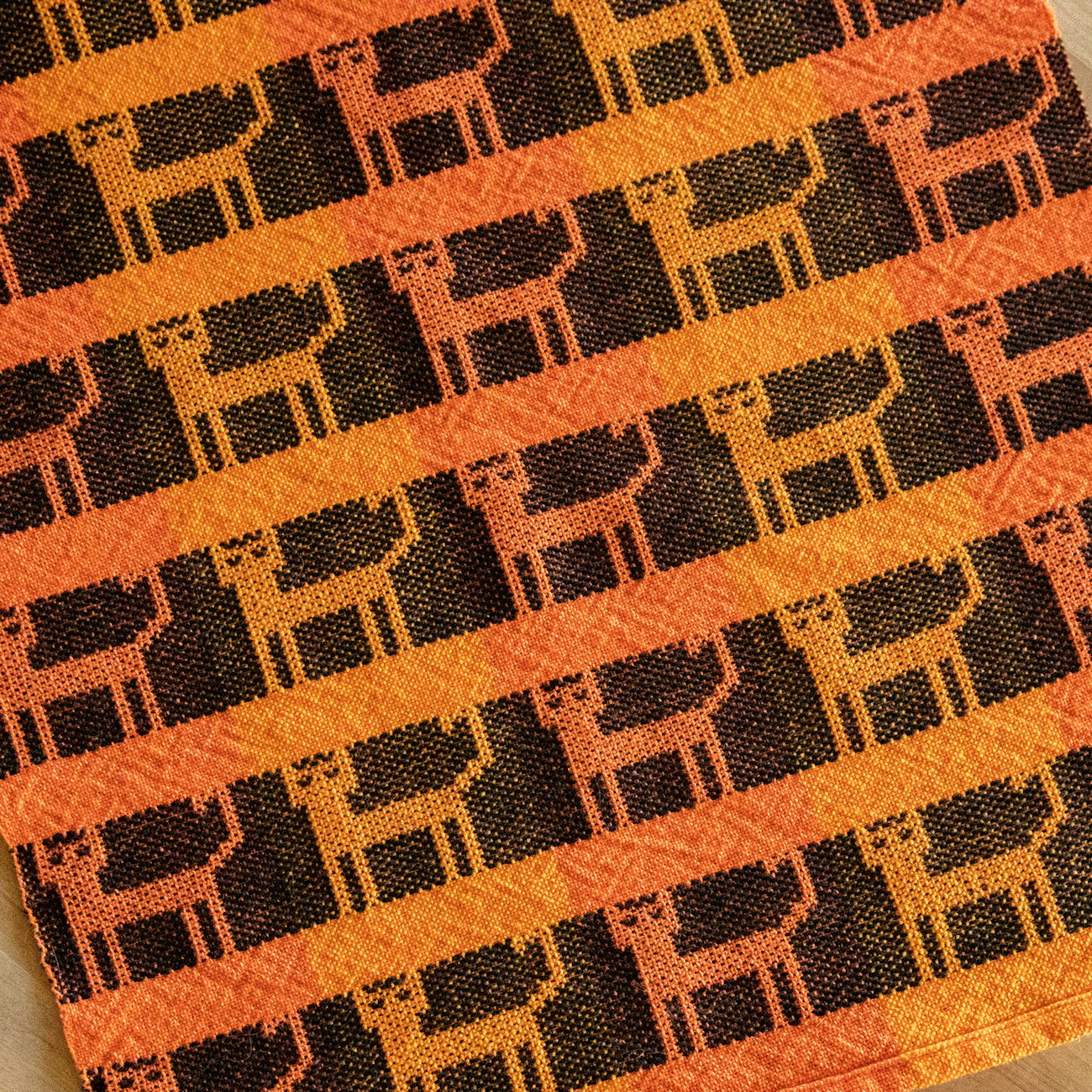 Maybe you have an orange tabby in your life! These towels are fully reversible depending on how you hem them.
As my image progressed from graph paper to a summer and winter weaving draft, I started to think about color. I've learned from experience that there should be a strong contrast between the pattern threads and background threads for the image to stand out. Why not make my cats as dark as possible? Before I knew it, I had black cats against an orange background. Everyone weaves Christmas towels, but maybe it's time to weave Halloween towels. My Black Cat Towels are bound to bring you good luck in the kitchen.
~ Sherrie
Current subscribers to Handwoven magazine can log in below to download the Black Cat Towels pattern plus WIFs. If you aren't a current subscriber and would like this pattern, you can find it in our shop or check out all the perks and benefits you get for subscribing (including access to this pattern).
Project at a Glance + Pattern Download
PROJECT TYPE: 12-shaft.
STRUCTURE: Summer and winter.
EQUIPMENT: 12-shaft table loom or 12-shaft dobby loom, 20" weaving width; 10-dent reed; 2 shuttles. Note: Standard treadling for these towels uses 22 treadles. A lift plan is included in the pdf for table looms.