I'm planning a baby blanket and am trying to figure out what type of yarn to use. It seems everyone has an opinion and they're all different—some use weaving cottons while others swear by acrylics and I've even seen some woven from bamboo! I just want something soft and easy to wash—what do you recommend for baby blankets?
—Penelope
Hi Penelope!
A baby blanket can have different purposes. You might be weaving one to give to a mother for a brand new baby and want it to be more beautiful than functional. Most of the time, though, you would like the blanket to be used, in which case it needs to be able to endure repeated washings (and by machine, not by hand).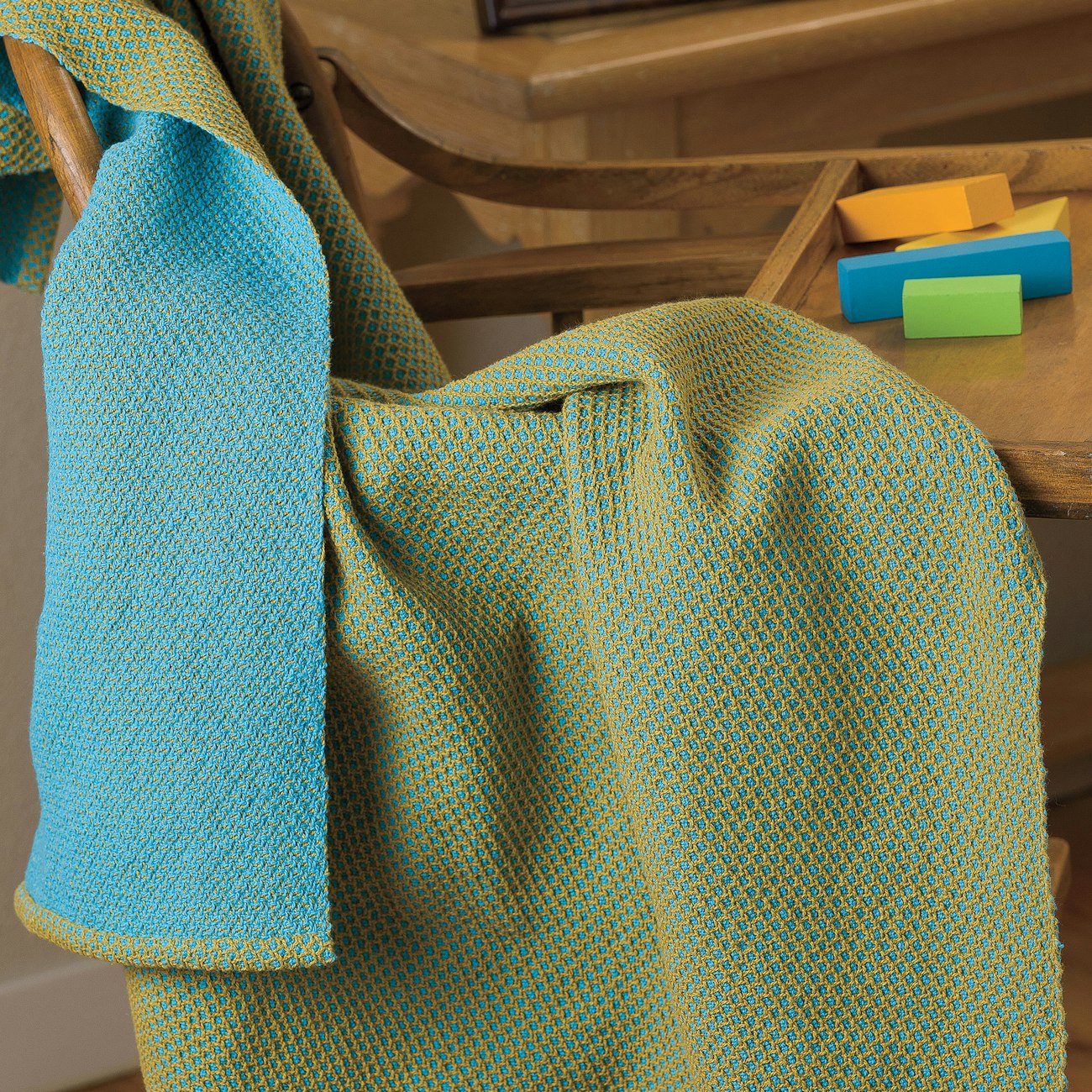 Suzie Liles used 8/2 cotton in her Sweet Honey in a Waffle Baby Blanket from Handwoven May/June 2012. Photo by Joe Coca
I looked through all the issues of Handwoven for baby blankets (and for baby wraps), and interestingly enough, most of them are woven in 8/2 cotton. The reason for this is certainly washability and absorbency. 8/2 cotton tends to have a matte finish after repeated washings, however, and may end up looking more like a towel than a blanket. A few baby-blanket projects are woven in 10/2 cotton, a few in 5/2 cotton, and several in Lily's Sugar 'n Cream. A very small percentage are woven in acrylics, and the particular acrylics used aren't available any longer, though I'm sure similar yarns are available now. Suzie Liles in her Sweet Honey in a Waffle Blanket used 8/2 cotton, as did Kathleen Farling in her Baby Blanket in M's and O's from Handwoven May/June 2010 although Kathleen used a heavier crochet cotton for weft. Terry Newhouse-Flynn combined a cotton warp with a rayon weft in her Spring Baby Blankets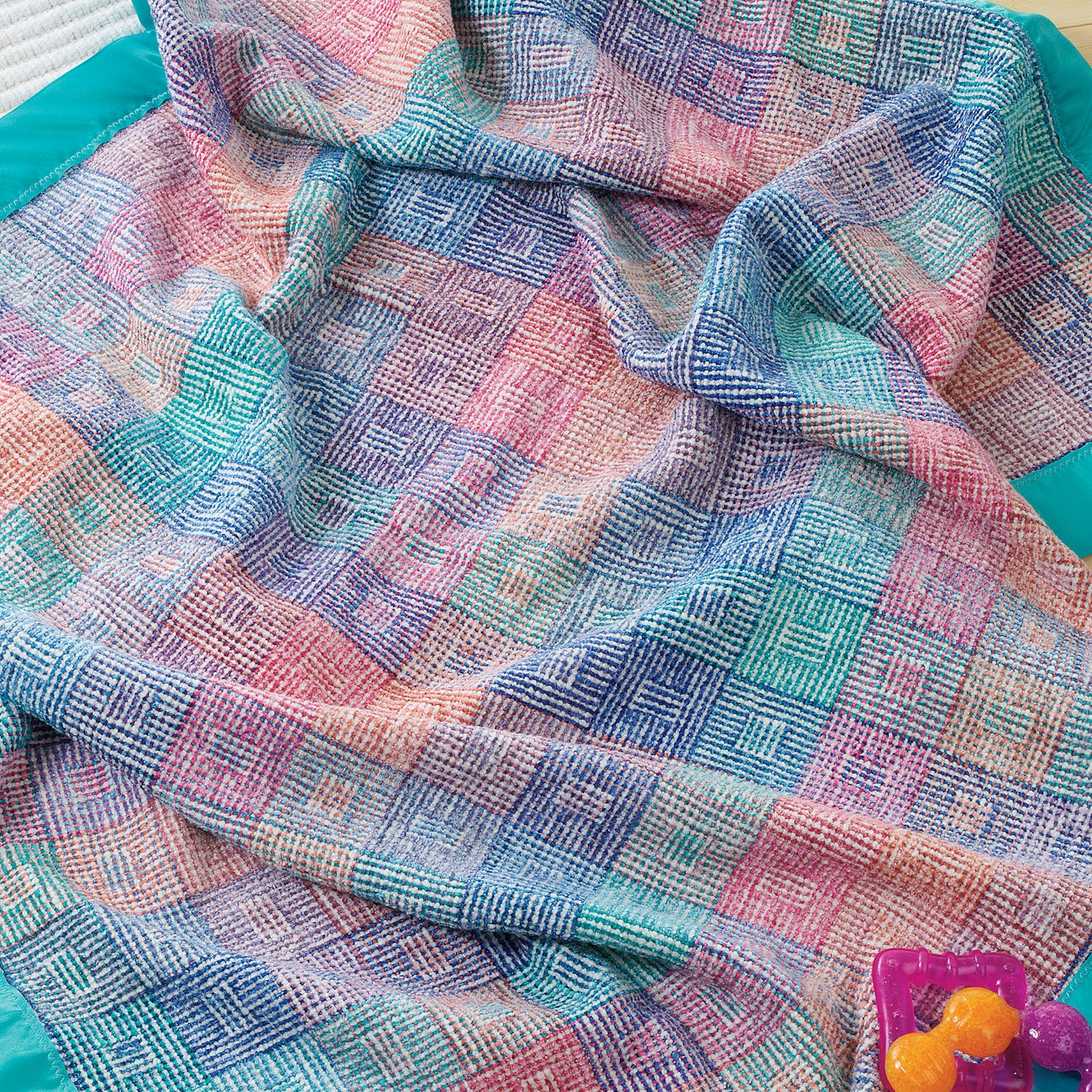 Terry Newhouse-Flynn combined a heavy-ish cotton with rayon chenille in a shadow-weave structure for her Spring Baby Blankets from Handwoven January/February 2012. Photo by Joe Coca
Blends are also popular choices for baby blankets. Suzie Liles, in Waffle-Weave Baby Blanket from January/February 2011, uses Panda Silk (52% bamboo, 43% super wash merino, 5% combed silk). Kate Lange-McKibben, in her huck-lace "Hug and Snuggle Baby Blanket," January/February, 2015, uses Panda Cotton, a sock yarn (55% bamboo, 24% cotton, 21% elastic yarn). Panda Silk at 204 yd/50 g is about 1,900 yd/lb; Panda cotton about 1,500 yd/lb. I like these two options (as well as other sock yarns and Lily's Sugar 'n Cream) for being yarns with some texture, heavy enough for blanket weight, and able to endure repeated washings without shrinkage. They all would work especially well in twills and lace weaves; the short floats in both structures would give the blanket a soft, cozy hand. (Note that Kate's blanket is woven in a 3-thread huck; you'd want to avoid a very open lace weave that might catch little fingers and toes.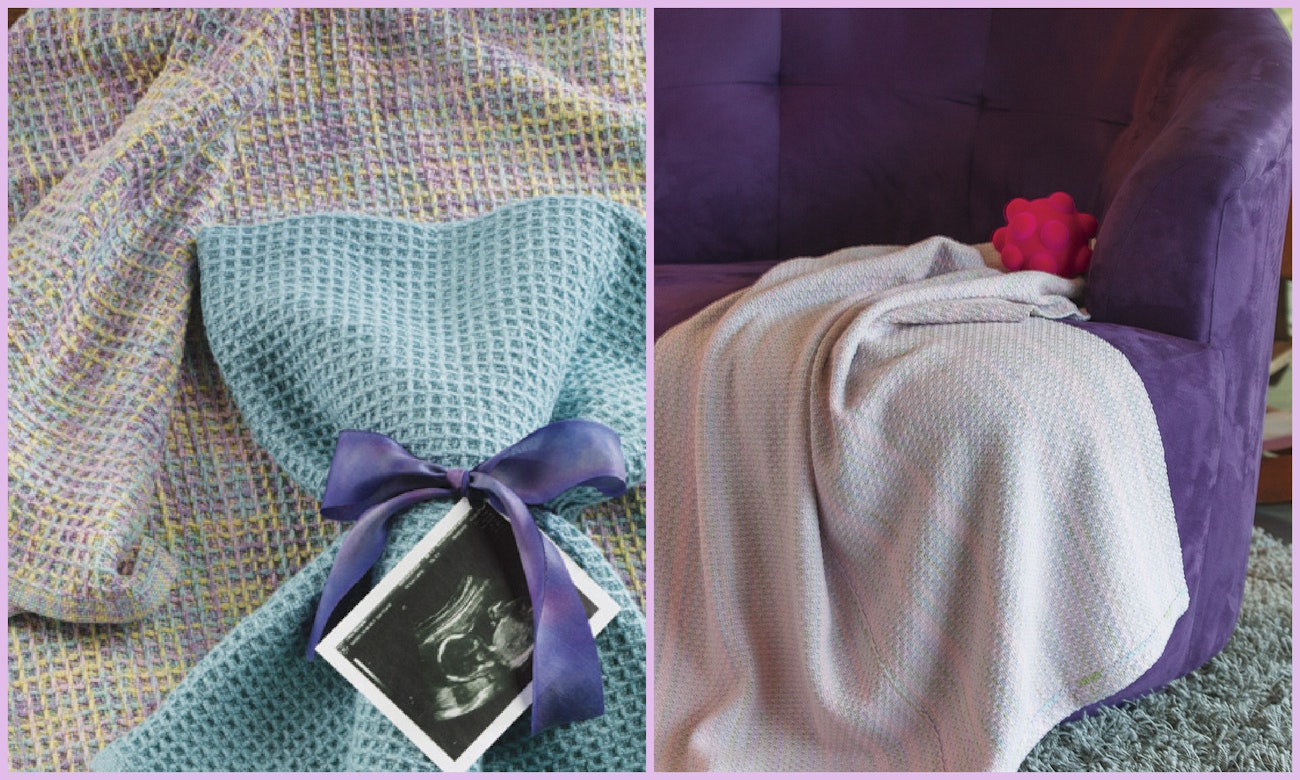 Suzie Liles used a bamboo/merino blend for her Waffle-Weave Baby Blanket (left) and Kate Lange McKibben used a bamboo/cotton/elastic yarn for her Hug and Snuggle Baby Blanket (right).
Be sure to check out Handwoven's Free Baby Blanket Patterns PDF here!
Hope this helps!
—Madelyn
If you have a weaving question we would love to hear from you! Please email Madelyn
Published October 24, 2017 Revised October 3, 2022