Hi Madelyn!
I have a question for you. I have always followed a certain rule for using the tabby weft in supplementary-weft structures such as overshot and summer and winter: Throw the tabby pick before the pattern pick. Please tell me the reason for this.
—Jill
Hi Jill!
There probably isn't a structural reason to use the shuttles in that order, but I usually advise my students to do it that way. It is a good idea to have a system that you always follow (and it seems a logical order in that you need a plain-weave base for the pattern weft to float on). If you always do it this way, you'll always know which shuttle to use next by where the shuttles are (both on the same side, tabby is next; one on each side, pattern weft is next). For a similar reason, I encourage determining which tabby treadle to use by which side the tabby shuttle is on (use the left tabby treadle when the tabby shuttle is on the left, the right tabby treadle when the tabby shuttle is on the right).
With summer and winter, however, there is a structural reason for using a particular tabby order that is easier to follow if the tabby weft goes before the pattern weft. Summer and winter can be woven so that the pattern weft creates a design of little o's or x's within a block. To do that, the tabbies must be used in the correct order. It takes four pattern picks to create an "o" or an "x." The tabby that starts the sequence must be the one that raises the pattern shafts. When this happens, the tabby that is used between the two center pattern picks in a unit of four pattern picks is also this same tabby (pattern shafts are raised; tie-down shafts are down). The tabby weft then passes over the tie-down threads, causing the little + to appear that is necessary to create the x or o; see the drafts and photos below.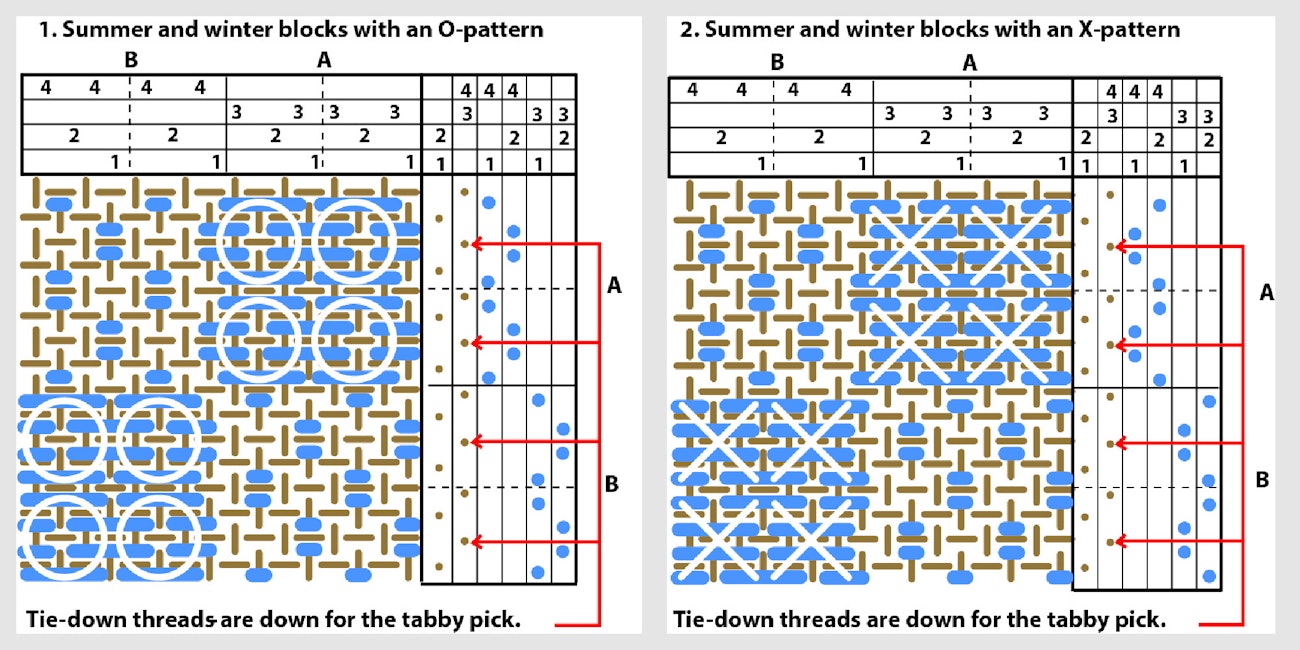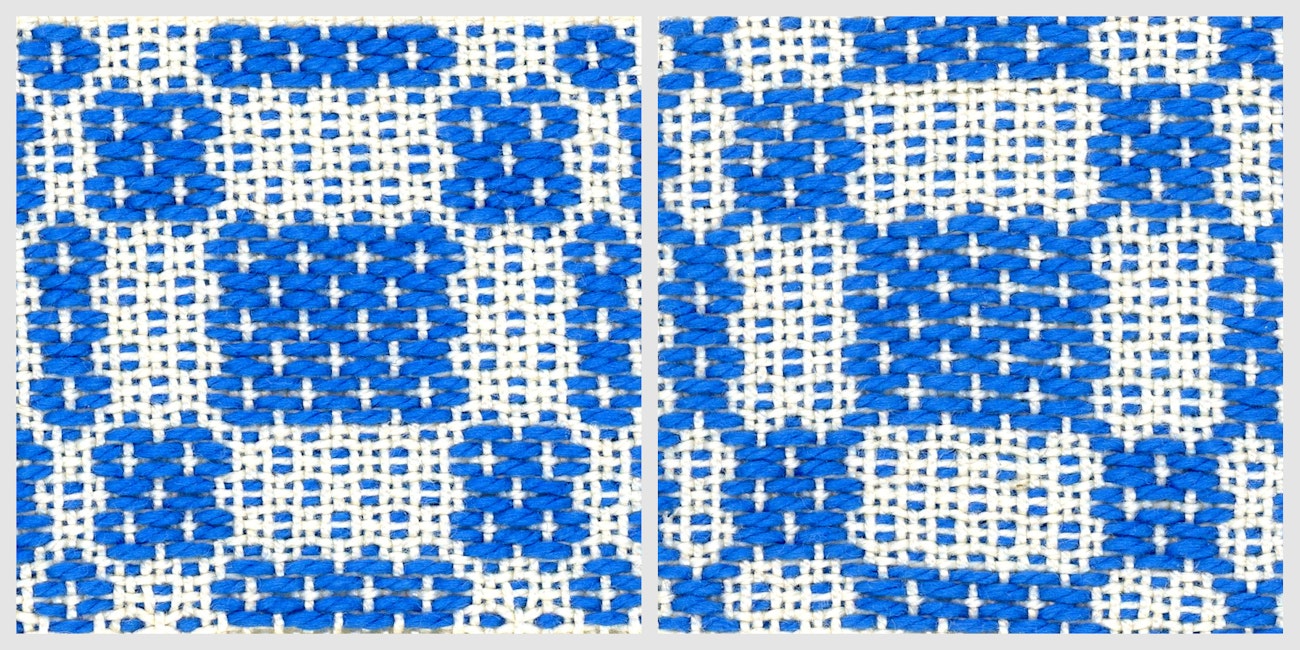 Summer and winter cloth with O-patterns on the left, and X-patterns on the right.
If the wrong tabby is used, a vertical line is created and no x or o is formed as shown below in the fabric on the left. It would be hard to give the instructions for this without assuming a tabby/pattern order. Also, notice that in the drafts in our weaving literature, the tabby weft is usually, if not always, shown first.
Note how pattern picks are together in the the fabric on the left. This is due to the wrong tabby sequence being woven, and the tie-down threads between the two center picks being raised so that the tabby passed under them. In the fabric on the right, the tabby sequence was correct and the pattern picks are separated due to the tabby passing over the tie-down threads that were down.
— Madelyn