Hi Madelyn,
Could you please walk me through the best way to reduce the warp width in the draft for the "Keep it Simple Towels" by Mary Ann Geer (Handwoven, Summer 1985, pp. 84-85, and Best of Handwoven Top Ten Towels on Four Shafts, pp. 1–2). The draft calls for 490 ends at 20 ends per inch to produce a weaving width of 24.5". I need to reduce the weaving width to 22" for my table loom.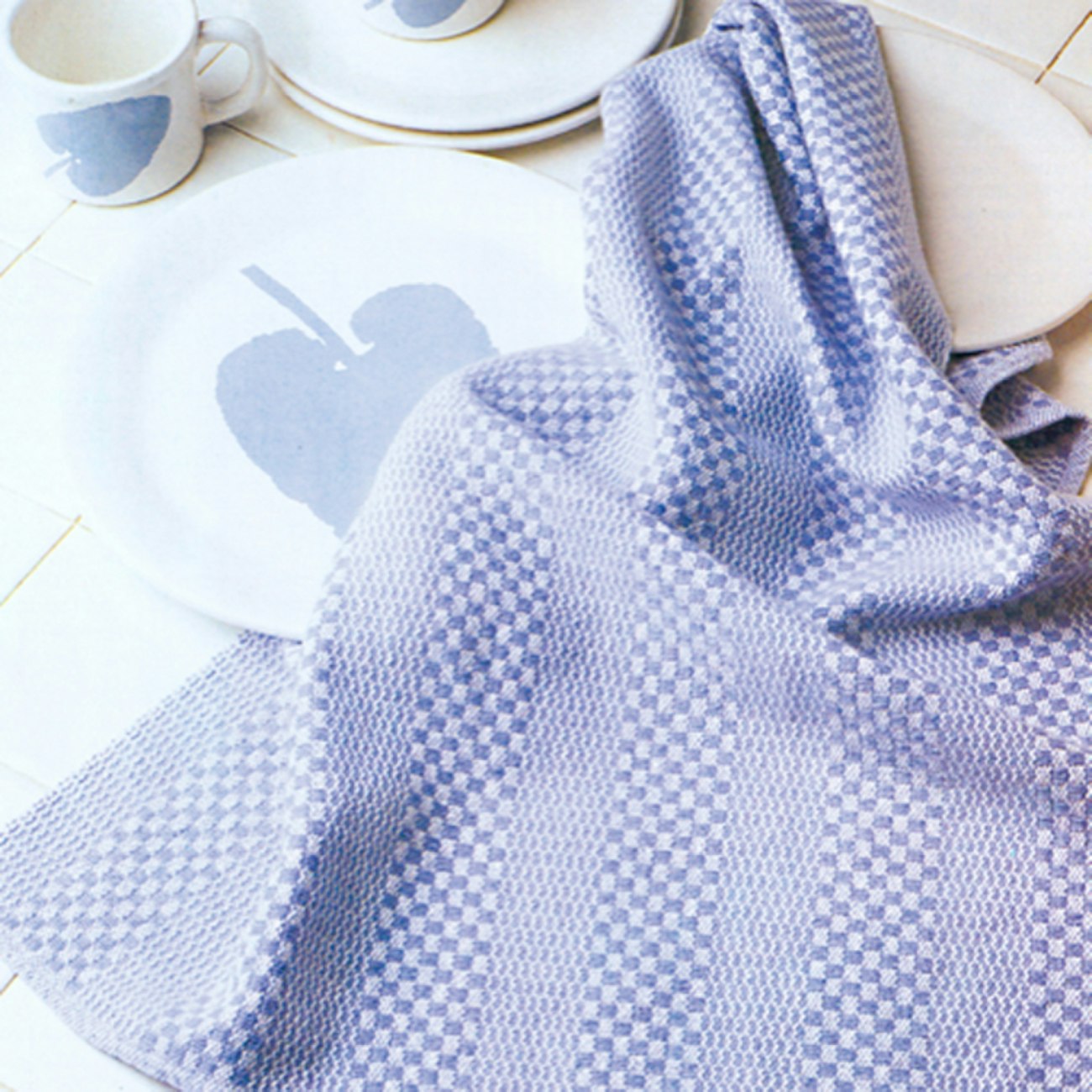 The Keep it Simple Towels have two stripes in the warp design, one that has small alternating rectangles and the other that has larger alternating squares. Photo by Joe Coca.
~Heather
Hi Heather!
Usually, to change the warp width of a specific draft, you add or subtract repeats in the threading. This is easy if the draft is plain weave or a simple twill, but it can be more complicated and even require changes to the overall design. For this one, the first task is to correlate the threading draft with the design it creates. Notice that the places where 2-4-1-3 are repeated 8x (with a 1-3 to balance), a stripe of very small alternating rectangles is created. These stripes are 34 threads wide, or 1.7". Where the 1-3-1-3-1-3-2-4-2-4-2-4 are repeated 3x (with a 2-4-2-4-2-4 to balance), the stripes in the towel are 42 threads wide (2.1").

There are several ways you could alter this draft (changing the widths of the small-rectangle stripes by changing the 8x repeats to 7x or changing the 3x repeats to 2x in the stripes with alternating squares, for example), but the change that would achieve your goal and leave the design closest to the way it is would be to simply eliminate the 8x repeat (small rectangle stripes) on each side of the towel ; see the revised draft below. This change eliminates 68 threads or 3.4" for a weaving width of (422 threads) or 21.1". (Note that you would follow this same process to make the warp wider: Add to the 8x repeats, the 3x repeats, or even the 6x repeat—one of these repeats would add or subtract 76 threads, or 3/8".)

~Madelyn