One of the joys of being a weaver is creating unique pieces for loved ones. Here from Handwoven Nov/Dec 2022 is Robin Lynde's Idea Gallery article about weaving temperature blankets. ~Susan
Two people introduced me to the idea of a "temperature blanket." One was a customer who purchased 10 different colors of yarn for a knitting project. The other talked to me about her "Tempestries" that she was going to make for her favorite national park. When you look at temperature projects online, the premise is usually a design based on colors assigned to a particular temperature range over a specific period of time. There are varied goals, including using a specific place's temperature to design a piece with a unique, colorful design or making a statement with a project that tracks climate data in a visual manner. Knitters and crocheters plan a yearlong project and work a row or two each day using a color selected to indicate that day's high temperature. I asked myself, What if I were to weave a temperature blanket?
Practically speaking, most people (including myself) wouldn't want to devote a loom to one project for an entire year, so I decided to weave a blanket to serve as a snapshot of a previous year. As I developed the idea, I thought about how to choose a specific year and location. I came up with the idea to weave blankets for others to commemorate special years with significant life events such as births or weddings.
I chose the year 2020 and found a source for temperature data near my location. I assigned colors to 10-degree ranges of daily high temperatures for the year (from the 40s to over 100 degrees) and made a chart using graph paper and colored pencils.
My 60" loom was already warped for blankets with Timm Ranch yarn, a two-ply yarn spun from soft wool sourced from a nearby sheep farm and sent for processing. For the weft, I chose the New Zealand-grown Ashford DK yarn that I had used for several other projects. That yarn comes in 40 colors, giving me the range I needed.
I wove the first blanket using two picks to represent each day. At eight to nine picks per inch, the final piece ended up at a pleasing dimension for a throw-type blanket. I live in California's Central Valley, and in 2020, there were over 170 days with highs over 80 degrees. In my initial plan, I had assigned yellow, orange, and red to temperatures over 80 degrees, but then I realized that those colors might not appeal to everyone. I wove another blanket for 2020 assigning different colors.
The project was already fun, but changing the color palettes made it even more interesting. I planned and wove blankets as Christmas gifts for my family and explored more color combinations. I made charts and wove blankets for my brother's wedding year (1981 in Pullman, Washington), my two sons' wedding years (2009 and 2016 in two California locations), and the year I married my husband (1986 in Dixon, California). The idea was to commemorate a special year, but then I thought perhaps I should mark the date that made it a special year. With all that color, what yarn would stand out? The most dramatic color would be black, but that didn't seem like the best choice. I was running out of time right before Christmas, but then I found some gold thread to ply with the weft yarn to mark the special days in each year. The blankets were a hit, so I'd like to share my ideas for planning a woven temperature blanket or other similar project.
Temperature Range Sources
I found two free sources of temperature data online. The first is Weather Underground, which has a Historical Weather feature (see Resources), where you can search by city, zip code, or even airport code and include dates. With this website, I was able to see the data a month at a time, so I recorded the high temperatures for each month on graph paper and used colored pencils to make a chart I could follow while weaving.
The second source is the National Oceanic and Atmospheric Administration (NOAA) National Centers for Environmental Information. I used the climate data search tool (see Resources) and selected the dataset for "daily summaries" for the desired year and location. While there are ways to select the data in various formats, my technical skill set was limited to getting the standard spreadsheet. I used screenshots to isolate the data I wanted and put the screenshots together in a document that I could print and then mark with colored pencils.
I don't use a computer for designing my blankets, but it could be done in a more technical way. For example, a customer who wanted me to weave a temperature piece for his wall created a spreadsheet for his chosen year and location, complete with colored blocks for me to follow.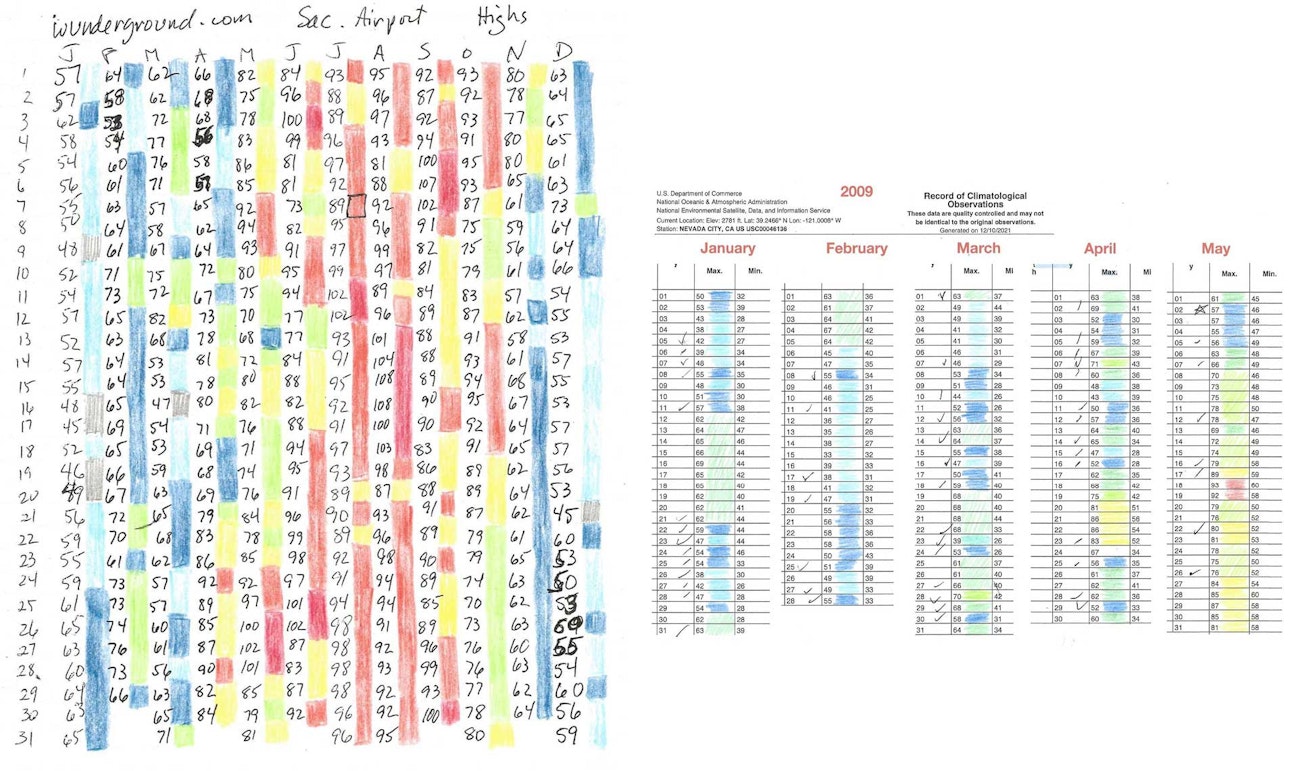 Planning and Decisions
Sometimes, it is the decisions that we have to make ahead of time that stall the weaving process. The first decision is type of project. A narrow loom should not be a deterrent to weaving a Year to Remember project. If you have a narrow loom, you just have a narrower project, or you can plan to weave doublewidth or stitch panels together. I'll continue to use the blanket example, but your project could be a shawl, a scarf, a wall hanging, or even a table runner.
The next decision is the yarn. Wool? Cotton? Colors available? Grist of yarn? Most of my blankets have been woven on a natural white wool warp, with color changes in the weft. I wove a few blankets on a warp that was based on temperature data. In those cases, the weaving was easy with no weft color changes, but the warp was challenging to wind. Let's assume you'll use a neutral warp and make color changes in the weft.
Planning your colors requires making two decisions: what colors and how you will assign them. I assigned colors to 10-degree temperature ranges, but you could choose any number, and it may depend on the variability of the temperature in your chosen year and location. If there is a tight temperature range, you might change colors every 5 to 7 degrees. Three of the blankets I wove for my family used seven colors for temperatures ranging from 40s to 100s. I also wove one that used nine colors for temperatures from 10 degrees into the 90s. Choose colors that make sense from a temperature standpoint (hot to cold) or choose your favorite colors. I followed a general scheme of the red to yellow range for the highest temperatures, greens for summer and spring weather, and blues and grays for the winter months. I also considered the colors that I thought might best fit the recipients' preferences.
What about weave structure? My family's blankets were a 12-shaft twill, but other favorites are a simple broken twill on four shafts and an eight-shaft twill. I like the way a three-end float brings out the weft color, and I prefer weave structures that don't vie with the color for importance.
If your blanket is meant to commemorate an anniversary or birthday, you might want to choose a yarn that will stand out for that special day as I did with the gold yarn. After weaving the first blankets for my family with the gold accents, I experimented with a variety of sparkly yarns. I liked the effect of a slubby yarn with a bright metallic component, and that is what I will use for the next blankets. You may have a yarn in your stash that will work—you don't need much of this one.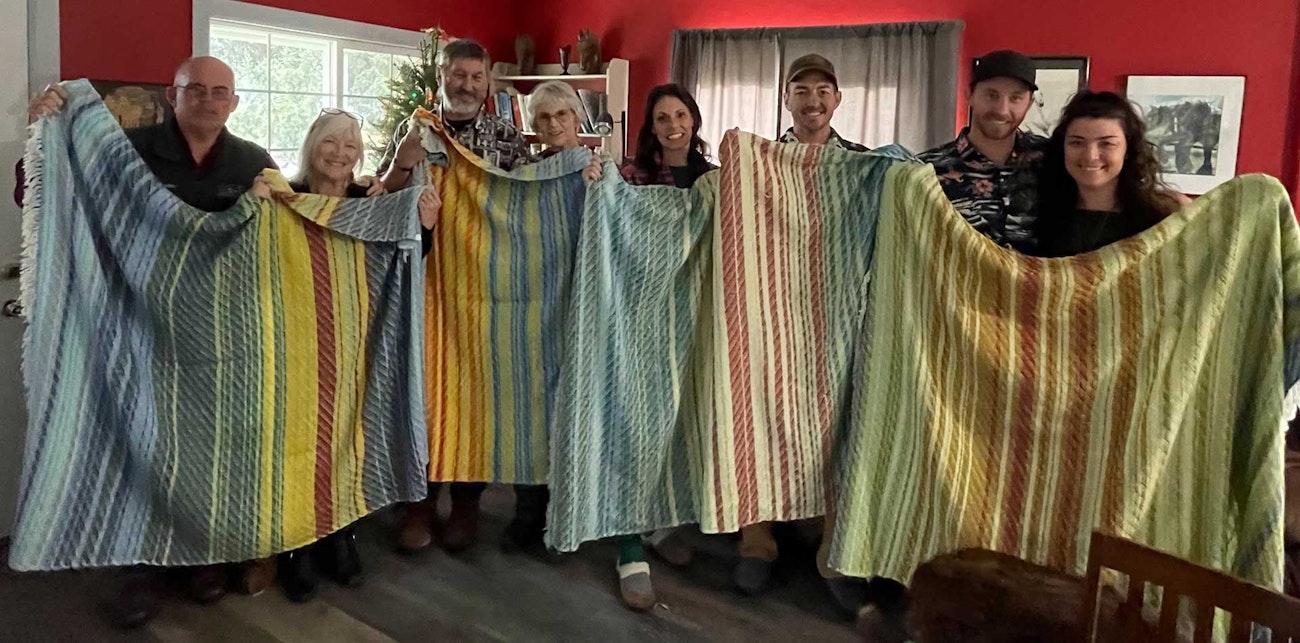 Tips for Weaving
The only unusual part about weaving this project is the frequency of color changes. I wove two picks for each day, and while sometimes there was a run of 15 days (30 picks) of a color, more often the color changes were frequent. When a color was to be repeated after only two or four picks, I carried it up the selvedge, wrapping the working weft around the one being carried. When I had only two picks of one color, I threw the first pick, leaving a tail of a few inches and overlapping both ends near the selvedge in the second pick.
I hope you enjoy designing and weaving temperature projects as much as I have.
Resources
ROBIN LYNDE raises Jacob sheep and promotes sustainable local wool production. She teaches weaving, owns a weaving and spinning shop, and leads the Meridian Jacobs Farm Club.