In Ask Madelyn, January 2, 2015, a reader asked for a definition of doubleweave. In my first answer Doubleweave Part I, I described "block" or "patterned" doubleweave. In the next Ask Madelyn Doubleweave Part II, I described the lampas/beiderwand group of doubleweaves. Here is yet another form: stitched double cloth.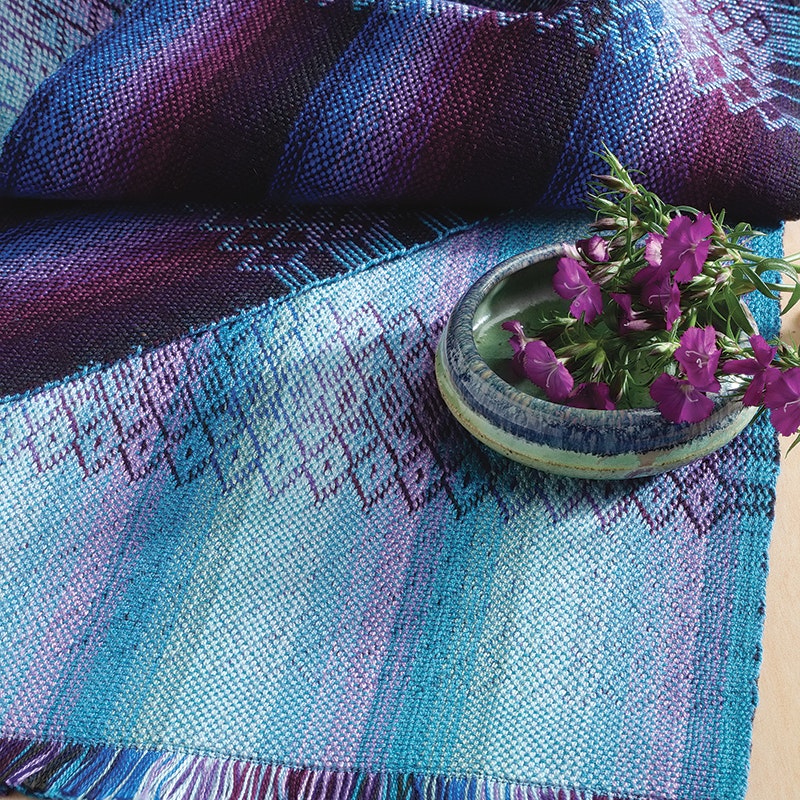 Remember that to be a doubleweave, a cloth must contain two identifiable weave structures that are connected to each other in some way after the cloth is removed from the loom. In block doubleweave, the two cloths are connected where they change faces to form pattern (usually in one color) vs background (usually in another color). In the lampas doubleweave group, the two weaves are connected by the weft of the secondary weave, which passes either above or below the main weave to create pattern vs background.
In stitched doublecloth, the two weave structures are connected where selected warp threads of one of them weave with the weft of the other. In the stitched doublecloth in Photo a, for example, the two weave structures are plain weave; one is mostly light blue, the other mostly violet. The light blue plain weave forms the top layer on the loom; the violet plain weave forms the bottom layer. In the solid-looking blue section of cloth in the lower area of the photo, the two weaves are connected because a few selected violet warp threads from the bottom layer are raised when a pick is woven in the top light-blue layer. When a pick is woven in the bottom layer, a few selected light blue threads are lowered.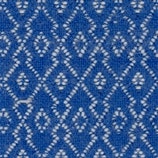 In the diamond-pattern area, the same thing is happening, but more violet threads are raised when each light blue pick is taken in the top layer, and they are raised in an order that creates the diamond design. Many different stitching designs can be woven on this threading (see Sheila O'Hara, Handwoven, March/April 2010, pages 34-36). Note that the two weave structures can also be twill (or other structures). Twill stitched doublecloths can be woven so that the stitching threads do not show at all, so that one face of the fabric looks completely different from the other. Photo b shows another version of stitched double cloth. The white top layer is woven in twill. The bottom layer (blue) is woven in plain weave (see Photo c). When picks of white weft are woven in the top layer.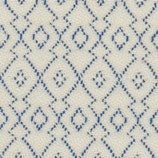 You can't see it very well in the photo, but this cloth has a dimensional quilted appearance. This is because the warp of the bottom layer is held at tighter tension than the warp of the top layer, causing the stitching warp threads to pull inward. In addition, a third weft weaves between the two layers, a soft thick weft, that pads the resulting cloth. This version of stitched doublecloth is called piqué.
--Madelyn
Originally published January 2015 Revised January 2022